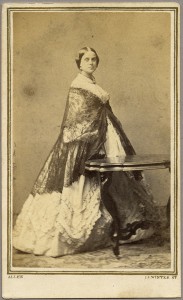 An episode from early in the Civil War had a sequel in October 1865, and Regina Shober Gray[1] wrote about it as she reviewed other news from her family in Philadelphia. The earlier entry, dated 13 January 1862, read:
"Our papers too give an acct. of the arrest of the Rev.d. Mr. Wilmer[2] (formerly I suppose of St. Mark's church Philad., and obliged to resign there, on acct. of his secession sentiments). [He] was arrested in an attempt to pass into the rebel lines, with quantities of supplies and despatches – some interlining his clothes, some in his cravat &c &c."
In a later entry, Mrs. Gray reflects on the changed circumstances of Southern life at the end of the war.
61 Bowdoin Street, Boston, Friday, 6 October 1865: Discouraging letters from Philad. Lizzie is more sick, though not with the symptoms she had here – but it does seem as if one blow after another had come on her this summer – and she so utterly unused to sickness! It makes me feel very anxious about her.
A very unpleasant sensation was caused in St. Mark's church, Philad. last Sunday by the appearance in the pulpit of the late rector Dr. Wilmer. An open traitor & rebel – a convicted liar when arrested at Fortress Monroe with his 24 trunks filled with supplies, &c. It was more than people could stand, and 4/5ths of the congregation stampeded at once – they could not listen to the hypocrite or receive the sacrament at his hands – and I am heartily [glad] they showed their abhorrence in such an outspoken way. There is too much tendency to glaze over such things for courtesy's sake et les convenances.
The general Convention of the Episcopal Church is now being held in Philad. Two of the Southern bishops present themselves from Texas – and Atkinson[3] from N. Carolina. The latter was much overcome & seated himself in the body of the house, but was soon discovered there and brought up to the Chancel to join his brother bishops, who received him most cordially – Atkinson wept aloud as did many others – a very affecting scene. It will need a deal of Christian forbearance & discretion, and a little worldly wisdom nevertheless, to make this convention other than a pretty stormy one.
Sunday, 8 October 1865: Yesterday Mr. Nat. Hubbard, Annie Frothingham's husband,[4] died of heart disease suddenly, at the broker's board. Poor girl – what a blow – and they only married some 3 or 4 years ago. How inscrutable these things seem – here is a man respected and respectable, whose life was useful & important, taken away in his prime, while poor feeble old Aunt Sarah Bradlee[5] and old Mr. Wainwright[6] linger out their crazy days that can comfort none, and have no pleasure in them to themselves!
[His] wife & daughter cannot consent to send him to the [Somerville] Asylum, though everyone else sees the necessity of his being there, or in some safe place under trained care.
Mr. Wainwright is a source of terrible anxiety to us all; we live in daily dread of some awful calamity at his hands; his mind is quite gone, and at times he is very excited & violent – and in his delusions attacks people with stones, chases the young children, and almost strangles them – yet he has quiet hours, when he enjoys the being with his family, [and] his wife & daughter cannot consent to send him to the [Somerville] Asylum, though everyone else sees the necessity of his being there, or in some safe place under trained care. I cannot wonder at their feeling – but it is an awful risk they take, and may result in what will darken all future life for them.
The South Carolina Convention have in reconstructing their State constitution acknowledged slavery forever abolished, by "military power of United States" to which they submit. And though they insisted on avowing the "historical fact" that they abolish it not voluntarily but on compulsion, still it is a great step that they publicly concede it is ended forever.
But the troubles & perplexities of reconstruction are hydra headed and must be for years to come. Such a total change of internal polity cannot be effected without much bitter feeling and vindictive lawlessness & incalculable individual suffering among all classes, especially the oppressed blacks.
Their own ideas of the great deliverance that has come to them are so wild and vague. Some expect the lands of their masters to be [divided] among the blacks, and so won't work; others that government is to support them in idleness – their sole idea of freedom, being relief from labor; but many are eager to learn & willing to work. In some wild parts of the country the negroes are shot down mercilessly by their former owners – often mutilated in mere vindictive spite. But the larger part of the educated classes accept the inevitable change, and seek to make the best of it. But it is a hard position for master & slave both as yet, the one claiming new but acknowledged rights, which the other knows not yet how to concede.
Continued here.
Notes
[1] Hedwiga Regina Shober (1818–1885) was married to Dr. Francis Henry Gray 1844–80. Entries from the Hedwiga Regina Shober Gray diary, R. Stanton Avery Special Collections.
[2] The Rev. Dr. Joseph Pere Bell Wilmer (1812–1878), rector of St. Mark's Church 1848–61 and Bishop of Louisiana 1866–78.
[3] The Right Rev. Thomas Atkinson (1807–1881), Bishop of North Carolina 1853–81.
[4] Nathaniel Dean Hubbard (1821–1865) married Dr. Gray's cousin Anne Brooks Frothingham in 1863.
[5] Sarah Fletcher Bradlee (1789–1866), the aunt of Mrs. Gray's stepmother Lucy Hall Bradlee (1806–1902), who married Samuel Lieberkuhn Shober in 1830.
[6] Henry Wainwright (1796–1866), the father of Mrs. Gray's best friend Rebecca Parker Wainwright (1820–1902).