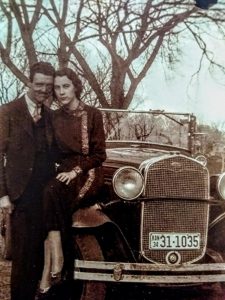 Lately, it seems like I can't catch a break! You see, I've been trying to put some good old-fashioned humor back into my life – without much success. Finding humor (or laughter) these days seems to take a whole lot of effort – and an even bigger dose of understanding. It's as if the world has become filled with folks who are afraid to, you know … smile. I just don't get it, as I'm pretty sure we were all schooled that facing the world each day with a smile makes the world a better place, right? Because of this, I've started to wonder about the ancestral origins of my own tomfoolery – and if any sense of humor isn't "relative" after all.
Now, I can't pretend to know the history or psychology behind humor or laughter. But it sure does function differently for each of us. Take the other day, for example. My errands had taken me to one of the giant box stores where I wanted to purchase treats for my BFF (our golden retriever). Here I encountered a busy individual (about "twenty-something" years old) stocking shelves with the latest "cage-free wild-peacock pemmican-tofu flavored morsels" for pooches. (We would call them … "dog biscuits.") The clerk carefully placed boxes for display. Unable to resist my 'dogged' mood, I casually commented to the young sport that "I really do not care for the way these biscuits taste at all…" To this end, the sales associate turned to me and said, in all earnestness, "Sir, do you need me to get you some help?"
Unfortunately, in this instance my sense of humor (and my advancing years) only signaled to the young associate that there was an errant 1970s Methuselah on the loose – one who was evidently a "shut-in" eating dog biscuits. Really? Has the Play Station 4 generation no sense of a schtick Groucho Marx might have tried with a can of dog chow? And, okay, I get it that the young man was just doing his job… Still, though: "Ugghhhh."
Curious about why "I think what I think" is humorous, funny, or worth a chortle or two, I decided to look at the genealogical influences behind my own warped ways. Maybe I am related to Jack Paar or Jack Benny? (No, on both counts…) Is what I find funny something that doesn't exist outside of my own padded cell of a mind? My experience with the young sales clerk was making me want to binge watch me some Red Skelton – and causing some major social anxiety!
Curious about why "I think what I think" is humorous, funny, or worth a chortle or two, I decided to look at the genealogical influences behind my own warped ways.
Indeed, what, if anything, could my recent ancestry have to offer on the subject? I thought about my grandparents. My parental grandfather Howard "Jack" Record fought a disability and was self-conscious about his laughter. However, my maternal grandfather Frank White Lee did chuckle a bit with a dry wit that could sneak out unexpectedly. I thought about my great-aunts and great-uncles on both sides – a "no laughing" bunch here, that's for sure. Then I considered my grandmothers. After all these years, I can still hear both of their wonderful laughs. What sort of humor might they have bequeathed to me in the primordial soup?
My Grandmother Katheryn (Ogle) Record certainly liked to laugh – but humor per se wasn't really her schtick. She did not laugh at jokes beyond a "hmmmmpphhh…" – and you never caught her watching any episodes of I Love Lucy. Rather she laughed at irony – like when she found out that the next door neighbor had gone to school with Cousin Olive. She'd laugh too when she won at Bingo (which was literally always…) or when the cat had kittens in Uncle Jimmy's dresser drawer. Her laugh filled the air wonderfully – but it was a sensible laugh for sensible things. Her Kansas roots had taught her that laughter and humor were much like World War II ration stamps, to be exchanged only for something of value. Her laugh could make the birds sing – as long as those singing birds didn't interrupt Bonanza and they brought "two-for-one" coupons with 'em. It was in her laughter that I found a sense of value.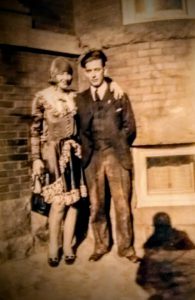 My mother's mother, Alta (Sage) Lee, or "Nana," as we call her, liked to laugh too, but her sense of humor somehow always alluded to an unknown moral high ground. Infused with cigarette smoke, "Highballs," and perfume, her humor (and laugh) was the ancestral root of my own mother's zany sarcasm. Nana's laugh was the "knowing laugh" reflective of life's regrets, yet also somehow gay and gallant – aspiring to the likes of Mitzi Gaynor or Eydie Gormé. Her laughter had flirted its way out of Wild West dance halls and the speakeasies of Prohibition-era Wyoming. In those days I am certain she laughed freely with zest and utter fun – no rationing here. But in a lot of ways "Nana" had used up most of her laughter when she was young. In later years, her laughter meant that we needed to listen and "take heed," as there were lessons to be learned. Indeed, it was her thick smoky laugh that helped to teach me many of the differences between right and wrong.
Well, this exercise in looking at the origins of my family's sense of humor doesn't help me much in dealing with any of the humdrum twenty-some-things that I'm bound to encounter in my dotage. But it does help me reach out to the people in my life that might understand irony, a good Groucho Marx movie, or that it's just right to "be friendly" when out buying dog biscuits (even if I'm probably not that funny, after all). Eventually, I may even learn to keep my mouth shut more often than not (one of the hazards of getting older), but I can honestly tell you I don't think I'll ever be in any hurry to run away from a good chuckle. In the end, I have to believe that a sense of humor is indeed "relative" after all – and I am grateful for it.