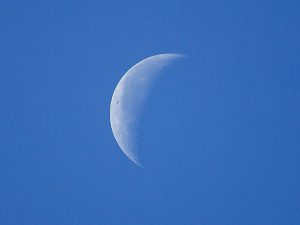 A blue moon rose for me two years ago, prompting me to write a post called "Once in a blue moon" about two serendipitous events. One instance concerned my research to find the full story of Kenneth Maurer's 1951 axe murder of his family, an event which took place in my husband's early childhood home just before his parents bought the property. The serendipity that led me to those details has again come knocking!
When my phone rang a few days ago, I hesitated to answer because I didn't recognize the name or number. But when the caller began her message, I jumped to answer: she said she's related to the Maurer family, had spent several weeks tracking me down, and wondered if I would share my research into the circumstances of the murder! Of course I would, and I enjoyed almost an hour of conversation with her, learning more stories about that part of the family. I've encouraged her to write it all down, for her family if not for anyone else. It is, after all, her story to tell, not mine.
Within thirty-six hours, the blue moon was still shining, and serendipity didn't knock again, it came walking in the door!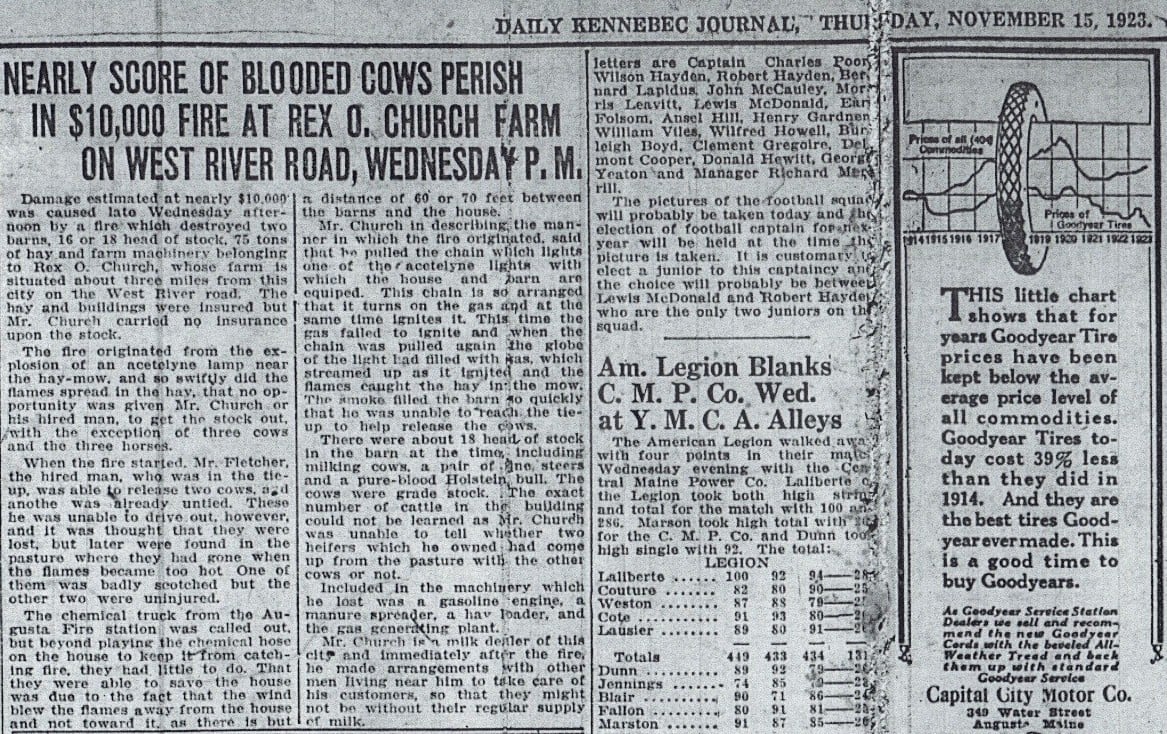 For years my son and I have been trying to find the details of the fire that destroyed my grandfather Rex O. Church's hay and livestock barns. We knew it happened sometime in the 1920s, but couldn't find any more specific information, and anyone there at the time has passed on. Even the local fire department's historian had no information on the fire. I put the research aside to focus on more productive things.
My son, however, fortified with coffee and homemade English muffins on a recent Saturday morning, called me to look at something he'd found online: a Biddeford, Maine newspaper squib dated November 15, 1923 about that fire! With that information, off we went to the Maine State Library to check the microfilm of Augusta's newspaper on that date, the Daily Kennebec Journal, and found exactly the report we'd been seeking for years.
It was a devastating fire for the family, one from which they never really recovered. The loss of eighteen full-blooded, registered cattle was a disaster for Rex O. Church and Sons' dairy business. The day after the fire, November 16, the newspaper reported that the New England Milk Producers Association had announced that the price of milk "must go down" in order to remain competitive, giving Rex Church less revenue to help recovery.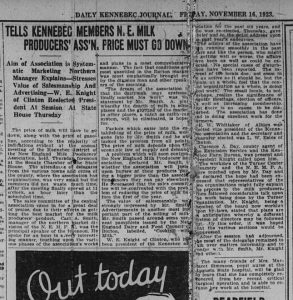 A few short years later, the eldest son, Cony, would die at age 17 from complications of scarlet fever, and the Great Depression would begin, making life even harder to bear. Through their ensuing struggles, though, the family did manage to rebuild one barn (although farther away from the house!) and the herd of cattle. The business became Rex O. Church Agricultural Implements, and Beech Hill Dairy, providing milk to the local H.P. Hood dairy.
Apparently when a blue moon shines on me, it brings serendipity in pairs!
Share this:

About Jan Doerr
Jan Doerr received a B.A. degree in Sociology/Secondary Education from the University of New Hampshire, and spent a long career in the legal profession while researching her family history. She has recently written and published articles for WBUR.org's Cognoscenti blog: "Labor of Love: Preserving a 226-Year-Old Family Home and Preparing to Let It Go" and "The Value of Family Heirlooms in a Digital Age." Jan currently lives with her attorney husband in Augusta, Maine, where she serves two Siamese cats and spends all her retirement money propping up a really old house.View all posts by Jan Doerr →