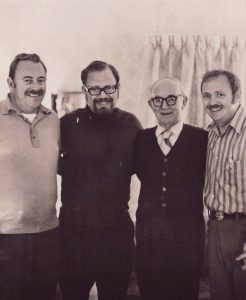 A common rule for genealogists is that spelling does not count: usually, entering an alternate spelling of a surname into a search engine will point you to records for the ancestor you seek, as long as you know his or her parent(s), an approximate birth year, and a birthplace. However, while doing my own research, I have been hindered by the issue of variant spellings.
My grandmother Eleanor (Forry) McManus was a granddaughter of Patrick J. Forry and Hannah M. Crotty, both of whom emigrated to Boston in the 1880s from Ireland, from County Sligo and County Waterford respectively. The Crotty branch has not been hard to fill in, as I contacted an Englishman who is married to a granddaughter of Hannah's niece. He has already made a family tree, from which I obtained information. The Forry branch, though, has been a different story, since the surname can be spelled so many ways when recorded phonetically.
[They] traveled down to their mother's home village of Ballymacarbry in Waterford, where they enjoyed meeting their cousins and exploring the farm.
I knew some details of my Forry line, since my great-grandfather John F. Forry Sr. wrote a journal of a trip he took to Ireland in 1961 with his sister Kate. The journal was later typed by my grandmother, and a few weeks ago, my great-uncle Ed sent me a PDF of the typed version – all 26 pages. Eagerly, I read through it that night, looking for exactly where the Forry siblings went and which relatives they met. After a couple of days in Dublin, they traveled down to their mother's home village of Ballymacarbry in Waterford, where they enjoyed meeting their cousins and exploring the farm.
Later, John and Kate made their way to County Sligo. First they spent part of a day in Sligo town, enjoying nearby tourist attractions like Mt. Ben Bulben and the burial ground of Irish poet William Butler Yeats. On the way to their next destination, they passed through the town of Ballymote, near their father's birthplace. John knew that there were families with the surname Farry in Ballymote, and even noticed the name Farry on a couple of shop windows, but nobody was available to chat because the shops were closed. "Undoubtedly the same family as ours although we always spelled our name with an 'o' Forry," he wrote.
Unfortunately for myself and other researchers interested in Ireland, Irish records are scant from before the Irish Civil War (1922–23). In 1922, the Irish Free State Army's attack on the rebel-occupied Four Courts building in Dublin (home to the Irish Public Records Office) led to an explosion that destroyed nearly a thousand years of records and archives.
I have worked around this by searching for the names of my ancestors on the select list of Irish births and baptisms and the Catholic parish register entries on Ancestry. For researchers with Catholic ancestors, it is good to start by finding out which of the Irish counties the ancestors came from (and also the city, town, or village, if possible) and then search for their names in the parish records within the county.
Farry and Forry sound very similar when pronounced with an Irish accent and there is always the possibility of illiteracy in the family; the distinction has kept me from discovering much about Patrick's family. (He was generally known as PJ Forry.) I believe, based on messages with an Ancestry member who lives in Sligo, that PJ had a brother named Thomas. The 1911 Ireland census lists Thomas as Thomas Farry, and according to the member's tree, Thomas's son Mark emigrated to America. An index to the Boston Passenger Lists says he arrived in 1927 under the name Mark Farry, but I know he later went by Mark Forry.
Farry and Forry sound very similar when pronounced with an Irish accent…
Meanwhile, PJ is listed in United States records as Patrick J. Forry, and he signed his naturalization record as such. At this point, I am not sure whether PJ's parents (John and Margaret, according to PJ's marriage record) went by Forry or Farry in Ireland. In my Forry family tree, I list PJ's father as John Farry/Forry in an attempt to get relevant results. However, they are hard to find, because the surname Farry is common in County Sligo and surrounding areas, and I do not know Margaret's maiden name or either of their birth dates.
It is hard to know whether an ancestor chose to change their name or whether the name was misspelled at any point upon entry for public records. But despite the frustration, genealogists need to think outside the box and keep trying to find out as much about the ancestor's family members as possible. The only way to break through a brick wall is to find information, bit by bit.