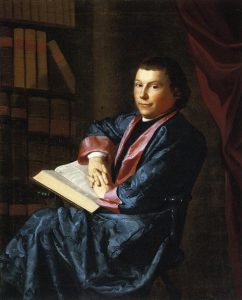 Well, I have not yet finished the blue banyan that I promised my husband back in February, but the death and funeral of former First Lady Barbara Bush have caused me to lay aside that work to write about some important deaths recorded in the diary of the Rev. Thomas Cary – my (half) first cousin six times removed. In my previous post, I finished with Thomas traveling home to Charlestown, Massachusetts, just in time for his seventeenth birthday on 7 October 1762, but a celebration was not the purpose of his trip.
In fact, the only thing written on that date was "Thanksgiving Day." The reason for his trip was that his mother was gravely ill; the date following his birthday he recorded these few words: "My mother died." Five days later (which was an exceedingly long delay for the period), he wrote simply, "My mother was buried."
Several pages later, he wrote a much more complete description of his mother's passing. "October 2nd 1762 — My hon'd Mother was taken Sick of the Fever and Flux and on the 8th she died at a Quarter after 4 of the Clock in the Afternoon and on the 13th was buried — Being 43 years old the July preceeding her Death."[1]
On the same page, seven years later, he recorded the details of his father's death. "Novbr 28 1769 My hon'd Father taken ill with the bilious Cholick & died between 12 & 1 M Morning Dec 4 & on the 7th buried from Uncle Rich'd Cary's, having completed his 56th year in Novbr." Thomas then listed his father's pallbearers: "John Ewing, John Avery, Saml Hendly, John Rowe, Wm Powell, Robt Temple." What amazing details to be passed down to us more than two and a half centuries later! I've even been able to trace some of the men named.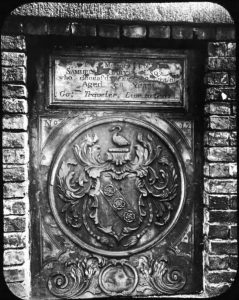 At some point, I realized that Thomas's diary (which contained notations on the deaths of ministers, prominent figures, and people he buried), must surely contain a note about the passing of his grandmother, Mary (Martyn) Cary. Technically she was his step-grandmother, since his father's mother, Mary (Foster) Cary,[2] had died in in 1718, shortly after the birth of her third son. Thomas's grandfather had remarried four years later, and Thomas recorded having tea with his grandmother when he visited Charlestown on more than one occasion.
I was particularly interested in finding out her date of death because she is my direct ancestor (if not Thomas's) and none of the resources I could find seemed to list it. Genealogical and Personal Memoirs Relating to the Families of the State of Massachusetts (volume 4, page 2191) incorrectly listed her husband's death date as her own, and for several years I couldn't find either a record of her death or her remarriage.
I was thrilled to eventually discover in the 22 September 1775 Essex Journal, published in Newburyport, this very detailed notice: "DIED. At Boston, Mrs. Mary Cary, aged 81, relict of Samuel Cary, Esq; late of Charlestown, deceased." So I knew that she had died sometime before then, and surmised that it was earlier in September. I eagerly skimmed Thomas's diary to find the exact date … and found nothing! I read through the whole year of 1775 and also found nothing.
Thinking that perhaps human or technological error had listed an incorrect date for the newspaper in question, I looked through the volumes of Thomas's diary for both 1774 and 1776; still nothing. Admittedly 1775 was a big year for the whole country and for Thomas especially, since he had married in May of that year. But still, in a diary full of death notations, how could he omit that of his dear old granny? All the same, I'm grateful that he remembered to tell the Essex Journal (for it was surely he who had it included in his hometown newspaper).
Finally, here's an interesting connection between the Rev. Thomas Cary and the funeral of Barbara Bush: the Bishop of Texas who gave the final blessing is descended from Silvanus Hussey of Nantucket (1682–1767), whose granddaughter Lydia Hussey (1746–1814) married Edward Cary (1738–1812), the youngest (half) uncle of our diarist.
Notes
[1] A thesis by Joshua Allan Kiger – covering the diary of Thomas's mother, Margaret (Graves) Cary, her family, and times – can be found here.
[2] A great-granddaughter of John Winslow and Mayflower passenger Mary Chilton.