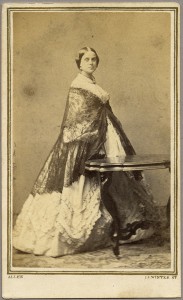 The Grays' summer was flying by in Marion, and Regina Shober Gray[1] faced new social responsibilities as her daughter Mary[2] ventured into society:
Sunday, 6 August 1865: A week ago last Wed'y, I went up to Boston to make my deserted husband a visit, intending to return early on Friday; but some deeds were sent on for the girls[3] to sign before a commissioner – so they had to come up on Friday morning and I waited, of course, to return with them p.m.
Frank [Gray][4] went to Worcester that mg. for the [rowing] regatta – he was so excited about it that he hardly slept for 2 nights previous. If he took it so hard, what must have been the excitement of the fellows actually competing in the race; and alas! for all their hopes and efforts, the Yale men bore the palm, in both races – and Harvard was only second best.
On Monday our dear daughter went to Beverly for a week's visit to Katie Loring[5] – and we were all glad she could have such a pleasant change, but shall rejoice to see her back to-morrow, for our quiet circle loses a great deal of cheerful life by her absence. Frank is back again now. Ned Gray[6] left us last Saturday.
The boys enjoy sailing in their little skiff, much; but they have twice gone down the bay in a larger vessel, with Capt. Luce for skipper, and found little success in fishing, but a deal of sea-sickness. Sam & Morris [Gray][7] have really not yet got over yesterday's cruise – so they have quite decided, the younger boys, that they will "have none on't;" which rather discourages Mary Shober and me, who had almost screwed up our courage to attempt, some quiet time, the run down to the Light House…
Sunday, 20 August 1865: We have just got home from the Sunday evg. concert of sacred music at the Hotel. Mr. Luce is quite a good leader, and plays on his melodeon very well. After tea, the younger boys went with Mary Shober and me for a long ramble through the Pines woods – a charming twilight walk we had, with a glowing sunset.
Last evg. the young people got up a burlesque opera – Bluebeard – introducing their favorite songs pathetic & comic with great effect. Rob.t Peabody[8] – Bluebeard – with a wonderful moustache & beard made of hanging moss and died with indigo blue – a tremendous turban of old white cotton fancified with ribbons &c – a most formidable old Turk. Miss Lizzie Howe was Fatima & Mary Gray the sister, Sam & Rege [Gray][9] the avenging brothers – … Frank G. & Frank P[eabody][10] being supernumaries & chorus.
Out of the meagrest materiel they got themselves up in a wonderfully effective manner – and the acting & singing were admirable. They brought in among other things "Sad hour of parting,"[11] "Ich wollte meiner Liebe,"[12] "Ever of thee,"[13] "Thou thou reignest in this bosom," The Hunter's Chorus & the Prayer in "Der Freyschutz,"[14] "Down among the dead men,"[15] &c &c…
Out of the meagrest materiel they got themselves up in a wonderfully effective manner…
Both affairs were irresistibly comic and the contriving & rehearsing made no end of fun! I fear we shall have no more as Robt. P. goes off to Mt. Desert tomorrow – and he is the star of the company. He drew up on the reverse of a large handbill a most comic playbill which Mary intends to keep as a memento!
There have been several pleasant sailing parties this week too. Yesterday Mary accepted an invitation to drive with Mr. Foster – they went tandem round to the Marion house, and thought it great fun – and got back safe to my relief! I hesitated about letting her go – the young man is a stranger to us but seems gentlemanly – and the accident which necessitates his going about on crutches interested us all for him – he sits at our table. And having been introduced by Mrs. Peabody,[16] I did not want to seem prudish about the matter, so consented – but Mary passed her 17th birth-day on Friday, and it behoves us to be cautious about whom she has for intimates!
Her aunties seemed to think Mrs. P.'s introduction and his own gentlemanly manners & appearance certificate enough; but to-night I find Mrs. P. knows little more about them, than I do!!! They are orphan brothers & wards of Mr. E. S. Rand[17] – and that is about all we know, so I am glad our season is nearly over – as I could not … let such a watering place intimacy run on for weeks without more knowledge of the parties!
Continued here.
Notes
[1] Hedwiga Regina Shober (1818–1885) was married to Dr. Francis Henry Gray 1844–80. Entries from the Hedwiga Regina Shober Gray diary, R. Stanton Avery Special Collections.
[2] Mary Clay Gray (1848–1923).
[3] The diarist's sisters Mary Morris Shober (1816–1873) and Elizabeth Kearney Shober (1821–1865).
[4] Mrs. Gray's eldest son Francis Calley Gray (1846–1904), a rising senior at Harvard.
[5] Katharine Peabody Loring (1849–1943), a great-niece of Mrs. Gray's sister-in-law Sallie Gray.
[6] Sallie Gray's son Edward Gray (1851–1907).
[7] Mrs. Gray's sons Samuel Shober Gray (1849–1926) and Morris Gray (1856–1931).
[8] Robert Swain Peabody (1845–1917), the future Boston architect.
[9] The diarist's son Reginald Gray (1853–1904).
[10] Robert Peabody's brother Francis Greenwood Peabody (1847–1936).
[11] The Hour of Parting (1852) by Elizabeth Anne White.
[12] Felix Mendelssohn's Ich wollt meine Liebe ergösse sich (1836–45).
[13] Ever of thee (1858) by George Linley (1798–1865).
[14] Carl Maria von Weber's Der Freischütz (1821).
[15] Down Among the Dead Men (traditional), attributed to John Dyer (1700–1758).
[16] Mary Jane Derby (1807–1892), the widow of Rev. Ephraim Peabody and mother of Robert and Frank.
[17] Edward Sprague Rand (1809–1884), a Boston lawyer.