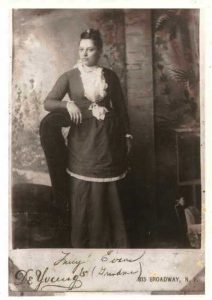 Just when one thought we might be done with John and Lucy Lee…
When I began to research the life of John E. Lee, I was fortunate when a photograph surfaced purporting to be that of his wife, my great-great-grandmother Lucy Melinda (Nestle) Lee.[1] For me, a photograph of my primordial Lucy was a real prize. Hard to find, it was a photograph procured through more than just my own efforts, thanks to the amazing connections we all make with our distant cousins.
Though the copy of the photograph wasn't labeled, and the photographer's mark was missing from my copy, I was comfortable with the identification of its subject as Lucy (Nestle) Lee. I was familiar with the research of the cousin who'd supplied me with the picture knowing his work to be well considered if not complete. This cousin also supplied me with the "source" for the photograph, a person who turned out to be the wife of an another great-great-grandson of John and Lucy's. I was satisfied that I had a proper identification for "Lucy."
However recently, and in light of my last post Possibilities, the correct identification of Lucy Lee has come into question, and yes, it has been a bit of a 'sticky wicket.' As my Grandmother Record would have said, "Another country heard from…," meaning that someone else, in this case another third cousin, has voiced a rightful and dissenting opinion, claiming the old photograph is not [Mrs.] Lucy Lee at all, but rather her daughter, Lucy Lee. Having two Lucys and only one photograph is not going to work for me, so I have reinvestigated (and hopefully re-verified) the identity of the woman in the photograph – with few clues to go on.
The earliest mention of De Young's I could find was 1884.
Having only hand-me-down memories to consult, verifying the identities of those long dead in antique photographs can be a challenging task. With regard to Lucy, it has meant that I must re-visit the previous information used to identify her. I trusted the party who had supplied me with the picture "second hand," so I decided to contact the cousin(s) who had made the identification of Lucy for him. This cousin graciously replied, sending me a copy of their original un-cropped photograph, along with the following explanations:
"…when Grandma Margie —– passed away and [they] were going through her stuff. The photo had written on it "Lucy Nestle Lee," [then] someone erased that and wrote the name "Lucy Lee Evans"…
"…the photo was taken at DeYoung's located at 815 Broadway, N.Y…  Lucy (Lee) [Potter] Evans was not in NY at any time…"
"…by all that I have found, I believe the photo to be Lucy (Nestle) Lee, the information that was first written on the photo … and [with] nothing showing that Lucy (Lee) Evans was ever in N.Y. as a young woman, [this] makes me believe that the photo is Lucy (Nestle) Lee."
With this explanation in hand, I wondered what clues might be found in the copy of the un-cropped photograph. The imprinted address of DeYoung's photography studio was interesting to me. How long had DeYoung had kept a studio at 815 Broadway? DeYoung's studio, a somewhat noteworthy establishment, moved locations several times, changing from this "815" address about 1890. The earliest mention of De Young's I could find was 1884. Keeping in mind the address of "815 Broadway," I have a general (though still uncertain) time frame for this picture as 1884-1889. These are some of the questions I am still grappling with:[2]
Mrs. Lucy Lee would have ranged in age from 34 to 38 years old during this time period. Is the original Lucy in the single portrait in her mid-thirties? And how is it that John Lee's wife, widowed in the Colorado of 1885, is in New York City at any time between 1884 and 1888?[3]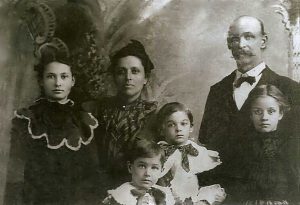 Miss Lucy Lee would have ranged in age from 14 to 19 years old during this time period. Is the original Lucy in the single portrait in her teen age years? And what would a newly-wedded Colorado mountain girl with a new baby, Maude Lavina Potter (b. 1885), be doing in New York City?
Or, are these just photographic circumstances where mother and daughter (and women of the family in general) bear a strong resemblance to one another? I have but one ace left to play – a great-granddaughter of Lucy (Nestle) Lee is still living; she might solve this mystery once and for all. Indeed, if not, this is a case where I must turn it over to the Wisdom of the Crowd, as I hope for a better identification of Lucy, and an understanding of both women called Lucy Lee, and the lives they led.[4]
Notes
[1] Lucy Melinda (Nestle) Lee (1850–1888) – an original cropped copy of her photograph without the photographer's mark was supplied to me about 2015.
[2] Trow's New York City Directory, for the year ending May 1, 1889, as per langdonroad.com
[3] De Young's studio is also noteworthy for having taken a picture of the Sundance Kid, who along with his friend Butch Cassidy is alleged to have had strong ties with the Bassett family of Colorado. Mrs. Lucy Lee was in residence with a Dr. George Bassett in 1885 – bringing about a perhaps coincidental association between Lucy Lee, DeYoung's photography studio, the Bassett family, and the infamous outlaws. Mrs. Lee died 19 September 1888.
[4] Wisdom of the Crowd, Algorithm Entertainment, CBS Universal; a recent television program premised on solving crime or mystery through the analytics of participatory social media.