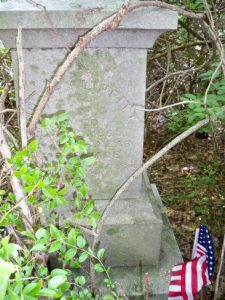 One way genealogies can get items incorrect is when there are two individuals of roughly the same age with the same name and who have other identifying relatives with the same name as well. In this example, it gets further muddled as their respective fathers died in the same year.
The focus of this research was Rhobe (or Rhoby) Sheldon (1790–1865) of Cranston, Rhode Island, wife of William Lippitt (1786–1872). Rhoby and William married at Cranston on 1 January 1809. Their marriage, like most for this time period, does not list the parents of either, only that they were both residents of Cranston. Rhoby and William had twelve children, and Rhoby died at Cranston 3 January 1865. Her death record stated that she was born in Cranston and was the daughter of Stephen Sheldon. Maybe that's where I should have left this; after all, her parents were not the focus of the genealogy…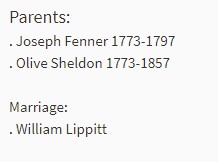 Rhoby's Findagrave memorial listed the following interesting item in regards to her parents:
This wasn't sourced, but it piqued my curiosity. (The contributor to this memorial was not accepting messages.) All records I had seen listed Rhoby as a Sheldon. The Joseph Fenner listed above was the son of Rhode Island Governor Arthur Fenner (1745–1805). I could not find any legitimate sources that claimed Arthur's son Joseph had a child – or even was married. Was Rhoby Sheldon illegitimate? I then looked for her purported mother Olive Sheldon.
The dates on the above findagrave entry pointed to an Olive Sheldon, born at Smithfield, Rhode Island 9 May 1773, daughter of Benjamin and Sarah (Smith) Sheldon. This Olive also had a brother named Stephen, so if Rhoby was Olive's child, perhaps this uncle raised Rhoby. Benjamin Sheldon moved to Norwich, Chenango County, New York, where he died in 1816. His will mentioned a daughter Olive Aldrich, but no granddaughter Rhoby (not that it necessarily would). I looked through some records back in Smithfield, but did not find anything great.
I looked at The Sheldon Magazine (written in the 1850s), and this is where things got confusing. There was also a Stephen Sheldon (a second cousin to Benjamin, see chart below), who had a daughter named Olive, and also died in the year 1816! This work had further information on Benjamin (of Cranston, like Rhoby), and had his daughter Olive (no spouse attributed) with a child "Rhoda" married to "Lippitt." The fact that this report did not list Olive's spouse (or Rhoda's husband's first name) led me to conclude this was likely from a will or deed. Going to Cranston probate records, I found the will of Stephen Sheldon, written in 1814 and proved two years later. Sure enough the fourth item is as follows:

Fourthly, I do give unto my daughter Olive's Heir, Rhobe Lippitt two hundred Dollars to be paid by my Executor, hereafter named, in one year, after my decease.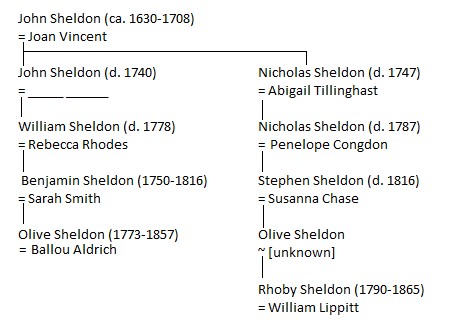 There was Rhoby! So Rhobe Sheldon was the illegitimate daughter of Olive Sheldon, who was the daughter of Stephen and Susanna (Chace) Sheldon of Cranston. Whether this Olive ever married, or when she died, is not known. As Stephen Sheldon was Rhoby's maternal grandfather, perhaps he helped raise her, which could be a reason he was listed as her father on Rhoby's death. I have found nothing to support the above claim that Rhoby's father was Joseph Fenner, and since the above findagrave entry had the wrong Olive, I'll let that rest for now and leave Rhoby's father as unknown. Even though the initial facts were off, they led to this additional clarification. Having the wrong Olive listed is not surprising, since they were around the same age, both had immediate relatives named Stephen, and both had fathers who died in the same year!