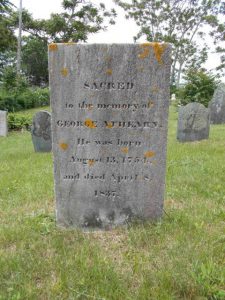 I want to love the husband of my favorite ancestor, Hepsibah, as much as I love her … but I can't. When I first began researching George Athearn,[1] he seemed to be the very model of an eighteenth-century gentleman: a 1775 graduate of Harvard and judge of probate in his hometown. I was proud to have him as an ancestor, ecstatic to stay five nights in his former home, and diligent in finding out everything I could about him.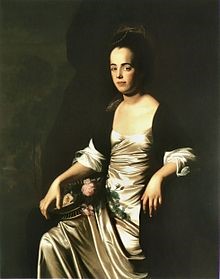 I learned that he was a subscriber to The Gleaner, a book written in the 1790s by Judith Sargent Murray,[2] an early feminist and proponent of religious Universalism. I loved discovering that other subscribers to her book included George and Martha Washington, John Adams, Elbridge Gerry (for whom gerrymandering is named) … and Stephen Fales,[3] George Athearn's business partner.
It is his business with Stephen Fales that precludes me from loving George Athearn as I would like. The first whiff of trouble came from a brief mention in The Fales Family of Bristol, Rhode Island, by De Coursey Fales – an otherwise excellent book that erroneously identified George Athearn's business partner as Samuel Fales.[4] The book listed various wares advertised for sale by Fales and Athearn, including rum, sugar, and other articles produced by slave labor in the Caribbean.
Then I discovered an 1815 Circuit Court ruling, "Fales and Athearn v. Mayberry," which described how the business partners arranged in 1798 to circumvent prohibitions on Americans engaging in the slave trade by having their brig "Peggy" sold in the Caribbean. Unfortunately for them, Captain Mayberry retained all of the proceeds instead of just his one-third interest, causing the eventual failure of Fales and Athearn.
The court case determined whether men who had been assigned a financial interest in Fales and Athearn's illegally-derived assets could collect, and one of the two assignees was Samuel Brown of Boston. This is very likely the Newport native who helped underwrite the Columbia Expedition, America's first circumnavigation of the globe. An interesting video from WGBH explores the nightmare of tracking down his genealogy.
The court case determined whether men who had been assigned a financial interest in Fales and Athearn's illegally-derived assets could collect…
The most graphic pieces of evidence I uncovered came from British Bahamian court decisions in 1800 and 1801, which describe how the Fales and Athearn ship "New Adventure" – including its cargo of 97 negroes – was captured by a privateer. The ship's captain was a native and resident of Newport, and the suit he brought on behalf of Fales and Athearn admitted in its first paragraph that the slave trade was "prohibited to Citizens of the United States of America by the Municipal Laws of the said States." It also mentioned that while the "New Adventure" was off the coast of Gambia, it met up with the brig "Juno and Eliza," also partly owned by Fales and Athearn. Ugggh! Yet another slave ship owned by my ancestor.
For several days after discovering the awful nature of my ancestor's business, I felt physically ill. I also felt angry and betrayed. How could someone with George Athearn's education and connections employ them to such ends? And how could my beloved Hepsibah stand to be married to him? Perhaps if he had been in some obscure corner of my pedigree I could have tried to ignore his existence … but there he stood, smack dab in the middle of my paternal line!
While I can never be reconciled to any of this, I've come to realize that George Athearn's business sadly made him very much like other eighteenth-century gentlemen. The more I've studied, the more I've learned how much slavery was woven throughout the fabric of American culture, both North and South, from its inception. The slave trade was largely based out of Rhode Island, and even Alexander Hamilton and John Adams – who personally decried slavery – had fathers-in-law who owned slaves.
George Athearn had a namesake grandson – George Athearn Adams – who was a Presbyterian minister and abolitionist in Ohio and Indiana. He also had a granddaughter married to Dr. Thomas H. Webb, who worked to bring Kansas into the nation as a free state, published a book written by a sister of Henry Ward Beecher[5] and Harriet Beecher Stowe,[6] and had some degree of connection to John Brown.[7] While I'm grateful for these family members' efforts to fight slavery in their own day, it doesn't let me off the hook in responding to its legacy today. I guess this public recognition is the first step.
Notes
[1] George Athearn (1754–1837) was a son of James Athearn and Rebecca Scudder. He was born and died in West Tisbury, Martha's Vineyard, and also lived in Providence and Boston, where he was a merchant.
[2] Judith Sargent (1751–1820) was the eldest child of Winthrop Sargent and Judith Saunders. She married (1) John Stevens, a ship captain, and (2) the Rev. John Murray, who is generally regarded as the founder of organized American Universalism.
[3] Stephen Fales (1756–c. 1821) was a son of Nathaniel Fales and Sarah Little. A native of Bristol, Rhode Island, he was a merchant in Boston by 1789, and apparently died in Fredericksburg, Virginia.
[4] Samuel Fales (1775–1848) was a principal ancestor featured in De Coursey Fales's family history. An article about him by a descendant was published in the New York Times in 2016.
[5] The Rev. Henry Ward Beecher (1813–1887), a prominent abolitionist and Congregational minister, was tried for adultery with a member of his congregation in 1875.
[6] Harriet Beecher Stowe (1811–1896) was the author of the popular anti-slavery novel Uncle Tom's Cabin.
[7] John Brown (1800–1859) was an abolitionist who believed that only the shedding of blood could purge the sin of slavery from America. He was executed for orchestrating a raid on the federal armory at Harpers Ferry, West Virginia.