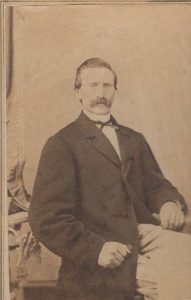 Although the term PTSD (Post-Traumatic Stress Disorder) did not come into widespread use until a century after the Civil War, the aberrant and antisocial behavior of Irving Brewster Delano (1840–1905) of Fairhaven, Massachusetts, seems to fit some of its symptoms. He served in the United States Navy from October 1862 until October 1863 aboard the U.S.S. North Carolina, Dacotah, and Alleghany. Irving's family entry in the prodigious genealogy, The American House of Delano, gives details on his marriage and the births of his three children but neglects to mention his divorce.
From the evidence of the Delano family gravestone in Riverside Cemetery in Fairhaven, with full dates for birth and death, Irving would seem to be tucked in the family plot among his parents and three of his siblings. In fact, though, he died far from home in Haskell, Polk County, Florida, where he had lived as a lone Yankee for the last twenty years of his life.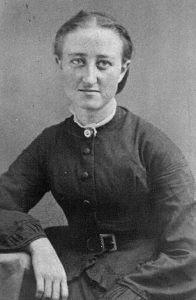 Married at 28 to Mary Bethiah Paine, Irving ceased to be a mariner after the Civil War and eked out a living as a farm laborer. His marriage exploded after seven years. Eight months pregnant with their third child, Mary filed for divorce, citing her husband's extreme cruelty, and charging that Irving was guilty of "cruel and abusive treatment [in] wantonly and cruelly refusing" to provide support for her and their children. Irving did not appear in court to answer charges. His property was attached for $1,000.
Two months after Mary's petition, their marriage was dissolved, and she resumed her maiden name. Four years later, she married a whaler from the Azores, Mariano Silva. They raised Irving's children and four more of their own. When the Silvas bought a farm in Marion, Massachusetts, Mary's former mother-in-law, Elizabeth Delano, gave them a team of horses – a telling sign of continued respect for Mary.
After the divorce, Irving returned to his mother's house for the next ten years. He still claimed to be married in the 1880 census. In 1885, he purchased ten acres in Florida where he lived in an isolated shack, his nearest neighbor half-a-mile away. Clearly, Irving's life had taken a different tack.
[As] the first loader firing a salute aboard the U.S.S. Dacotah, he lost most of his hearing. Vertigo and incessant humming inside his head ensued from that time.
Examining Irving's extensive Civil War pension file helped me conjecture why it did. The war indeed had damaged him. On 12 March 1883, he qualified for a disability on the basis of total deafness in his right ear and partial deafness in his left. Irving recounted that twenty years earlier, off the coast of Monroe, Virginia, as the first loader firing a salute aboard the U.S.S. Dacotah, he lost most of his hearing. Vertigo and incessant humming inside his head ensued from that time.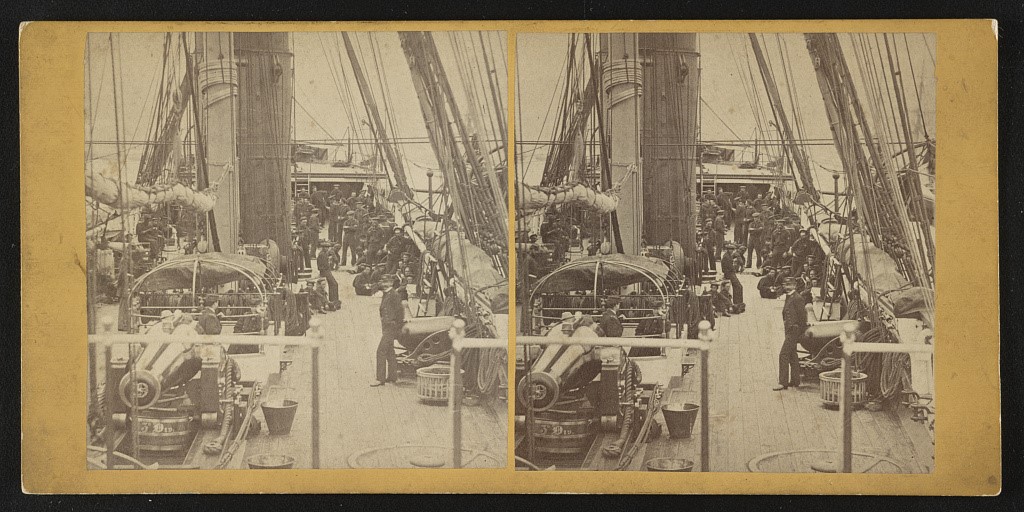 Irving's deposition stated that "I was never treated in any hospital as the ship's surgeon said it would be useless." He finished his term of naval service as a coal heaver. Amid the documentation amassed in his file, one doctor wrote, "I consider him unfit or in other words unable to do any hard manual labor, if it were possible for him to obtain it, for no one will employ an unsound man when they can get one in full health." While these examining physicians took into account Irving's physical disability, no one at the time likely gave any consideration to how trauma could have impacted his mental health.
Irving's children remembered him gently. They maintained contact through letters. His daughter Evelena named a son Irving Delano Caswell, and his name endured in later generations of her family. By the early 1930s, Irving's son, Harvey Delano, loved to tell friends and acquaintances that his father and FDR's mother were second cousins. A famous name sometimes covers a multitude of transgressions.