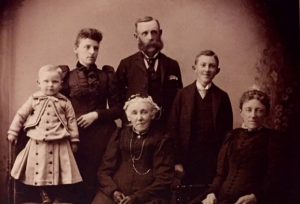 I love it when other genealogists give me a hand. This past weekend someone from San Diego kindly alerted me to an eBay auction for an old Imperial Cabinet-sized photograph. Someone had thoughtfully labeled the people in the photograph years ago, and they all appear in my online family tree (though none as a close relation).
The circa 1893 photograph depicts the family of Barker Burnell (1849–1927), whose illustrious grandfather and infamous father – each bearing the same name – were mentioned in a previous post. Family members include Mr. Burnell; his mother Lydia (Crosby) Burnell; wife Julia Ann (Wilson) Burnell; oldest son Walter Newman Burnell; second son Edward Wilson Burnell; and only sister Mary C. Burnell.
I bid a couple of times, planning to donate the photograph to the Nantucket Historical Association for their collections if I won. It would make a nice addition to their online Barney Genealogical Record, which lists thousands of individuals on the very tangled vine of island families, but I didn't want to drive up the bidding too much, in case the other party happened to be "really related" to those in the picture. (Whoever the other bidder was, he or she won the auction.) I did harvest some screen shots for my own online family tree, however, and was simultaneously able to add corrections and additional details about the Burnells.
I didn't want to drive up the bidding too much, in case the other party happened to be "really related" to those in the picture.
Walter Newman Burnell was not the son of Julia (Wilson) Burnell; instead, he was the son of Barker Burnell's first wife, Emma Newman, and bore his maternal grandfather's name. He was born in Callao, Peru, nine months after his parents married in Lima, his grandfather having died in Chile eighteen years previously. This was a special touch-point for me, since my grandparents lived in Lima for nearly two decades, and that city was my father's hometown during high school and college. Not surprisingly, there were some difficulties in the 1900 census, with Walter's birthplace being listed as Pennsylvania, but one can understand how easily "Peru" and "Penn" could be confused when written in longhand.
I have not been able to establish definitively whether Walter Burnell ever married; the 1930 census indicates that he was divorced, but then the staff at the Lincoln Heights Jail in Los Angeles might not have been in the best position to know his status! In any case, I've been unable to find a record of any marriage; he was described as single in the 1940 census (living in a veterans' facility), and he listed a sister as next-of-kin on his 1942 World War II draft registration card.
Edward Wilson Burnell was also named for his maternal grandfather. In the photograph, his appearance doesn't elicit any suspicions, but his mentality was listed as "moron" in records from the Institution for Feeble-Minded in Eldridge, California. He was incapable of doing any mathematical computations by the age of 18, though he could "read anything" and his speech was normal.
He was an apprentice mariner, according to his seaman's certificate of 1919; census records for him in 1930 and 1940 cannot be found, but that is to be expected if he were at sea. He was jailed in 1960 and again (three times) in 1962, listed as a transient, but he went on to live another eighteen years, dying at the age of 89. Whatever trials he experienced, they didn't seem to shorten his life … although, like his older brother, I can find no record of marriage or children.
Barker and Julia Burnell did get to enjoy the blessing of grandchildren, however, since both of their daughters (born in 1895 and 1899) had children. While the two girls were born too late to be included in this picture, it nevertheless captures an important moment in the life of the Burnell family, since Lydia (Crosby) Burnell and her daughter Mary would have been visiting from Massachusetts. Imagine the ordeal for a lady in her seventies to make the journey to San Diego at that time!