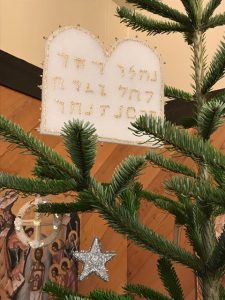 Last weekend I had an extremely fruitful session of something my husband and I call "Moses Marcussing." While the Rev. Moses Marcus is not an ancestor or even a cousin of mine, he appears in my family tree as the father-in-law of my first cousin five times removed, and despite his infinitesimal kinship to me, I consider him one of the jewels in my genealogical crown.
Vita Brevis readers may remember a few details of his life contained in a tribute to his daughter Lelia, who was lost during a hurricane in 1875. Three years ago I was contacted by someone requesting details about her father, after they'd found information I'd provided for her memorial on Find A Grave. You can imagine the thrill of getting such a request, since I fancy myself the world's foremost expert on the Rev. Moses Marcus. My thrill was tinged with a hint of suspicion that a close family member (knowing my partiality to the reverend gentleman) might have gone to the effort of creating a fake account just to pull my leg … but it was genuine, and I was happy to oblige.
In case another soul on the planet ever wants more information, I periodically check to see if I can find anything new about Moses Marcus, and last weekend the answer was a resounding YES. The source of my of my success came from English probate records that have been added since I last had an international subscription to ancestry.com.  Genealogical experts are always singing the praises of probate records, and what I found this weekend absolutely proved their value. Before I reveal what I found, however, I should mention that I had to wade through medieval-style script to get there!
I'm definitely a fan of preserving ancient art forms, and love the fact that English lawyers still wear little white wigs and black gowns in court, and judges look like Father Christmas all year long in their fur-trimmed red robes. However, I fail to see the necessity for nineteenth-century clerks to transcribe wills using script that had been out of style for hundreds of years! Alas, this was what my poor eyes and brain had to contend with (compounded by imperfect digital images); thankfully, the effort was well rewarded.
Genealogical experts are always singing the praises of probate records, and what I found this weekend absolutely proved their value.
First, I discovered the 1834 will of William Page, gentleman, a resident of Emberton, Buckinghamshire. This man was the father of Kezia (Page) Marcus, wife of the Rev. Moses Marcus. I nearly passed up this document as irrelevant, since the first page mentioned a wife Sury (Kezia's mother was named Elizabeth), plus a son James and two daughters, Sophia and Mary … but not Kezia or her sister Knight. I'd discovered the relationship between Kezia and the unusually-named Knight early on, since they signed as witnesses at each other's marriages in 1817. Luckily, I continued to scan later pages and noticed the name of James Millar – Knight's second husband – and finally a reference to Kezia herself.
But what I read about Kezia was heartbreaking: she had been disinherited! Of course it's impossible to know the exact circumstances, but a likely explanation was that William Page objected to the Jewish heritage of his son-in-law. If Kezia went against her father's wishes in marrying Moses, naming her firstborn son after her father does not appear to have mollified the old man one bit. Tragically, Kezia died in January 1835, only a few months after her father.
But what I read about Kezia was heartbreaking: she had been disinherited!
My spirits were lifted, however, by what I found in the 1852 will of Kezia's sister, Knight (Page) (Pomfret Williams) Millar, widow, of Newport Pagnell, Buckinghamshire. After stipulating that her debts and funeral expenses should be paid, the very first bequest was for the children of her sister Kezia Marcus. I have to admit that I shed a few tears of happiness to think that Knight had continued to stand by her sister, even in the face of their father's wrath. Each of Kezia's children was given 150 Pounds Sterling (worth approximately $20,000 today) … and there were two children named in addition to the four I was already aware of!!
While this was a very exciting development, it was not wholly unexpected. There were two tick marks in Moses Marcus's 1840 census record that were not accounted for, so I'd looked for additional children. However, since I didn't know their names, or even whether they'd been born in England or the Netherlands (where their father served as chaplain in the early 1830s), I'd been unsuccessful in tracking them down. Now here they were: Marianne Marsh Marcus, the wife of [blank] Tinker of New York, and Pomfret Marcus.
Even with names and approximate birth years, I have not been able to find their baptismal records in England, but I was able to find them in some New York documents. Their dates and places of death are also still mysteries … which is a little odd in the case of the youngest son: how can anyone named Pomfret blend into the crowd?? In due time, I may be able to track everything down, but for now I'm thrilled to know their names, and that their Aunt Knight loved and remembered them.