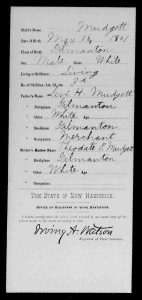 When Chris Child completed the chart of the ancestry of Meghan Markle, which depicts her descent from Edward III and the common ancestry she shares with Prince Harry, I was intrigued by Markle's early American ancestors. In looking over the chart, one couple in particular caught my eye: John Smith and Mary "Polly" Mudgett.
As someone who has seen one too many true crime documentaries on Netflix, the surname Mudgett reminded me of Herman Webster Mudgett, more commonly known as H.H. Holmes, one of America's first serial killers. H.H. Holmes is infamous for his "murder castle," a hotel built for the 1893 Chicago World Fair where several of Holmes' crimes are thought to have occurred. Holmes was eventually arrested in Boston and executed at Moyamensing Prison on 7 May 1896, but intrigue over his life and crimes have led to books, documentaries, and most recently, a television show on the History Channel.[1]
Mudgett/Holmes was born in Gilmanton, New Hampshire in 1861, son of Levi H. and Theodate (Price) Mudgett.[2] Mudgett married first, at Alton, New Hampshire, on 4 July 1878, Clara Lovering. In 1882, he began studying at the University of Michigan, and after his graduation, lived in several parts of the United States while his first wife, Clara, moved back to New Hampshire.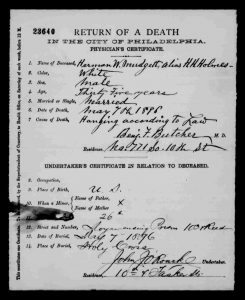 Herman W. Mudgett/H.H. Holmes was a descendant of Thomas Mudgett of Salisbury, Massachusetts.[3] A connection between Mary "Polly" (Mudgett) Smith seemed likely if she was also born in Massachusetts or New Hampshire. I located the marriage record of John Smith and Polly Mudgett at New Hampton, New Hampshire, dated 25 December 1817. Polly Mudgett was born at New Hampton on 16 January 1797, and was the daughter of Benjamin and Lydia Mudgett.
Through New Hampshire Vital and Probate Records, I found that Mary "Polly" (Mudgett) Smith and H.H. Holmes share common ancestors in John Mudgett, the son of Thomas Mudgett of Salisbury, and his wife Susanna Scribner. H.H. Holmes and Polly are second cousins twice removed; H.H. Holmes and Meghan Markle are fourth cousins four times removed.
While some family connections, such as being cousins to pilgrims, royalty, or American presidents, can evoke a sense of pride, it can also dredge up ancestors that some would like to keep hidden. In Thomas Mudgett of Salisbury, Massachusetts and His Descendants, a genealogy of the Mudgett family published in 1961, Herman Webster Mudgett is listed, along with his first marriage and oldest child. However, there is no mention of his aliases or crimes, while information on other notable Mudgetts is provided. Maybe the authors were trying to keep the connection under wraps!
Notes
[1] "Pennsylvania, Philadelphia City Death Certificates, 1803-1915," database with images, FamilySearch (https://familysearch.org/ark:/61903/1:1:JFTC-B3R : 9 December 2014), Herman W. Mudgett or H.H. Holmes, 7 May 1896; citing cn23640, Philadelphia City Archives and Historical Society of Pennsylvania, Philadelphia; FHL microfilm 1,863,641.
[2] Household of Levi H. Madgett [sic], 1870 United States Federal Census, Year: 1870; Census Place: Gilmanton, Belknap, New Hampshire; Roll: M593_836; Page: 113B; Family History Library Film: 552335.
[3] Mildred D. and Bruce D. Mudgett, Thomas Mudgett of Salisbury, Massachusetts and His Descendants (Bennington, Vt.: M.D. Mudgett, 1961), 120–21. According to the genealogy, the line of descent from Thomas Mudgett is: Herman Webster7 Mudgett, Levi H.6 Mudgett, Scribner5 Mudgett, Samuel4 Mudgett, Edward3 Mudgett, John2 Mudgett, Thomas1 Mudgett.
Share this:

About Katrina Fahy
Katrina, a native of Dedham, Massachusetts, earned a B.A. in History and Art History from St. Anselm College. Previously, she interned at the New Hampshire Historical Society, constructing biographies of New Hampshire quilt makers as well as transcribing a mid-nineteenth century New Hampshire diary and creating an educational program based on its contents. Katrina's research interests include New England and South East regions, as well as the American Revolution.View all posts by Katrina Fahy →