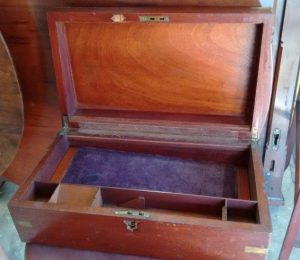 As a member of my local historic preservation commission, as well as my family's de facto family historian and custodian of All Things Family Memorabilia, I often encounter the decision of what to preserve, what to donate or sell, and what to demolish. Historic preservation of buildings is a complex and sometimes contentious topic best left for other writers. But what about all those smaller treasures our ancestors left for us, assuming that we would value them, cherish them, and preserve them as they had (even if we don't know what or who they are)?
I recently sought expert advice on restoring an antique wooden writing box (shown above) and a partitioned wooden sewing box. The writing box, of 1820s vintage, is in very good condition for its age even though it lacks the brass shield on the top and at the keyhole as well as the latch securing the writing surface. The interior linen and velvet hinge has parted company with its other half, and a small piece of veneer has become a splinter.
I don't know who owned it, only that it came out of my great-great-great-great-grandfather's homestead. Given its age, I suspect it belonged to my great-great-great-grandmother, Experience Read Cony (1802–1886), or her husband, Capt. John Cony (1803–1876). For some families, its condition alone might warrant disposal as much as restoration, and the lack of verified provenance would guarantee it.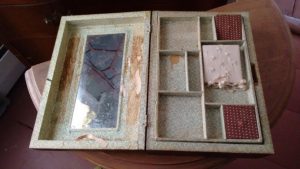 The sewing box also came from that same house, specific owner also unknown, and boasts fabric-lined sections. Attached under the mirror is a scrap of paper with "1857" written on it. Of the women living in that house during the 1850s through the 1860s, Experience Read Cony or her daughter-in-law, Mary Ann Stone Cony (1840–1927), could have owned it.
I have come to understand that not everything old needs saving, but not everything old needs to be destroyed to make way for newer, more contemporary versions. While intellect analyzes condition, provenance, value, usefulness, and costs, emotion sometimes overrides the analysis and common sense. How many of us view our deceased ancestors' possessions as trash to be removed to "clean out the house for sale?" On the other hand, how many of us stuff our own houses with those same possessions with the intention of "sorting through them someday," a day that may never come? Are we then procrastinating or preserving? Does it matter?
I have come to understand that not everything old needs saving, but not everything old needs to be destroyed to make way for newer, more contemporary versions.
I think not. From my own experience, such decisions made in haste are usually wrong, and prompt later regrets. While I have saved and attempted to preserve and restore many things, I've also given away or discarded items I later realized were things valuable to the stories of my family's history. I believe it is better to take the time to understand the history behind the artifact, as well as its provenance, before deciding whether to remove it or restore it.
Perhaps the Swedish idea of "death cleaning" – i.e., decluttering before death to reorganize and make life easier with less "stuff" – provides time to reflect on those items, time to savor their meaning and sentiments, and time to be sure the decision to save or discard is the correct one for all. Paving Paradise to make a parking lot applies to more than urban spaces; it also applies to settling the question of what to do with all that "family stuff."
As for the writing box and the sewing box, I'll have them restored in spite of the objections of my checkbook. There are those in my family who will value, love, and use them again for their original intended purposes, to be enjoyed simply for what they are: a nice, really old, wooden writing box and a sewing box. No parking lot this time, just two things lost, two things found.