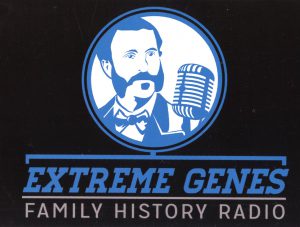 November is National Podcast Month, so this is the perfect month to share some favorite podcasts. Typically, a podcast is an episodic audio (sometimes video) program that can be downloaded online. Think of these as a form of talk radio in which you can choose when to tune in. The topics of the programming varies widely, so there are many that are useful and interesting to us as family historians.
 Genealogy
Podcast: Extreme Genes: America's Family History Radio Show & Podcast (http://extremegenes.com/). Hosts: Scott Fisher with David Allen Lambert and Tom Perry. Updates: Sundays. Archives: The archive currently holds 212 episodes ranging from 15 July 2013 to 29 October 2017.
Like many podcasts, Extreme Genes began as a radio show. The description of the podcast perfectly summarizes the purpose of this popular show. "On Extreme Genes Fisher sets out to educate the audience on resources and techniques for completing any gaps found in your family tree. Each week Fisher interviews national experts in the field of genealogy as well as news related to all of our genealogy." In addition to chatting with David Allen Lambert (Chief Genealogist) each week, Fisher has also interviewed many other NEHGS experts like Lindsay Fulton (Director of Research Services), Jean Maguire (Library Director), and Brenton Simons (President and CEO). These episodes last about 45 minutes each but are broken into segments, and you can refer back to the transcripts on the website.
Podcast: The Forget-Me-Not Hour (http://www.4getmenotancestry.com/radio-show/). Host: Jane E. Wilcox. Tag line: "Your Ancestors Want Their Stories to Be Told." Updates: Unfortunately, this podcast is on indefinite hiatus. Archives: There are 101 episodes available dating from 19 December 2012 to 21 June 2017.
For over five years, The Forget-Me-Not Hour has provided genealogists with an impressive amount of valuable information about all kinds of genealogical research. Host Jane E. Wilcox is an expert in New York resources, so every other episode relates directly to topics in New York research. She has interviewed many known leaders in our field like Robert Charles Anderson, Blaine Bettinger, Gordon Remington, and Cyndi Ingle (of Cyndi's List) – to name a few. With these guests, she discusses sources, repositories where we can access those sources, and research methods. The audience also gains some insight as to how these interviewees made their way in genealogy and their backgrounds. This charming and informative podcast quickly became a favorite once it was recommended to me.
Cultural Heritage
 Podcast: The Italian American Podcast (http://italianamericanexperience.com/). Hosts: Dolores Alfieri and Anthony Fasano. Updates: Sundays. Archives: As of 29 October 2017, 52 episodes (dating back to 15 November 2015) have been posted.
One of the most enjoyable parts of this podcast remains the accents of the hosts and their interviewees. Naturally, nearly everyone is Italian and either raised in Italy or in Italian neighborhoods in the U.S. In fact, the first interview was with Mary Tedesco (founder of ORIGINS ITALY and host of PBS's Genealogy Roadshow). Not only do listeners experience the sounds of Italian Americans, but we are also immersed in the values and culture of this ethnic group. It feels like they have recorded members of my own family, so I agree that for the hosts, this podcast is "from our hearts to your ears." In addition to the overall experience, the interviews provide useful information about topics like genealogy, visiting ancestral villages, and more. Be sure to check out the videos on the website for more sights and sounds of Italian Americans.
Podcast: StoryCorps (https://storycorps.org/). Hosts: Michael Garofalo. Tag line: "Listen, Honor, Share." Updates: Once a week. Archives: Although the podcast has 50 episodes (posted between 15 November 2016 and 27 October 2017), there are many more stories online (dating back to 2004).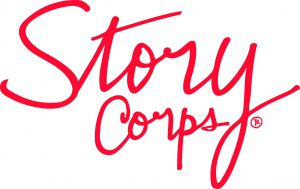 In 2003, Story Corps launched with the mission "to preserve and share humanity's stories" and store them at the Library of Congress. With the podcast episodes, we hear collections of clips from unscripted conversations between people of all walks of life. This is great for learning more about the occupations, events, relationships, etc., that mattered to people who may have had similar experiences to our ancestors and relatives. For example, the episode from 26 September 2017 features an archived 1949 interview with a 101-year-old former slave whose grandfather belonged to Thomas Jefferson. Genealogists will find the suggested questions section of the website (https://storycorps.org/participate/great-questions/) a helpful tool for interviewing family members.
History
 Podcast: Migration Nation: An American Migration Podcast (http://www.migrationpodcast.com/). Hosts: Lyman Stone and Brian Hudson. Tag line: "Make America Migrate Again." Updates: This show has sporadic updates and is intended for a limited run of episodes. Archives: Thus far, 15 episodes have been posted between 28 January 2016 and 7 April 2017.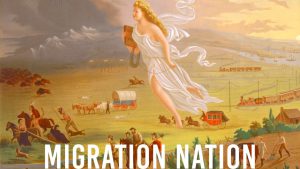 With the Migration Nation podcast, the hosts – an economist and a history teacher – tell the story of American migration chronologically. Each episode explores the migration into and out of specific regions in time periods of great movement. For more about the hosts' intentions, listen to episode 0. My favorite part of this project is actually the corresponding blog (http://www.migrationpodcast.com/lyman/) where maps and charts are posted to show additional data.
Podcast: BackStory. Hosts: Brian Balogh, Ed Ayers, Peter Onuf, Nathan Connolly, and Joanne Freeman. Updates: Fridays. Archives: There are 218 episodes from 19 May 2008 until 27 October 2017. About 119 episodes are available on the Apple Podcast app dating back to September 2015.
BackStory was the first podcast to grab my attention and has held it since. Unsurprisingly, it has been ranked in the Top 10 on iTunes. Before this year, the three hosts each represented a different century in American history, and now the new mix of hosts adds a few additional perspectives. In each episode, the hosts take a topic from today's headlines and explore how we got here by looking back through American history. Beyond listening to enjoyable conversations, we can learn about events in the nation's history that influenced our ancestors. I especially appreciate how many authors they interview because I learn about non-fiction books on topics of interest.
*
In March 2017, a project to recommend podcasts to new audiences used the Twitter hashtag #trypod (https://twitter.com/hashtag/trypod?lang=en). Recommendations can still be found tagged there for anyone looking to try something new.
Podcasts can usually be accessed through their websites, iTunes, and the Apple Podcast app, among other options. Often, the websites feature supplements to the podcasts that further explore the topic, provide statistics, list sources and links to other items of interest, has photos, and more. A podcast program in this way expands far beyond an entertaining listen and into a multi-media education experience.
Then, once we listen and learn at our leisure, we can share our experiences with others. Not only can we let the podcast hosts and producers know our thoughts, we can discuss the topics further with friends and family. Thanks to podcasts, I have a wide variety of ready-made conversation starters. So tune in and take in, then talk!