A year ago last summer I was contacted by a gentleman from Zeeland, Michigan. While out weekend bargain hunting, he had come across an antique photograph for sale at a local flea market. The gentleman wrote with empathy about family history, and he seemed to have at least a hobbyist's eye for old pictures. His curiosity was piqued by this one particular picture, so he purchased it, no doubt saving it from the fate of some Michigan land fill.  He said that the only identifier as to who the person in the photo might be were the words "Grandpa Burson" written on its back.
From what I could gather, the man from Zeeland enjoys following where the clues in any old pictures might take him. In this case, from the photographer's location (255 miles away in Carey, Ohio) to the inscription on the reverse, in an attempt to reunite lost pictures with family. Somehow in the confluence of all things "Burson," he located my email address (presumably through Findagrave.com). After emailing me a copy of the picture, "Mr. Z." asked if I might know who the man in the picture was. (I had to wonder if Mr. Z's contacting me wasn't influenced by the auspices of my great-grandmother's ghost – as she was a Burson.)[1]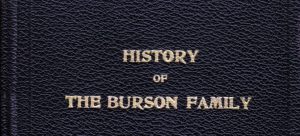 I did not know who the man in the old photograph was. However, my gut told me that there was a good chance that if he was a member of the Burson clan I might have a shot in figuring it out. I let Mr. Z. know that I would work on it, and I went to the only source I had for such things, that being History of the Burson Family by John Charles Burson.[2] What a long shot!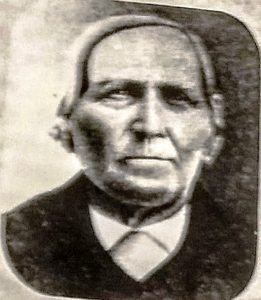 Compiled in 1932, J.C. Burson's book remains one of the best histories for this family. It is replete with half-finished family lines (my own included) and is bereft of good source information, but John Burson did one really great thing in his book: he included photographs, as many as he could cram in. They are at once grainy, sandy, and small, but they are there nonetheless. Fortunately, the genealogical gods were smiling down on me that day as I was able to match the picture Mr. Z.'s flea market photograph to a picture in History of the Burson Family. The man in the picture was Elijah Burson.[3]
It turns out that Elijah Burson is my great-great-great-great-uncle, the brother of my great-great-great-grandfather Thomas Burson. Okay – that's great – but not so fast … Elijah Burson is also the father of John Charles Burson – the author of History of the Burson Family? Wait – what!?
So I wrote back to the gentleman from Zeeland and let him know the identity of the man in his photograph. Mr. Z., ever cool and kind, and asked me if I wanted the picture. How could I say no? I was happy to have a picture of my great-great-great-great-uncle. So Elijah Burson's original photograph had (sort of) come home to me, his brother's great-great-great-grandson.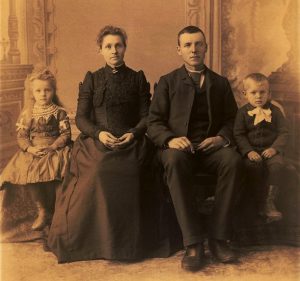 This just doesn't seem to be enough somehow. In reading a few of the Vita Brevis posts by Pamela Athearn Filbert[4] and Chris Child,[5] I'm thinking that my work isn't done here. Elijah's photograph doesn't belong with me. Sure, the picture is in better hands than at a Michigan flea market, but Elijah Burson, "father of the father" of my Burson family history, belongs with his own family. So I have resolved to return Elijah's picture to his direct descendants – and specifically to those of his son, the book's author John Charles Burson.
I know Elijah has many other descendants who no doubt are as worthy as those of John Burson. Heck, in the end it may be a random chance that returns the old photo of Elijah to any one of them. Yet if possible, I want to try and send Elijah back to the family of one of his son John's sons (or daughters) instead. It seems a better place to me – perhaps a more fitting one for this wayward picture.
In light of this, I have researched and mailed out a letter of inquiry to a fellow I believe is Elijah's great-great-grandson. I am hopeful I can get Elijah's picture back to his direct line descendants through his son John. It's hard to say what interest any "new" generations might have in these "old things." What I do know with some certainty is that, like the gentleman from Zeeland, I have to try.
Notes
[1] Gertrude Ann (Burson) Record (1888–1965).
[2] John Charles [Fremont] Burson (1862–1951), History of the Burson Family (Acampo, Calif., 1932).
[3] Burson, History of the Burson Family, p. 56.
[4] Pamela Athearn Filbert, "Stranger than fiction," Vita Brevis, 25 September 2017.
[5] Christopher C. Child, "In search of family photos: Part Two," Vita Brevis, 10 July 2015.