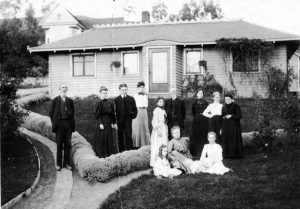 Early in my genealogical research, I noticed that one of my great-great-grandfathers, Cicero Hawley,[1] was enumerated in 1870 on the same page as the family of his future wife. That piqued my curiosity. Checking out the census form more carefully, I saw that he and his brother James were staying at a Marshalltown, Iowa, hotel run by Ephraim[2] and Emeline Shaw.[3] The Shaws had a 23-year-old daughter[4] (the same age as Cicero) who was an artist, but it was their 17-year-old daughter Belle[5] (a school teacher) who captured his heart.
Of course I couldn't tell just by the census form whether the young couple had actually met at the hotel, or whether their families were already acquainted. Fortunately, I was contacted not long afterwards by a distant cousin offering me a scan of Ephraim and Emeline Shaw's 1844 marriage certificate. He had several photographs of the family, and was able to confirm that the lovebirds had indeed met when Cicero and James Hawley were staying at the Shaws' hotel.
He shared many other interesting details, too. The Shaws moved from Maine to Eau Claire, Wisconsin, and then in the 1860s they set out for California. As they were traveling through Iowa, one of the children became ill, so they ended up staying put for several years. The extended family finally made it to Southern California by 1875. Considering their intended (and eventual) destination, the Shaws might have called their establishment the "Hotel California." While my great-great-grandfather may have checked out, it appears that he could never leave – the family, anyway![6] Even his brother "Gray"[7] married one of Belle's relatives.
In this circa 1905 photo, my great-grandmother, Agnes (Hawley) Whitaker, is standing in the "V" of the garden border next to her husband, Forrest Whitaker.[8] Her father, Cicero Hawley, is the distinguished gentleman standing in front of the door, with his wife, Belle (Shaw) Hawley, seated on the ground in front of him. Belle's mother, Emeline (Wise) Shaw, is the elderly lady in black at the far right; she died a few years later at the age of 93.
Notes
[1] Cicero Stoner Hawley (1842–1917) was a printer born in Hanover, Ohio, to Caleb Hawley (1812–1903) and Hannah Ball (1816–1863).
[2] Ephraim Eastman Shaw (1812–1880), a native of Chelsea, Vermont, and son of Daniel Shaw (1761–1850) and Mary "Polly" Eastman (b. 1776).
[3] Emeline Rochelle Wise (1815–1909), a native of Dixmont, Maine, and daughter of Joseph Binney Wise (1779–1859) and Abigail Cleveland Edwards (1782–1865). Her father accompanied them to Wisconsin, but her mother remained in Maine.
[4] Caroline "Adele" Shaw (1845–1935) was born in Maine and died in Douglas, Arizona. Her namesake granddaughter, Adele Miles, was the only bridesmaid at my grandparents' wedding. I was perplexed when I read newspaper accounts describing her as my grandmother's cousin, because she didn't have any first cousins by that name! It was a relief to track down her exact relationship: second cousin.
[5] Lyra "Belle" Shaw (1852–1938) was born in Eau Claire, Wisconsin, and died in Douglas, Arizona.
[6] "You can check out any time you like, but you can never leave!" are the final words of "Hotel California," title track of The Eagles' 1977 album.
[7] James Graham "Gray" Hawley (1836–1913) married Louisa A. Farrar (1853–1881), a daughter of Allen B. Farrar (1829–1899) and Margaret Elvira Antoinette Wise (1835–1915), Emeline (Wise) Shaw's younger sister … whose second husband, George Randolph Shaw, was Ephraim Shaw's nephew!
[8] Forrest Marion Whitaker (1877–1972), a native of Edenton, Ohio, and son of Abraham Whitaker (1848–1934) and Mary "Melissa" Prickett (1848–1924).