A recent quiz in The Weekly Genealogist asked readers to share the nature of any secrets they'd uncovered about their ancestors. More than one third of respondents indicated that they had not uncovered any secrets – to which I say, "Hah! You just haven't discovered them!" Of those who had uncovered ancestral secrets, the greatest number had to do with hidden marriages.
I suspect that most hidden marriages have been contracted by relatives who might be characterized as "the usual suspects": those folks in every family who provide a long list of colorful anecdotes. In my family's case, however, the marriage secret belonged to my maternal grandfather, who could best be characterized as a human version of Dr. Seuss's Horton the Elephant: "I meant what I said and I said what I meant, an elephant's faithful one hundred percent."
The big reveal happened nearly a decade after my grandfather died, and just weeks before his (second) wife's death. In fact, it was my grandmother's impending death that led to its discovery. My mother was concerned that important items and documents not be left untended in Grammy's apartment while she was in the care unit of her senior living residence.
Mom wasn't even snooping when she took things (with permission) to the bank safe deposit box, but her eye happened to catch the words "Divorce Decree" on the edge of a folded document. Initially she assumed that it was for one of her father's siblings … practically all of them had been divorced, some more than once. What she NEVER expected to see was her father's name!
But there it was, as clear as day: he had married at nineteen, and been divorced almost exactly a year later. My mother spent the rest of the day in almost clinical shock. During dinner that evening, she kept blurting out over and over: "I can't believe it! I just can't believe it!!"
As an only child, one of the first questions that popped into her mind was, "Do I have an older half-sibling?" Others included who the first wife was, whether she was still alive, and how she'd met her father. But the biggest question was, "Why didn't I find out about this before I was a senior citizen?"
Mom didn't want to over-stress my grandmother on her deathbed, but she really wanted some answers, so she turned to an unrelated intermediary. Yes, the woman was still alive (93 at the time, and she lived another three years), and she had two daughters by her second husband – all of whom knew about their mother's first, brief marriage! And the young couple had met in a high school math class.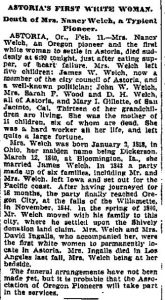 One connection that my grandfather and his first wife shared was that each was descended from Oregon Trail pioneers. But whereas my Christy ancestors[1] didn't travel the trail until after the Civil War, "the other woman's" ancestors[2] arrived in Oregon City in 1844; two years later her great-grandmother was one of the first two white women to settle in Astoria, a town founded in 1811 by John Jacob Astor.
As for the final question, there was only one person alive who knew the answer. What did Grammy have to say about the decades-long secret? "My family was rather gossipy. They didn't have any reason to know, so I never told them … but your father's family all knew."
This included my grandfather's mother, who signed as a witness on the marriage certificate, and his sister, who never mentioned it in all the years she helped Mom with the Christy family genealogy. It even included Mom's Aunt Karolyn, who was married to my grandfather's closest-age brother, and who was also my grandmother's first cousin! Karolyn learned about Grampy's first marriage from her husband, but apparently never shared that knowledge with her extended family of origin, including my mother.
This past summer my husband and I spent a few days in Astoria, and I proposed visiting the grave of Nancy Dickerson Welch, that intrepid pioneer. However, my husband – who is generally very tolerant of my genealogical ramblings (verbal as well as literal) – drew the line at visiting the grave of my grandfather's first wife's great-grandmother. At least on this trip.
Notes
[1] James Sylvanus Phillips Christy (1829–1923) and Elizabeth Lennington (1837–1909).
[2] James Welch (1816–1876) and Nancy Dickerson (1818–1896).
Share this: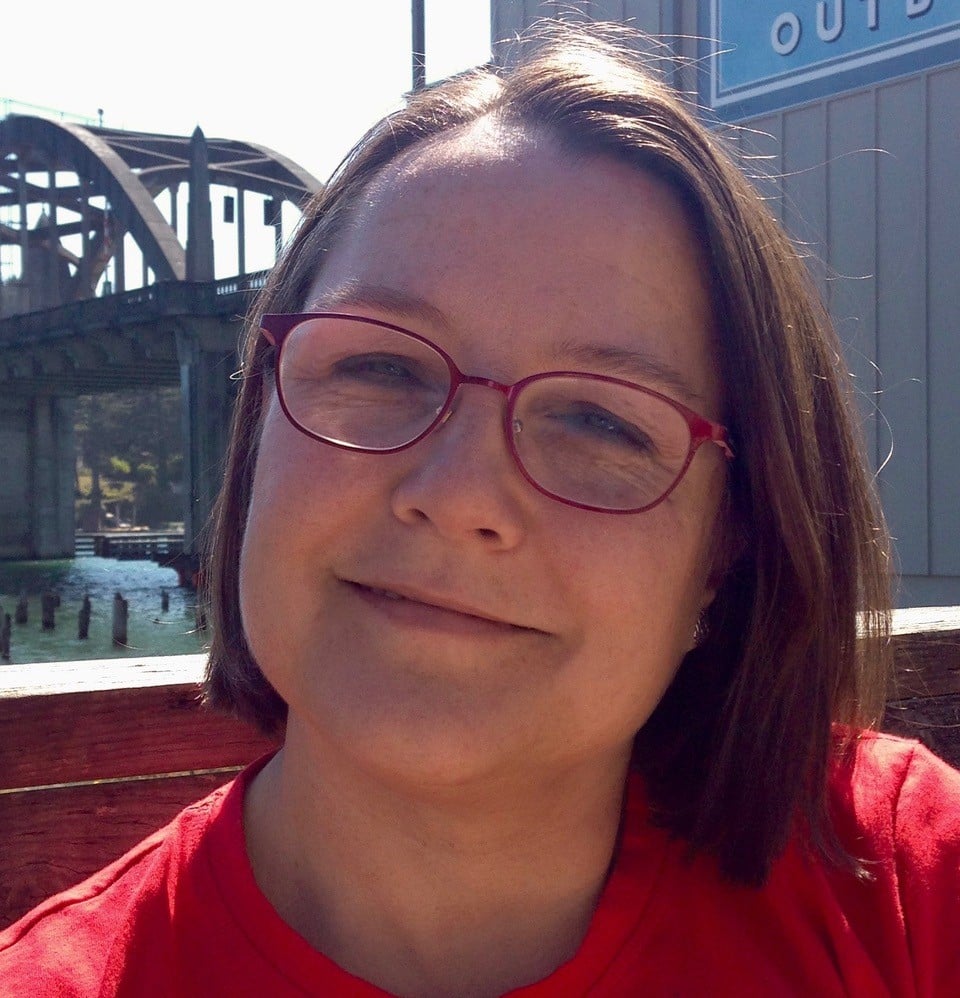 About Pamela Athearn Filbert
Pamela Athearn Filbert was born in Berkeley, California, but considers herself a "native Oregonian born in exile," since her maternal great-great-grandparents arrived via the Oregon Trail, and she herself moved to Oregon well before her second birthday. She met her husband (an actual native Oregonian whose parents lived two blocks from hers in Berkeley) in London, England. She holds a B.A. from the University of Oregon, and has worked as a newsletter and book editor in New York City and Salem, Oregon; she was most recently the college and career program coordinator at her local high school.View all posts by Pamela Athearn Filbert →