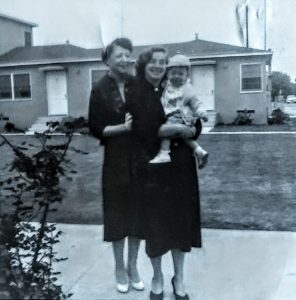 Recently, on a trip to Long Beach, California, I did what most people do when they visit their home town. I did a bit of sightseeing. With my daughter and her fiancé, we hit the urban streets hoping to find the perfect little Italian restaurant. I hadn't been downtown in literally decades, so it was interesting to see what about my old city had and hadn't changed.
Naturally, the kids had to listen to me talk about 'the old days,' what used to be 'here or there,' and of course they had to hear tales of the old roller coaster that went way out over the ocean in a death-defying swirl of creaking bolts and lumber.[1] (I've decided it's sort of fun to watch the kids' eyes glaze over…) However, a curious thing started to happen to me as we went up and down one of those streets. I became a little boy again.
Now, for those of you who know me (or have seen my bio picture here at Vita Brevis), I am certainly not a kid anymore. But as I drove down one street in particular – Pine Street – I was transported back into a world of rustling winter coats and automobiles honking their horns. Once again I was clinging to my mother's hand as we rushed through two huge doors into the lobby of a Bank of America.
The year was about 1959. And, yes, we hadn't gone there to do any banking. Rather, we were there to visit my grandmother – presumably on her lunch break. At the time my grandmother was known as Mrs. Alta V. Lee. As a divorced single mother and grandmother, she worked as a teller at the bank for a number of years.
As a small child I can remember my mother sitting me on the ledge of my grandmother's teller's window. I can see all of her wonderful stamps and inkpads, and looking up I can see an immense ceiling, trimmed in dark wood. Of course there was the money too – all of those curious dollars and coins that surely belonged only to my grandmother. What a wonderful and busy place!
So sixty years later, as my daughter drove down Pine Street, I started looking for the old bank. But where was it? Couldn't they have just left it where it was in 1959 so that I'd know where to find it? I wanted to show my children the glass block sidewalk that ran over the basement lunch room. It was here that we watched blurry shadows of people walking over us while we shared lunch that day.
I wanted to figure this out. Had the Bank of America building really been there? Surely it had to have been. I'd just go home and ask… Oh, yes, wait. Who exactly would I be asking? There is no one in my mother's family left to ask about the Long Beach of 1959. My mother's Alzheimer's disease prevents discussing even the simplest memories. It was going to be up to me to locate this "memory bank."
"There is no one left for me to ask…"
I started with the obvious, Googling Bank of America and its history in Long Beach. This was okay, but it gave me two possible answers. There were two buildings within three blocks of each other that had served as Bank of America branches during the first part of the twentieth century. I tried the local historical society, but they were unable to help with out of town research requests. I tried city directories, but how could I be certain I had the right building?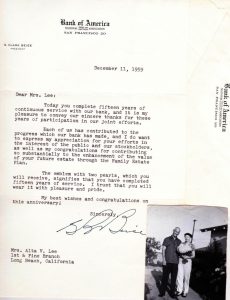 Then I remembered an old employment letter my grandmother had received from the Bank of America congratulating her on her years of service. The letter was dated 1959 and stated she had been employed for 15 years. My answer as to where "her" Bank of America was at the bottom of the letter:
Bank of America/1st and Pine Branch
Bingo. I had my bank. I had my building. Now I could let both memory and knowledge come together.  As Jan Doerr described it in a recent post, the tiniest scrap of paper can reveal such a great truth.[2]
My grandmother's Bank of America branch was housed in what was known as the Enloe Building.[3] (I'm just glad I didn't make it all up or dream it.) The funny part is, we drove all around Long Beach, looking for the perfect Italian restaurant, when the most appropriate one was calling out to me all along.

You see, the Bank of America space at 1st and Pine was converted during the 1980s in an urban renewal project. It now serves fine Italian cuisine. The dark wood ceiling of the bank now serves as a main dining room. I now see that my memories of this bank may have paid dividends after all. I can't wait to go back!
Notes
[1] Known as the "Cyclone Racer," it was part of "The Pike," a Long Beach amusement park, and ran from 1930 until 1968.
[2] Jan Doerr, Diary of an old house, Vita Brevis, 20 September 2017: "proving that even the most mundane, cluttery piece of paper can yield a family story…"
[3] The Enloe Building in Long Beach was also known as the Metropolitan Building, and housed several banks from 1906 through the 1960s. The Enloe building's clock tower is mentioned in Claudine Burnett's book, Haunted Long Beach 2: The Odd and Unusual in and Around Long Beach, California.