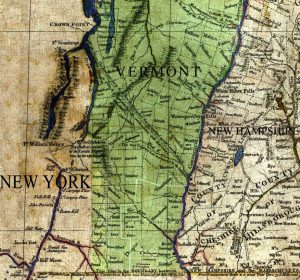 One of my 'favorite' brick walls (talk about an oxymoron!) is that of my great-great-great-grandfather Stillman Burr. He is reported born in Massachusetts circa 1797,[1] married Zeruah Kenyon at Woodstock, Vermont in 1817, and is believed to have died sometime after 1870 – possibly at Henderson County, Illinois.[2] And yes, I've always been proud to have been a part of the Burr "clan" – no matter what bad "P.R." might necessarily go along with the old name.
Stillman has always eluded me. He's kept much of his life and ancestry a private affair. He remains noticeably absent from Todd's A General History of the Burr Family…., further compounding his elusive nature. Yes, Stillman's clever in hiding himself from his Burr family of researchers. He's made sure there are enough individuals named "Stillman" in Todd's genealogy to throw us off track while peppering his name with variations such as "Silliman" and "Spillman."[3] It's as if Stillman even conspired with his own genealogical counterfeiters to give himself an ancestry proven out only by that fine old verification method known of as "copy and paste."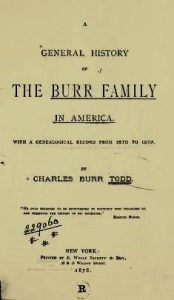 But, hey, what the heck, right? None of this means that Stillman Burr isn't still one of my favorite brick wall dudes from way back, right? After all, just because Stillman seems to have missed the final draft date for Todd's book doesn't mean that he doesn't belong in it – or make my Grandmother Alta Sage's ancestry any less a part of the Burr clan.[4] It just means that one of my old fortress style brick walls stays that way. And you know, for the most part (at least for the last twenty-five years or so) I've been okay with that. After all, I'm probably not going to get to see Hamilton anyway.
All this changed last week. While hunting and pecking around the grounds surrounding my brick walls, specifically the one wall that is 'Stillman Burr,' I was prompted to inquire into a brief bio placed by another one of Stillman's descendants on Findagrave.com.[5] It wasn't that the information posted was especially telling; it was more that the person posting seemed to have their own personal connection to Stillman. I had to know more.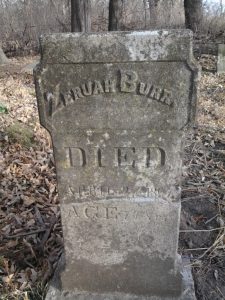 Taking a random genealogical chance, I somewhat too glibly asked the author about his relationship to Stillman Burr, and  (not expecting much in the way of results) asked if he had found any resolution to the problem of Stillman's parents and his ancestry. Was there some hidden will left in a Vermont church that would solve it all? (If only….)
Let me just say that a lesson in genealogical humility has been mine this week. My reply came from an articulate young man, who is on the same quest as I have been for 25 or so more years. While one more generation removed than I am from Stillman Burr, this young man states he is a direct male line descendant. I soon realized how fortunate I was to have encountered him and perhaps between the two of us we might finally solve the mysteries of all things 'Stillman.'
My new cousin had already taken some of the necessary steps. He recently completed a 67 marker Y-DNA chromosome study in hopes of finding his own answers regarding Stillman Burr – his great-great-great-great-grandfather. And, the results are in – this fourth great grandson of Stillman Burr does not match anyone in the Burr data base. Instead the Y-DNA matches a Hedgepath family, one that may have gone no further north than New Jersey.[7]
Suddenly, one of my favorite old brick walls just came due for a DIY remodel. The questions are overwhelming to my staid knowledge of all things Burr. Does this mean that Stillman Burr was not a Burr? Does this mean that I have no Burr ancestry? Or, rather, are we faced with a previously-unknown non-parental event within the last 200 years? Where is the break in the chain? Is this the reason why Charles Burr Todd chose to omit Stillman and Zeruah Kenyon Burr from his work?
So what was once old has become new again. It's an exciting "un-find" and perhaps the best part of it all is connecting with a new cousin to help go down that road of discovery. As near as I can tell there is only one other living male descendant of Stillman Burr left on the planet (all daughtered out) besides my new cousin. I have high hopes that if we are able to connect with him that he too will be willing to help us solve the mystery of just who was Stillman Burr.
Notes
[1] U.S. Federal Census Records for 1850 and 1870 show Stillman Burr's year of birth as 1797 and place of birth as Massachusetts.
[2] Vermont, Vital Records, 1720–1908, Ancestry.com, for marriage of Zeruah Kenyon to Stillman Burr on 25 December 1817 at Woodstock, Windsor County, Vermont; Stillman's place of death is speculated and is based on the 1870 census.
[3] Charles Burr Todd, A General History of the Burr Family… (New York: Knickerbocker Press, 1902), lists a "Silliman Burr" whose wife and family is assigned to my Stillman Burr and his ancestry. The name "Stillman" appears no less than six times in Todd's book, with the name "Silliman" appearing twenty-one times. Stillman's daughter Maryann Burr Sage named her son "Jerome Spillman Burr," ascribing a generational association with the name.
[4] Mary Ann Burr Sage (1821–1872), daughter of Stillman Burr and grandmother of Alta Sage Dixon.
[5] Findagrave.com memorial No. 175057405 for Stillman Burr and placed by Mikel A.T. Boyles 7 January 2017.
[6] Findagrave.com memorial No. 139559252 image courtesy of "dlherrmann."
[7] Email message to author regarding the surname "Hedgepeth, Hudspeth, or H*d*p*th" and the Y-DNA project connected to the work of Kenney Hedgpeth (1958–2011), co-founder of the International Society of Genetic Genealogy (all statements unverified). Statements reference a "Robert Hudspeth" of New Jersey, the only person with one of those names [close to New England]. All others of that surname were presumably still in England or the southern U.S. at the time Stillman Burr was born.