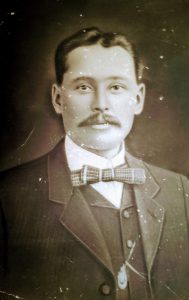 Recently, I was prompted to take a 'second look' at my wife's grandfather, Horace Fenton Bloodgood. Fenton married my wife's grandmother, a young Spanish girl named Magdalena Murrieta,[1] in Buena Vista, Sonora, Mexico, in 1908 while working for the railroad.[2] (He was 41 and she 16.) Family lore was that the senior Bloodgoods were so outraged by Fenton's errant disrespect of the status quo that he had already been largely disowned prior to his parents' deaths and his marriage to Magdalena. Indeed, Fenton was left only the proverbial $1.00 in the will of his father Julius Bloodgood.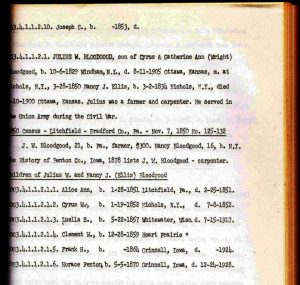 Fenton's siblings, the children of Julius and Nancy Ellis Bloodgood, are named in The Bloodgood Genealogy, a book tracing my wife's ancestry back to a robust Dutch sea captain, one Frans Janse Bloetgoet.[3] Six children are named in this family, with four children – Luella, Clement, Frank, and Fenton – surviving into adulthood. Three of the four children are recorded as having issue and original records substantiate the author's work.
As I had researched this family I remained perplexed by the name of "Frank H. Bloodgood" on the list of Julius's children." The Bloodgood Genealogy indicates that Frank Bloodgood, son of Julius, married "Della Blackstone" (and had a son named Claude); however, I could find no records linking "Frank" to his father Julius. Further, "Frank Bloodgood" never appeared in any census records for the household of Julius Bloodgood. I could verify Frank's Colorado marriage to Della but nothing more.[4] For years I believed that author must have placed "Frank H." in the wrong family.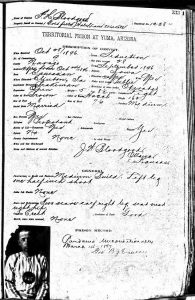 Recently, an unknown prison record for Fenton Bloodgood 'escaped,' sending my research (and conclusions) in a new direction.[5] Shown on this record as "F.H. Bloodgood," Fenton was incarcerated for the crime of "Seduction."[6] The prison record clearly identifies him (down to a very un-Casanova-like photo), naming his next of kin (J.W. Bloodgood of Ottawa, Kansas), his railroad occupation, and the fact that he is married. However, the year is 1896 – twelve years before he would marry Magdalena Murrieta.
Married? There are no family records of any earlier marriages for Fenton. So who was this mystery woman? I hadn't a clue. (I seem to be running into a lot of spouses no one ever wanted to mention lately.) I decided to research in the Facebook of those days – that is, early twentieth-century newspapers – to see what I could find. Had Fenton Bloodgood failed to update his relationship status?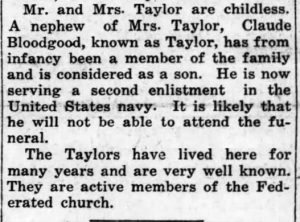 Almost immediately, I located news of a Mrs. Della Bloodgood and her son Claude. The newspapers reported that young Claude Bloodgood is ill with diphtheria and his mother Della is coming from Colorado to visit her son.[7] A son who is also a nephew, staying at the home of his (childless) aunt Luella Bloodgood Taylor – Fenton's sister.[8]
Is this "Della" the wife of the same Frank H. Bloodgood who doesn't seem to quite fit into the published Bloodgood Genealogy? Is Della the wife of the same "Frank" who doesn't appear in census records for the family of Julius Bloodgood? Fenton's sister Luella Bloodgood had no children. His brother Clement had only one son – a boy named Paul. If Fenton's known children won't be born for another twelve years, then who is the father of this nephew Claude? Who is Frank Bloodgood?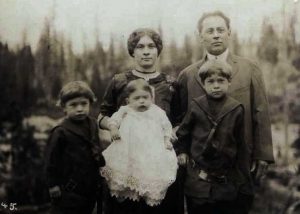 I remembered a baptismal record (almost ignored!) for Fenton's son, my father-in-law Leroy Sterling Bloodgood.[9] Leroy's parents were shown as "Frank H. and Magdalena M. Bloodgood." The baptismal record was also consistent with a recently discovered marriage record for Fenton and Magdalena referring to him as Francisco Bloodgood.[10] Could there have been two Frank Bloodgoods in the same family? (Or had Fenton Bloodgood created a fake profile page?)
In the end I was able to determine that Fenton and Frank were the same person by comparing documents where Frank was or wasn't named against the same for Fenton. From there I cross matched where either of them appeared in relation to what was written in the newspapers about "their" first wife Della (and son Claude), along with the later marriage record of "Frank" to Magdalena Murrieta. With the aid of the prison record I could see that a previously unknown marriage did exist for "F.H. Bloodgood." With this I concluded that  Frank and Fenton had to necessarily be the same man and that, in the end, there was only one "F.H. Bloodgood."
I have always been interested in learning about the Bloodgood family, and even more so about the life of my wife's grandfather. I was fortunate in being prompted by Ancestry.com to look at a prison record – a record I did not expect to contain any inherent vital records. I am pleased to be able to put to rest the mystery behind both Fenton's identity and his past as I come to understand more of the circumstances behind the life he led.
Notes
[1] Magdalena (Murrieta) (Bloodgood) Hulteen, born at Barcelona, Spain 21 July 1892 and died at Cusick, Pend Oreille County, Washington 11 September 1944.
[2] Marriage of Fenton H. Bloodgood: the date of 25 March 1908 is provided by his daughter-in-law Doris Rydbom Bloodgood (1916–2008) as transcribed from old family Bible records.
[3] George M. Bloodgood, The Bloodgood Genealogy: Ancestors and descendants of Captain Frans Janse Bloetgoet, 1462-1963, 2 vols., 2 : 110. Filmed by the Genealogical Society of Utah, 1971.
[4] Colorado, County Marriages and State Indexes, 1862–2006, Ancestry.com, for the marriage of Frank Bloodgood to Della Blackstone (1864–1944) at Colorado Springs, Colorado, on 5 May 1891.
[5] Arizona, Prison Records, 1875–1929, Ancestry.com, for "F.H. Bloodgood," resident, 28 October 1896, Yuma, Arizona, Yuma Prison: List of Convicts, Register and Descriptive.
[6] Arizona, Arizona Legislative Assembly, Laws of the Territory of Arizona: twelfth Legislative Assembly: also, memorials and resolutions, Arizona Miner, 1883, 11, AN ACT: To Punish Seduction: "Any person who under promise of marriage shall have illicit carnal intercourse with any female of good repute for chastity, under the age of twenty-one years shall be deemed guilty of seduction…"
[7] The Ottawa Daily Republic, Ottawa, Kansas, Monday, 15 March 1897, 3. Newspapers.com
[8] The Ottawa Herald, Tuesday, 24 July 1917, 1. Newspapers.com: Luella Bloodgood Taylor (1857–1917), wife of Orlando Lindley Taylor (1856–1945).
[9] Leroy Sterling Bloodgood (1909–1994).
[10] Buena Vista, Sonora Mexico marriage records, 25 March 1908, [translated] "present the gentleman Francisco Bloodgood and the young lady Magdalena Murrieta with license to celebrate the marriage they have initiated…"