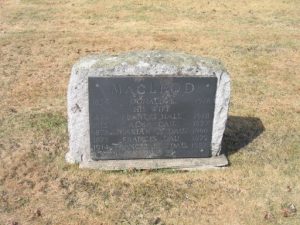 Some of my ancestors are just plain pesky. We all have them, those ancestors who refuse, for seemingly no good reason other than to annoy us, to cooperate with our efforts to document them. For years I had tried to verify the parents of my maternal great-grandfather, Daniel McLeod, without any success. That he was born in New Brunswick, Canada in 1834 without any known church affiliation did nothing to help. Communications with the helpful staff at the Provincial Archives proved to me that I did not have enough information for a specific search of church birth records, so I searched all available church records, still without success.
I did know that he became an American citizen, so I went to the National Archives in Waltham, Massachusetts (before online access) to look for his naturalization record, hoping that would give more information. What I found was his oath of allegiance to the United States dated 2 September 1882, with his signature but nothing else. I eventually realized that the family had wandered across the Maine-New Brunswick border sometime after the Aroostook War which settled the state's eastern boundary with Canada. Decades after the border dispute was settled, Daniel finally signed his oath of allegiance to receive U.S. citizenship.
I found the 1864 marriage record for Daniel McLeod and Frances Hall, the right couple in the right place and time, but parents' names were not listed. On census records he gave his name as Daniel. Everything I could find gave his name as Daniel without identifying his father.
This family needed a longer list of available baby names.
My mother was adamant that his name was Daniel McLeod, and remembered the Scottish "burr" in his speech. She also thought his parents' names were Donald and Janet (apparently it is she for whom I'm named). Her sister insisted just as strongly that their grandfather's name was Donald MacLeod.
They were both right.
Dan is Don and Don is Dan? This family needed a longer list of available baby names. Note here that continuing to pursue this kind of research has some unforeseen hazards, the quicksand of genealogical research: once in it, you're stuck, and continuing to struggle only makes things worse. Too late I discovered one, the song that played repeatedly in my head:
Her name was Magil and she called herself Lil
But everyone knew her as Nancy
Now she and her man who called himself Dan…[i]
I kept struggling. On a 2007 business trip to Aroostook County, Maine, I visited the cemetery where I thought Daniel was buried. I found the headstone which clearly listed the members buried there: Donald MacLeod, with his wife Frances, daughters Alma, Marian, and Frances, and granddaughter Frances.
By working both variations of his given and family names, I finally discovered that his father was indeed Donald McLeod, born in St. Stephen, New Brunswick, Canada in 1808,[ii] and married to Janet (also spelled Jennett and Jeanette) Morrison.[iii]
However gratifying it was to find and document the information I was looking for, I still had conflicting data about my great-grandfather's name. Was he Daniel, as he stated, or Donald, as he was born? Families often use nicknames for individuals, but this didn't sound like a nickname.
By searching for the rest of the family, I realized that not only was his birth name Donald, his father was Donald, and his son was Donald, all contrary to a strict Scottish naming convention.  Although two of them had middle names and initials, they seemed to be entirely optional in that family! To distinguish himself from the other Donalds, he chose to call himself Daniel for most of his life.
Recently, I came across two documents that my mother had saved, documents that she had all along without realizing their significance: Daniel's citizenship certificate (attached to his son Lorn's original U.S. passport application), and Donald's death record. It is now clear that they are the same person.
His name was Don but he called himself Dan/And his wife was always called Frances . . .
The sum of it all in iambic tetrameter. Feel free to hum along!
Notes
[i] Rocky Raccoon; Apologies to VB readers and The Beatles; Writers: Paul McCartney, John Lennon
[ii] St. Stephen birth record 1797–1808.
[iii] Donald McLeod and Frances Hall marriage record.