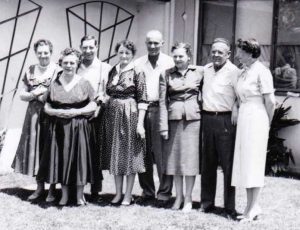 Sometimes in the course of studying family history it helps when the right sort of inspiration knocks at our door. Blog sites like Vita Brevis and different forms of social media allow ways for like minded people of similar genealogical concerns to reach out to one another. And while I would not exactly consider Findagrave.com a "social networking site," a recent experience reminds me that the inspiration to study family history can come from many different sources.
Seven years ago, I placed virtual flowers on-line for the memorial to my great-uncle Ernest Bedford Payne (1902–1970).[1] I find placing virtual flowers on findagrave memorials does two things: (a) it allows me to pay respect to my loved ones, and (b) allows me a trail of bread crumbs letting me know if I have previously visited a memorial I might not readily remember the next time around. I must confess I hadn't been back to visit Uncle Ernest's memorial in quite a while.
Last week those "seven years ago" caught up with me. I received a brief email message from a lady in San Antonio, Texas, that began:
"Dear Mr. Record, I have been researching records to find a grandfather that I never knew. His name was Ernest Bedford Payne… I saw your name and message, "Rest in peace dear Uncle Ernest." Please tell me that you knew my grandfather.  I have searched for so long to just know anything about him…"
For me, this message struck to the very heart of what family history means. Here was a woman reaching out across the barrier of time (and possible loss) to try and piece together "anything" about her grandfather – the same man who had built for my sisters and me a wooden toy box, and in whose home I had spent many special occasions. I wondered how I could best answer her in a way that would be informative yet also comforting to her by not opening up any old wounds.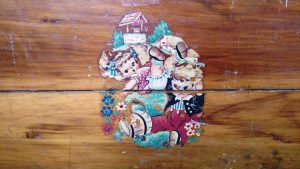 I think it was bittersweet for us both when I replied to her that yes, I had known her grandfather. She soon let me know that she had never even seen a picture of him. Scrambling, I went to my old family photo albums. I was lucky; I still had two grainy Kodak snapshots with Ernest in them. I was glad that I would be able to show her her grandfather's face. Yet for as many questions as she had about her grandfather, I seemed to be developing almost as many about the man I called "Uncle Ernest."
Ernest Bedford Payne married my great-aunt June Sage Peck as her second husband on 18 August 1935.[2] I knew that Aunt June had been married before, but June and Ernest had been married for so long I never thought about Uncle Ernest as having been married to anyone else. While it isn't unusual to have not spoken about a former wife of Ernest's, it seems unusual that there was never any mention of children belonging to him from a previous marriage.
Uncle Ernest was a kind man as I recall. He was a big man, quite tall, and very quiet. In retrospect I see that Ernest carried sadness in his eyes that as a small boy I did not recognize or understand. I have come to learn that indeed Ernest had a very full and difficult life before he married my great-aunt. And while I don't understand all of his decisions or his circumstances, my heart does go out to him for the tough choices he must have had to make.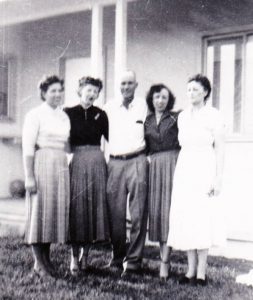 Ernest married 2 November 1925 as his first wife Helen Wildman Cleveland,[3] a 26-year-old widow with a young daughter.[4] In 1929, Helen Wildman Cleveland Payne died at the age of thirty,[5] leaving Ernest to raise their three small children.[6] For whatever reason, Ernest left Texas sometime between then and 1935 to move to Wyoming, where he married my Aunt June. The three children stayed behind, raised by their maternal grandparents. I am told he never had any contact with them again.
I may not understand, but I can't judge Ernest Payne's choices in life. I am just grateful that leaving flowers on an on-line memorial seven years ago allowed a kind lady this doorway of sorts to learn about her grandfather – even if only though a great-nephew.[7] I hope that some 'flower power' has provided her a way to obtain some sort of peace, and a modicum of knowledge about a grandfather she never knew.
Notes 
[1] Ernest B. Payne (1902–1970), Findagrave.com memorial no. 51743663.
[2] Family records of Alta Sage Dixon reflect the date of marriage of her sister Mrs. June Sage Peck to Ernest Payne as 18 August 1935.
[3] Marriage records, Bexar County, Texas, Familysearch.org, for marriage date for Ernest and Mrs. Helen Mae (Wildman) Cleveland.
[4] Texas, Death Certificates, 1903–1982, Ancestry.com for Helen's first husband, Circe Campbell Cleveland, who died 28 December 1920.
[5] Texas, Death Certificates, 1903–1982, Ancestry.com, for the death of Helen Payne 1899–1929.
[6] U.S. Federal Census 1930, Household of Ernest B. Payne, age 27, San Antonio, Bexar County.
[7] Email correspondence from Kathryn Christian White, granddaughter of Ernest Bedford Payne, July 2017.