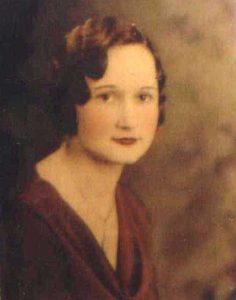 She was not pleased to see me – this paternal first cousin of my (biological) great-grandmother, Opal Young.[1] Her name was Grace,[2] and we had arranged our meeting through the mails, never having spoken to each other by telephone. Before, as I had stood on her stoop waiting for her to answer my knock, it was hard for me to believe that I would be meeting with a blood relative of my grandmother's – one outside the small circle of my grandmother's own descendants. I wondered how she might appear to me (part of me thought surely on a broomstick?) and I wondered what of "her family" she might recognize in me, too.
In some ways I am not sure why Grace agreed to see me at all. She was, after all, a 91-year-old spinster living alone in the hills above Glendale, California. While I had done my best to answer her many questions in advance, the prospect of meeting a strange relation at the door that day must have both daunted and intrigued her. After our initial written exchanges, I had sent Grace a copy of Opal's letters to my grandmother. I wanted her to have these as proof of life – that I was indeed her "childless" cousin's great-grandson.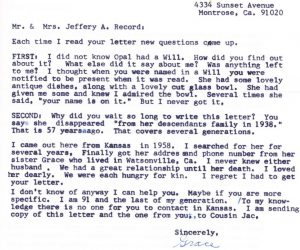 I had tracked Grace down through Opal's will, which was by then eighteen years old.[3] I was fortunate that Opal had stated her cousin's name and address – and luckier still that Grace hadn't moved in roughly 40 years. I'd also relied on information provided by the will's executrix, Emma Lou Peake.[4] Emma had been Opal's best friend, and she was someone about whom Cousin Grace had no compunction in voicing her disdain. Miss Peake and Cousin Grace appear to have been somewhat bitter rivals for my great-grandmother Opal's attention, affection, and even her meager possessions.
Opening the door, a small woman greeted me cordially. Surely this bird-like creature couldn't be related to my grandmother – my grandmother who had towered in stature (and voice!) over most men and women alike. However, as I crossed over Grace's threshold their similarity rushed toward me. It was that same fearless air that always seemed to surround my grandmother.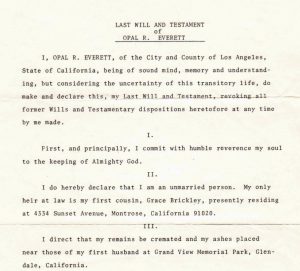 She ushered me into her sparsely-furnished home. There were no pictures on the walls or adornments, save for her picture of Christ, and what looked to be an antique porcelain canister sitting alone on a cold fireplace mantel. An old Siamese cat she called Mitzi stared at me blankly from a back room. I recall only one sensible stuffed armchair, a table-style pole lamp, and a very old Zenith television. On the table edge was a dog-eared copy of Opal's letters – well marked.[5]
There was no place to sit and I was not invited to do so. Grace's fiery gray eyes measured all aspects of me with the hope that with any blink I might reveal myself the charlatan she'd hoped I was. Uninvited, I took my place sitting next to her on the floor as she lowered herself to her chair. As I started to speak, she pointed to the letters and said as if reading news from the Western Front, "Well, there can be no doubt, we are kin."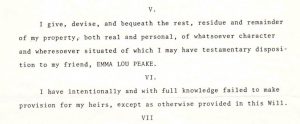 Grace began our conversation that day by doing what families do best – by taking care their own. She reiterated her protective stance of the Young family, past and present. She spoke cautiously to me of who within the Young family I might contact and who I must not. The secret of my grandmother's illegitimate birth would not be advertised on her watch – though by then it had occurred more than 80 years before.
Grace eventually did thaw. She became family to me for eight years. As Grace neared the century mark, she asked me to come and visit with her. She said that there were some things I needed to have. Toward the end of my visit she pointed to the antique porcelain canister (turns out it is a small cookie jar) on the fireplace mantel. "Opal gave that to me," she said. "It should be yours now."
The same day, Grace returned the copies of Opal's letters to me. She had harbored them for eight years. She said: "I don't want them here when I am gone – someone may find them." I realized that Grace was still protecting the family, still protecting Opal, and that my grandmother's birth would always be, in Grace's eyes, a secret.
This was not the last time I saw Grace. She moved to a senior center and I planned a visit with her. I had come to genuinely care about Grace, and I wanted to validate one last time my living tie to Opal and the Young family. Wheelchair-bound now, her nurse brought her out to me. "Hello, Grace," I said. "It's Jeff, Opal's great-grandson."
In her reply so much was said: "I don't remember…"
Notes
[1] Opal Rae Young [Porter] [Everett] (1895–1978).
[2] Grace Lucile Brickley (1904–2004), daughter of Carrie Rebecca Young, a paternal aunt to Opal Young. Grace had been (very briefly) married to A.W. "Fritz" Nicodemus – a surname she almost immediately renounced.
[3] Last Will and Testament of Opal R. Everett, Los Angeles County, October 1977.
[4] Emma Lou Peake (1919–2007) was a next door neighbor to the widow Opal R. Everett in West Hollywood, California.
[5] Jeffery A. Record, Looking for Opal, privately published in October 1995.