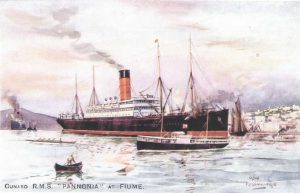 One of my perennial and poignant brick walls is the story behind my wife Nancy's maternal grandmother Anna Barkassy Pouget (1883–1921). Annie, as she is often called, arrived from Hungary with her father Andràs, an attorney, and passed through Ellis Island on 30 January 1906.[i] Annie's story is like that of many other turn-of-the-twentieth-century Ellis Island immigrants in that her family name offers only a limited sense of her identity.[ii] Annie and her father traveled together; the passenger manifest reflects scant clues as to who or what they might be leaving behind in the old country – and negligible information regarding their business here on arrival.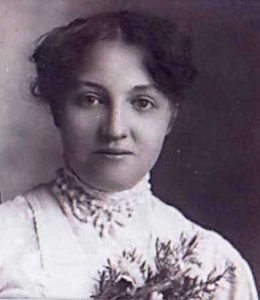 Not long after arriving in New York, Annie married Jean-Baptiste Pouget (1882–1964), an adventurous and hard-working young expatriate from Belgium.[iii] After her father's passing, Annie and John made their way west to California's Napa Valley and began to raise their family of five children. Life was not easy, but those early days in California must have been full of love and laughter, of growing children, and of great promise.
Destiny had other plans. In 1921, Annie passed away in San Francisco just shy of her thirty-ninth birthday.[iv] The medical knowledge at the time simply couldn't save this young mother's life. John Pouget, left with five little children, was going to have to work hard to keep it all together. I might add here that John did a great job. My mother-in-law Pearl Pouget was their fifth and Annie's last child.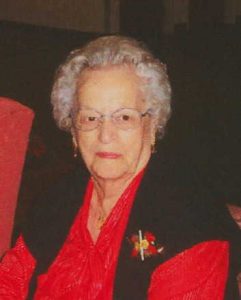 In the late 1990s, Annie's daughter and my wife's mother, now Mrs. Pearl Bloodgood (1918–2008), came to our home for a visit. Pearl loved family, and being around Pearl provided for many good and in-depth conversations on any number of topics. While I can't be certain how we came to the discussion, I rather think it must have been about the time that Pearl and I were both ruminating over the high and increasing cost of goods and services wherever one went. At this point in the conversation, Pearl casually said to Nancy and me, "Well, things would have been a lot easier for us all if I had been able to get that railroad inheritance…"
"….Mom, what railroad inheritance!?!"
This was certainly the first anyone had ever heard of a "railroad," let alone one connected to a foreign inheritance. Pearl went onto explain that in the 1930s her father John Pouget had been contacted by now-unknown parties in Hungary explaining that an unmarried and childless uncle of Annie's had passed away leaving the monies from "his railroad" to the children of his siblings. Pearl added that the children were required to be in their majority to receive this money. She said these events occurred prior to her twenty-first birthday in May of 1939, and recalls that her father worked diligently with a former Napa County judge to get all the paperwork filed internationally, so that funds could be disbursed.[v] Pearl's twenty-first birthday was one of the last hurdles to overcome.
Needless to say this never happened. The world became embroiled in war, limiting every form of overseas communication. Hungary proved to be no exception, and my mother-in-law's inheritance disappeared behind enemy walls. Communications with Hungarian authorities or family representatives came to a halt. Time moved on through the Nazis and into the era of the Iron Curtain. Not much changed, that is until curious communications began to arrive from Hungary in the early 1960s from Annie's and Pearl's cousins. And while there is no record of these messages, Pearl told of how her cousins were trying desperately to get out of their native land.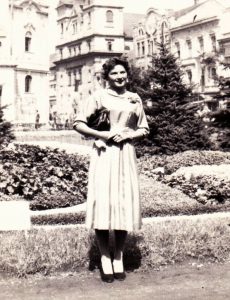 Pearl explained that her now-elderly father John Pouget had wanted to help them, but his resources were limited. In the end, Mr. Pouget had to wish them well – but turn them away. He could only remind them of the "railroad inheritance" and tell them to "take it all" (if they could get it), using it to escape.
As a family historian I've attempted to learn what I can about the Hungarian railroad system of the early twentieth century. With reasonable certainty I can say that the railroad was government-owned, but that certain "rail lines," i.e., tracks or throughways, were privately owned.[vi] And while it doesn't look like we will be inheriting any rail lines connecting to the Orient Express anytime soon, I have tried in earnest to identify the characters in this story – from the Napa County judge who tried to help John with the inheritance for Annie's children to the nameless faces trapped behind the Iron Curtain. [vii]
I hope one day I can discover some answers for us all.
Notes
[i] Passenger Record for Anna Barkassy, American Family History at Center Ellis Island,  arrival date 30 January 1906.
[ii] Hungarian Noble Families, "Magyar nemes csaladok" (www.arcanum.hu), for an ancient pedigree of "Barkassy."
[iii] New Jersey, Marriage Index, 1901-1914, Ancestry.com, for the Barkassy-Pouget marriage 7 November 1907.
[iv] University of California Hospital, San Francisco, certified copy of death record for "Annie Pouget" 1 December 1921; Annie's cause of death is listed as "shock following an operation for nephrectomy."
[v] "Judge Snow" as described by Pearl Pouget Miller Bloodgood, seems to be one and the same with former Napa County Justice of the Peace Charles H. Snow (1877–1967), who was not only blind but produced more than 200 novels. See The Oakland Tribune, 3 December 1922, 59, and The Santa Rosa Press Democrat, 26 December 1944, 11.
[vi] D. McArthur, Foreign Railways of the World, Railway Register 1884, 1: 139.
[vii] Unmarked family photographs of Hungarian origin dating from the 1880s to the 1960s belonging to Anna Barkassy and Jean-Baptiste Pouget, and now in possession of their granddaughter Nancy Bloodgood Record.