As researchers, we all hit brick walls when doing genealogy. In my search, there's a part of my family that just doesn't want to be found! It can be very discouraging – and, if you're like me, you become obsessed with uncovering the hidden family members and all the secrets they possess.
My grandmother was born Ada Angel Seguin in 1915 in Rhode Island to George Seguin and Nora Caron. Ada's father, George, had a well-documented life and his family search was a breeze. But George's wife Nora Caron is where my research started to unravel. Nora has always been a bit of a mystery for my family. The stories that have been passed down from my aunt say that Nora read tea leaves and had an 'open-door policy' in Rhode Island for all that were "lost" or needed a place to stay overnight. What a wonderful individual to have in your family!
Unfortunately, Nora and George both passed away before my grandmother, Ada, was 14. So the family stories and information was lost with them – and, thus, my intrepid search to uncover the details of Nora Caron, a palindromic name, and her family.
I began my search with the Rhode Island State Archives in Providence, where I uncovered Nora's death certificate. It listed Alphonse Caron and Mathilda Gauthier as her parents, both born in Canada. Well, Alphonse and Mathilda, along with Caron and Gauthier, are among the most common names in Quebec!
I proceeded to find Alphonse's death certificate in Rhode Island, where it listed his parents as Joseph Caron and Zoe Perron, both born in Canada. Through my preliminary research, I found that Alphonse, Mathilda, and Joseph were very common first names. Zoe is a unique name, so I was determined to find trace of her in vital records.
I searched for Zoe (Perron) Caron on census reports, as I knew my ancestors were in the United States around 1880. I got a hit off an 1870 census report for Baltic, Connecticut, where Zoe and her five children were living. Where's her husband, Joseph? There were no other census reports listing Zoe or her children prior to 1870.
How does a family just appear in Connecticut in 1870 and there's no record of them before that date? I'm able to trace the Caron family from 1870 to 2001, when my grandmother passed away. But 1870 is my brick wall.
I was starting to think that Nora and her parents were playing a trick on me. I stopped searching for the Carons and proceeded to finish the rest of my ancestry. Now, it's four years later and the Caron surname still haunts me. Sometimes, I refer to them as "my circus family" because they just popped up in Connecticut in 1870 with no hint of an origin. Coincidence: my great uncle Maxim Seguin ran away to the circus at age ten.
Recently, with the help of a genealogist at NEHGS, we uncovered a link to Mathilda Gauthier's family and the Caron family growing up in the same neighborhood. So, my search continues through the Gauthiers and their ancestral tree to tear down my brick wall: the Joseph Caron Family.
We all hit brick walls in our ancestry search but it's how we overcome them that makes the difference. I find myself thinking about my ancestors constantly since being hired at NEHGS as the Research Services Coordinator. I wonder if Nora and her parents imagined that a descendant would one day be researching their history and their path to the United States. I wonder if I'll ever uncover this mystery to my ancestry! I wonder if my ancestors intentionally lead me down this path, only to be around the next corner. When you hit a brick wall this question runs through your mind: "What happened to them?"
To be continued?
Share this: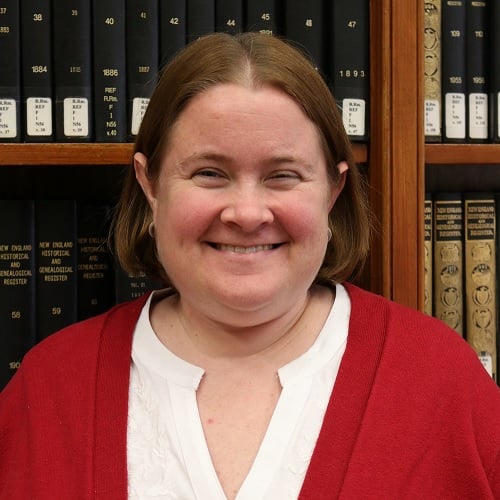 About Sarah Dery
Sarah Dery, who lives in Concord, is the Research and Library Manager at American Ancestors/NEHGS; she has been with the Society since 2017. She supports the researchers and genealogists on the Research and Library teams, managing correspondence with constituents, organizing research information, and applying her genealogical knowledge in assisting our clients – both in-person and digitally. Sarah is a graduate of Rhode Island College in Providence and has a B.A. in anthropology and English Literature. Her interest in anthropology stems from her participation in a week-long archaeology dig at James Madison's Montpelier in Virginia. Her family ancestry and expertise include Rhode Island, Connecticut, and French-Canada.View all posts by Sarah Dery →