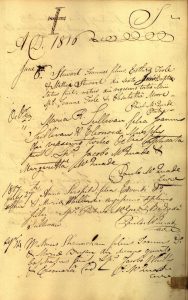 I have tried to make it a point in my blogs to give heartfelt thanks to indexing efforts of the New England Historic Genealogy Society (NEHGS) volunteers whenever we bring a new or updated collection online. Several people have asked me exactly how volunteers fit in the indexing process. Answering this question requires a little perspective on what is involved in creating one of our databases.
Typically, the first step is scanning images from the original source materials. The volunteers come to the library here in Boston. Then, using a flatbed scanner or 35mm camera-based book scanner, the volunteer captures every page in the book. A critical part of this phase is to take care that the images are clear and that no pages have been inadvertently skipped. This seems straightforward, but when you are processing a few hundred pages extra vigilance is required.
Once the images for a collection have been scanned, formatted, and saved in the right format, we start the actual indexing process with our dedicated group of volunteers. Each volunteer is presented with a set of images, instructions, and tips for their specific project, and an Excel spreadsheet template in which to record the data. Some indexing is done in the library, but many volunteers work from the comfort of their own homes, or wherever else might be convenient.
Finally, when the indexes have been completed and reviewed, the NEHGS web team goes through the internal publication process which brings the images and indexes together on AmericanAncestors.org.
There are two major projects in process going on now, and they will run for quite some time.
The first is the project to index the parish records for the Archdiocese of Boston. A valuable skill for this project is comfort with reading old handwritten records. Some are in Latin or other languages, as shown here in the first sample. We were very pleased to release the first eight volumes of this collection on May 18th! The total project will include over 900 volumes, so there is still quite a bit more to come.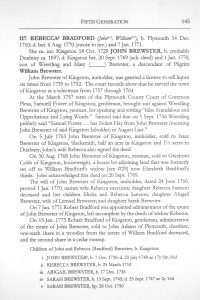 The second is a project focused on the Mayflower Silver Books. For this new initiative NEHGS has partnered with the General Society of Mayflower Descendants to index all the fifth-generation descendants of the Mayflower passengers. For those volunteers who might be less comfortable with handwritten documents, these are much easier to read. The second example provides a sample page for this project. The skill for this project is to accurately capture all the dates; the names of individuals, parents, and spouses; and to properly identify records of baptism, birth, marriage, death, and deed transactions in the text. This project will touch upon 31 volumes of the Silver Books and involves over 11,000 pages from those books. This work is well underway and are looking forward to releasing our first volume this summer.
Because of our volunteers' careful and thorough indexing efforts on these new projects, NEHGS will provide a content-rich search experience for our members that quickly helps them find relevant ancestors for their family history projects.
Just like you, I am always delighted when my searches help me discover new ancestors or new information and perspective on my ancestors. Please remember that it is our dedicated volunteers who have made these seemingly random discoveries possible for you through their not-so-random acts of genealogical kindness!