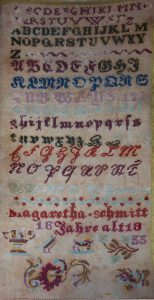 When I first started researching my family I found an antique cross-stitch sampler that was passed down through my maternal grandmother's family. I was eager to discover which of my ancestors had made it and I thought it should be easy to figure out. After all, it spelled out the stitcher's name and age.
First, I examined the sampler. It was faded but still legible and was sewn with Roman and Gothic alphabets, as well as floral and animal motifs. It also contained the words "Magaretha Schmitt 16 Jahre alt 1855." The German "Jahre alt" translated to "years old." This would make Magaretha 16 years old when she finished the sampler in 1855. I concluded she was probably born about 1839 and likely of German descent because of the German language and alphabets.
Next, I looked at my maternal grandmother, Catherine (Yeagle) Dauber, and her ancestry. She was of German and Austrian heritage on her father's side and German and English heritage on her mother's side. Her paternal ancestors were in Ohio by about 1850. The other side of her family started off in New York City and Albany in the early 1800s before migrating to Cleveland, Ohio, after 1880. It looked like I was on the right track with all the Germanic ancestors.
But I could not find anyone named Schmitt. Catherine's paternal surnames included Yeagle, Kreilick, Flatz, and Gemeinder. Her maternal surnames included Ritter, Johnson, Blackett, and Withington. Even when I went back another generation I never found a Schmitt surname.
I thought if the wife died young, perhaps the sampler was kept as a memento.
I also looked for any female, in all the families, who might have created the sampler. Only one German family had a girl born around 1839. Her name was Mary Yeagle. It seemed unlikely Mary would create a sampler under the name Magaretha Schmitt. I even searched for a first marriage I might have overlooked. I thought if the wife died young, perhaps the sampler was kept as a memento. But I could not find a family where the dates and ages would work to make this possible.
After researching my maternal lines for over fifteen years I still have not found a family member who could have made the sampler. How my grandmother ended up with it is still a mystery. I wish she was still alive so I could ask her more questions, but maybe she would be as clueless as I am!