Recently, while leafing through an old album of my father's family, I came across two large adjacent cabinet card photos of a couple I didn't know labeled "Hattie Gordon" and "Lawrence Gordon." There is only one Hattie Gordon (Harriett Frances Gordon Cony, 1849–1922) in my family tree, and this lady is not she; there is no Lawrence Gordon, either. Had I missed some cousins? An aunt or uncle, long-lost or abandoned? Maybe they were just good friends of the family. The questions began circling. No one I asked recognized these people or their names. Of course, I had to figure out who they were and why they were in this album (organizing materials can wait, right?).
I vaguely assumed that because the photos were in my family's album the Gordons lived in the area. Using the "shotgun method of research" (both barrels, buckshot, and from the hip to hit something), and considering the couple's clothing but lacking relevant 1890 census records, I looked at the 1900 U.S. Census as an arbitrary starting point. It listed them as lodgers at 53 Garfield Avenue in Medford, Massachusetts. The 1910, 1920, and 1930 U.S. Censuses listed the Gordons still in either Medford or Boston with no children and no other family. City directories agreed and confirmed.
I found some old handwritten notes that one Lawrence Gordon had served a short time in Boston's Deer Island Prison for debt, but I hadn't noted where I found that list and couldn't find the source again (a true confession – ouch!). No one in my extended family during those decades had any residences in Massachusetts, particularly not at Deer Island. It was beginning to look like finding Nemo and Dory was easier than finding Hattie and Lawrence and their place in my family tree.
So perhaps Hattie's maiden name would help. Marriage records show that Harriet E. Gordon, daughter of Solomon and Mary (Glassid/Glasset) Gordon of Augusta, Maine, married Lawrence G. Gordon, son of Daniel W. and Sarah (McCann) Gordon of Augusta, in 1887. My innate skepticism said that there couldn't be three Gordon families in Augusta with no immediately discernible connection to each other – the only Gordons of the period, by the way, in my family tree.
My final error was in thinking I was done with Hattie and Lawrence, or that they were done with me.
While I don't always listen to my intuition (more's the pity), I always listen to my skepticism, and I wasn't disappointed. Using more census records and a published family history,[1] I discovered a common ancestor for Hattie, Lawrence, and Harriet Gordon Cony: they were all second cousins, great-grandchildren of Caleb and Mary Ann (Mapes) Gordon. Dawn broke over Marblehead: they really were family, not just friends, a distant part of my Cony line that I had not followed.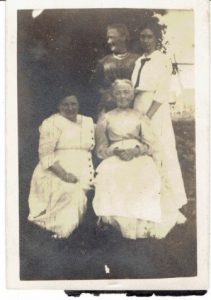 My final error was in thinking I was done with Hattie and Lawrence, or that they were done with me. While I was at last sorting through a mountain of old snapshots, discarding the multitude of unnamed photos of horses, cattle, dogs, barn cats, and unidentified landscapes, I picked up a snapshot of four women, three of whom I recognized as my grandmother Winifred (Lee) Church (back, right), great-grandmother Nellie (Cony) (Church) Hayward (back, left), and great-great-grandmother Mary Ann (Stone) Cony (seated, right).
On the ragged back of the photo the names of each were written, and there was "Hattie Gordon, nurse," sitting next to my great-great-grandmother Mary Ann. A partial answer to my mystery was right in my bins of photos, waiting for me to stop procrastinating and start sorting. The album photos (perhaps their wedding photos) were taken well before the snapshot, which dates to about 1914.
A partial answer to my mystery was right in my bins of photos, waiting for me to stop procrastinating and start sorting.
I found an indication that Hattie and Lawrence moved to Winthrop, Maine – a town about 10 miles from Augusta – sometime after 1930. Cemetery records show that Lawrence died in 1936 and Hattie in 1938; both are buried in the Mt. Hope Cemetery in Augusta, near other family plots.
What I had in this inquiry was an example of a "tail wagging the dog wagging the tail," circular thinking proving the worth of good, basic research. The many unnamed photos (and some of the unknown-named) in all those family albums might be family members I've missed, but unnamed family friends do make their way into family albums making identification of those people even more difficult. I have a mountain of family memorabilia for a reason – however much I avoid sorting it; above all, some notation of sources, good or bad, is critical.
I'll start sorting and organizing immediately . . . um, right after coffee tomorrow morning.
Note
[1] Mary Lovering Holman, Ancestors and Descendants of John Coney of Boston, England and Boston, Massachusetts (Concord, Mass.: Rumford Press, 1928).