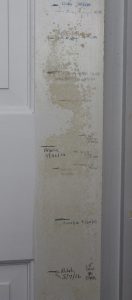 My family spent a mostly rainy Memorial Day weekend at my family's summer home in the Catskills. The house that has been called simply "the Farm" for at least four generations holds a special place in my heart and some serendipitous discoveries around the property over the course of the weekend reminded me that I am not the first in my family to feel a strong connection to the place.
As one of my son's first trips up for the season, we were sure to measure him against the growth chart on the pantry door that recorded my development and that of all my cousins. It was a fun to see that my 19-month-old is almost as tall as I was at 2 years old, which hopefully means he will be taller than me! Beyond that, seeing all the markings on the wall brought back memories of childhood. The door is now a document of how many of us were raised under the Farm's roof.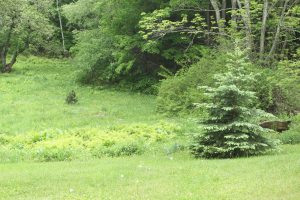 This is only one of the ways my family has left its mark on the property. The landscape is dotted with pine trees of different varieties that were planted for each of us when we were born. They grow along with us and provide a constant reminder of our connection to the land that has been passed down through the generations. The planting of my son's tree last year was a special occasion as we had four generations there together to plant it. It was nice to see his tree thriving this year just a short distance from the tree that was planted for my cousin seven years ago.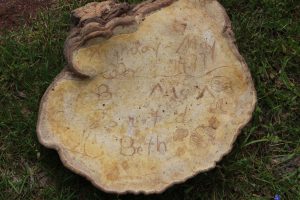 As I was in the garage searching for something else entirely, I came across a large dried mushroom that had the names of my grandparents, my dad, and his siblings. This discovery seemed particularly serendipitous as the date carved with the names was May 30, 1977, exactly 40 years ago. This must have been the work of my Aunt Beth who was much younger than my father, a teenager at the time. I loved that she included my grandfather's name "Bob" but lovingly included my grandmother simply as "Mom." This was just one more way we have left little marks hidden around the property.
I know that under the porch there is a stone with the names of my great-grandparents, my grandfather, and his brother. There are also likely several little places throughout the house in nooks and crannies where other family members have carved their names or left a mark during a renovation.
The weekend also marked five years since with lost my grandfather and it seemed appropriate that I would make all these discoveries as a little memorial to him. I suppose they are little ways we insure that we remain a part of a place that is so important to us but they are also wonderful reminders of those that came before us and the continuing legacy of our family at the Farm.