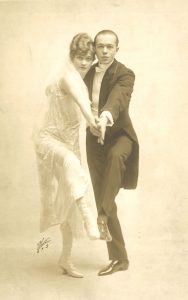 I recently bought a striking pair of photographs by White Studio of New York. The first was sold as showing an attractive couple dancing, but when I received it I could see that one partner was identified: Mrs. E. B. Alsop, who was preparing to go in to vaudeville. I then bought the second one, where, again, Mrs. Alsop's partner – a rather ghostly fellow – went unnamed.
My curiosity piqued, I went looking for Mrs. Alsop, and soon found her: the former Effie Pope Hill, a lovely girl of 19 or so who had gained notoriety in 1912 when she married Edward Brown Alsop (1835–1922), a widower more than three times her age. Little in Mr. Alsop's background suggested he would take such a step – he seems a sober tycoon, long-married to his first wife – and the marriage soon soured.
In the autumn of 1914, when these photos were taken, the lives of Mrs. E. B. Alsop and her dance partner took several further steps toward disintegration.
Act 1: In October 1914, Variety announced that "Prince Paul de Clairmont, who has been widely acclaimed as the hero of Elinor Glyn's 'Three Weeks,' is to try to break into vaudeville. This time he has chosen a partner in the person of Mrs. E. B. Alsop, the 21-year-old bride of the aged Pittsburgh millionaire, who is presently seeking to have her marriage annulled.
"The team will offer songs and society dances."[1]
So who was Prince Paul? And what was Three Weeks?
Paul de Clairmont – or, to give all the names by which he went, Prince Paul John Preston Arnott de Clairmont of St. Petersburg, Russia[2] – had been rattling around New York for some time, engaged briefly to an heiress before remarrying his former wife.[3] He claimed to be the model for the hero in Elinor Glyn's 1907 best-seller, Three Weeks, remarkable for its racy subject matter. It would seem that neither the Times nor Variety believed him.
Act 2: Paul's personal demons caught up with him, and, after a quarrel with his wife, he ate a sandwich laced with cyanide and died, aged 28, in the apartment he had rented at 23 West Fifty-first Street. A final indignity: the Times obituary identified him as Paul Allen, an actor.[4]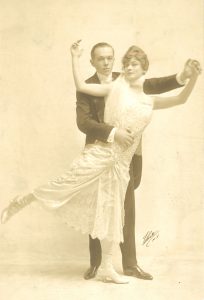 Variety was gentler. "'Prince' Paul de Clairmont, who became a conspicuous figure in Broadway life a few years ago, committed suicide in his apartment last Saturday night. He was to appear in vaudeville in a few weeks together with Mrs. E. B. Alsop, under the management of Victor Hyde. 'Prince' Paul has suffered from melancholy during the last year. It is believed he committed suicide during a fit of despondency. He leaves a wife and daughter, seven years of age."[5]
Act 3: Mrs. E. B. Alsop's career continued, but without a dedicated partner. In the next issue of Variety, the "With the Press Agents" column reported that "A Palace booking for the near future is Mrs. E. B. Alsop, assisted by Anthony M. Tarantino and Douglass J. Lockhurst in ballroom dances. Mrs. Alsop is the 21-year-old wife of a millionaire octogenarian of Washington who threatens to restrain her appearance by injunction. Which interesting family disagreement has not entirely been lost sight of by the U.B.O. press forces."[6]
In the event, "Mrs. Alsop, enjoying some local prominence in a social way, has been engaged to appear at Hammerstein's [the] week after next (Dec. 21). It will mark her stage debut."[7]
For a neophyte, Mrs. E. B. Alsop was something of a handful. She next appears in Variety under the headline "Mrs. Alsop Angry." The piece describes her machinations when – having stepped in a week early so that another act could move to another Hammerstein theatre – she learned that her booking would not continue through its original dates: "The early programs of the Victoria [Theatre] had her as the underline for next week's bill, but were later altered, 'The End of the World' being held over instead.
"[When] informed she was not on next week's Hammerstein bill, [she] insisted that her contract called for Dec. 21, and she would hold the management to it."[8]
She next appears in Variety under the headline "Mrs. Alsop Angry."
In the same Variety issue, the "With the Women By the Skirt" columnist suggested some of Mrs. Alsop's limitations – and offered a clue about why her booking was so brief: "Mrs. E. B. Alsop is pigeon-toed. For a tall woman she is most awkward. But as a freak act at Hammerstein's Mrs. Alsop will perhaps drift away into oblivion where most of the freak acts go."[9]
A longer review followed: "It is rather difficult to decide and as provoking also, whether an act like this comes into vaudeville, especially at Hammerstein's[,] just for the fun of the thing or seriously, or is impelled to take a chance for a week or so on a dare, a bet or [when prodded] by her friends. [Thanks to the notoriety around her marriage,] Mrs. Alsop came to New York, [and] met a circle of people who got out and around often… All of this made the path to Hammerstein's easy of access, especially as the house was short a feature there this week, just before Christmas, and at least there might be placed dependence upon many of the friends Mrs. Alsop seems to possess. They thronged the theatre Monday at both performances…
"With all these sympathizers and those who were not, the front rows of boxes looked more like a delegation of Suffragists who prefer masculine looking clothes, than anything else. [No] one would venture to say Mrs. Alsop will attain the title of 'professional dancer,' nor be known as a 'singer,' regardless of what her intimate friends may have led her to believe from parlor exhibitions. [After noting that Mrs. Alsop should not need the money represented by a professional career, the reviewer concluded:] Meanwhile it must be apparent to herself and her friends that by remaining in vaudeville, she will merely occupy the position that one good act could fill."[10]
"[No] one would venture to say Mrs. Alsop will attain the title of 'professional dancer,' nor be known as a 'singer,' regardless of what her intimate friends may have led her to believe…"
In a review of the offerings at Hammerstein's, Variety walked back some of the more scathing remarks to be found elsewhere in the issue, but the damage was probably done: "A bill this week with a freaky tinge should draw extra business for Hammerstein's, especially from the particular set upon the strength of which Mrs. E. B. Alsop (New Acts) was booked. She represented the freakiest portion of Hammerstein's all over the house Monday."[11]
And that was it. A January 1915 Times article strangely dates her vaudeville career to late 1913, adding details about the causes of the Alsops' marital strife that sound like they come directly from Mrs. Alsop's lawyer. There is a sad detail from October 1913, when "she arrested because she did not have $1.80 to pay a taxicab fare, although she was wearing $10,000 worth of jewels. [Already separated from Mr. Alsop, she] sent word to her husband at the Waldorf to come to her relief and he hurried to the West Sixty-eighth Street Police Station and gave $500 bail for her."[12]
While Effie Alsop lived until 1932, her last appearance in the Times is a sad one: at the time of her husband's death in 1922, his obituary notes that "Last month Mrs. Alsop was taken to Bellevue Hospital from 51 West Forty-seventh Street, where she was living, suffering from acute alcoholism, and remained there for several days."[13]
Such a world of pathos in these two handsome photographs!
Notes
[1] "Prince Paul Trying Again," Variety, 17 October 1914, 6.
[2] "Prince Weds Former Wife," The New York Times, 22 October 1913, 9.
[3] "Fiction Hero to Wed," The New York Times, 24 July 1913, 7.
[4] "Cyanide Sandwich Ends 'Prince's' Life," The New York Times, 1 November 1914, 12.
[5] "'Prince' Paul de Clairmont," Variety, 7 November 1914, 15.
[6] "With the Press Agents," Variety, 14 November 1914, 10.
[7] "Mrs. Alsop at 'The Corner,' Variety, 12 December 1914, 6.
[8] "Mrs. Alsop Angry," Variety, 19 December 1914, 7.
[9] "With the Women By the Skirt," Variety, 19 December 1914, 12.
[10] "Mrs. E. B. Alsop, Songs and Dances," Variety, 19 December 1914, 18.
[11] "Show Reviews: Hammerstein's," Variety, 19 December 1914, 20.
[12] "Rich E. B. Alsop, 77, Sued by His Wife, 22," The New York Times, 12 January 1915, 6.
[13] "E. B. Alsop, 87, Dead; Ex-Wife, 30, Cut Off," The New York Times, 14 November 1922, 14.