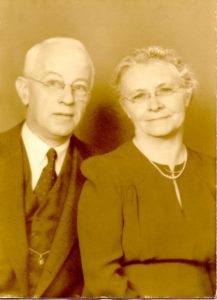 As the New England Regional Genealogical Conference was held recently in Springfield, Massachusetts, I am reminded of my brief genealogical connection to that city and the incredible value of city directories. Springfield is the birthplace of my paternal grandmother, Elizabeth Peltz Helman, who was born there 9 September 1914 at 20 Converse Street. However the family only lived there two years before moving on. Her father, Gilbert Wayne Helman (1882–1945), was a travelling salesman who for the better part of twenty-plus years never lived in the same city for long. City directories (along with a few other records) allow me get a nearly complete timeline of someone who was constantly "on the move."
Gilbert was born in Philadelphia 12 March 1882, the elder of the two sons of Herbert Heath and Mary Rosella (Through) Helman. His parents separated soon after his brother's birth in 1888 (and ultimately divorced in 1913), and Gilbert spent his youth with his father in Philadelphia. From the 1940 census I know Gilbert's education went through eighth grade, and he first appears under his name in the 1899 Philadelphia city directory (as a clerk) at the same residence as his father. While he is missed in the 1900 city directory, father and son do appear in the 1900 census in Philadelphia, boarding at another address, this time with Gilbert's occupation as a salesman, the occupation he would have for most of his adult life.
From 1901 to 1903, he appeared in the city directories of San Francisco. I cannot find him in the Bay Area directories between 1904 and 1906, but in 1905, back in Philadelphia, he married – his wife Mazy was also a Philadelphian – and his residence on his marriage license is still in San Francisco. Their eldest child was born in Oakland in 1906, and Gilbert appears in the 1907 San Francisco directory working there and living in Oakland. 1907 is the only directory where his business bears his name: "Mullen-Helman Furniture Co."
According to family, Gilbert's business was affected by the 1906 San Francisco earthquake. He appears again in Oakland in 1908, but must have soon returned to Philadelphia, as his second child was born back home in October of that year. Not found in 1909, he appears in the 1910 city directory and census in New Orleans, Louisiana, this time as a traveling salesman of rugs.
According to family, Gilbert's business was affected by the 1906 San Francisco earthquake.
The residence in New Orleans was brief, and the Helmans are back again in Philadelphia in 1911. Then in 1912, he appears in Boston, and again in 1913 working in Boston with a Cambridge residence. He then appears in Springfield for the next two years, where his third child (my grandmother) was born. I found most of these city directories on either Ancestry.com or Fold3, and while family members have told me a basic timeline, one benefit in the city directories of smaller cities and towns are the additional facts provided: sometimes a person's death date, or when they remove to another place, as appears in the Springfield City directory in 1916:

He appears in Philadelphia in 1916, and then in York, Pennsylvania from 1917 to 1920, where his fourth child was born in 1918. (York published a city directory in the odd years, so he appears there in 1917 and 1919; in 1918 I have his World War I Draft Registration Card, and then in 1920 in the federal census.) Not found in directories in 1921, although his fifth child was born back in Philadelphia in August of that year, he appears there in 1922 and 1923. His sixth and last child was born in Lansdale, Montgomery County, Pennsylvania in 1924, where the family finally "settled" in nearby Upper Gwynedd Township after many peripatetic years all over the country.
As I have looked at the places my great-grandfather worked and lived with his family, several of these buildings are still standing (provided the street numbers are still the same), and – thanks to Google Street View and Zillow, among others – their home in New Orleans in 1910, their home in Cambridge in 1913, and my grandmother's birthplace in Springfield in 1914 (only built the year before) may still be seen.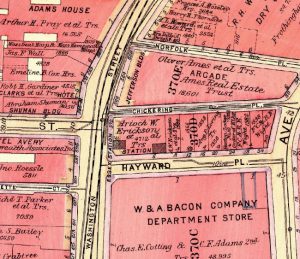 However, several of their residences have been replaced. Gilbert's residence in San Francisco in 1905, at the time of his marriage, was surely affected by the 1906 San Francisco earthquake, as the building there currently was built in 1907. Most interesting to me was where he worked in Boston, at 564 Washington Street in the theatre district downtown. The building, also known as the Jefferson Building, is listed on Bromley maps throughout this time as "The Arcade."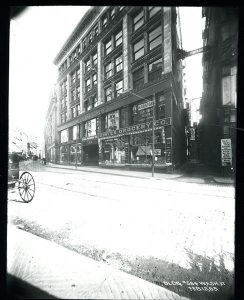 Through the city of Boston's historical maps website www.mapjunction.com, I can see city maps of this area throughout the years, and I was fortunate to find a picture of the building from 1905 just a few years before Gilbert worked there. The building was later demolished and the former site is now home to a luxury residential building completed just four years ago called "Millennium Place." It's neat to know that I work less than a mile from where my great-grandfather worked just over one hundred years ago.