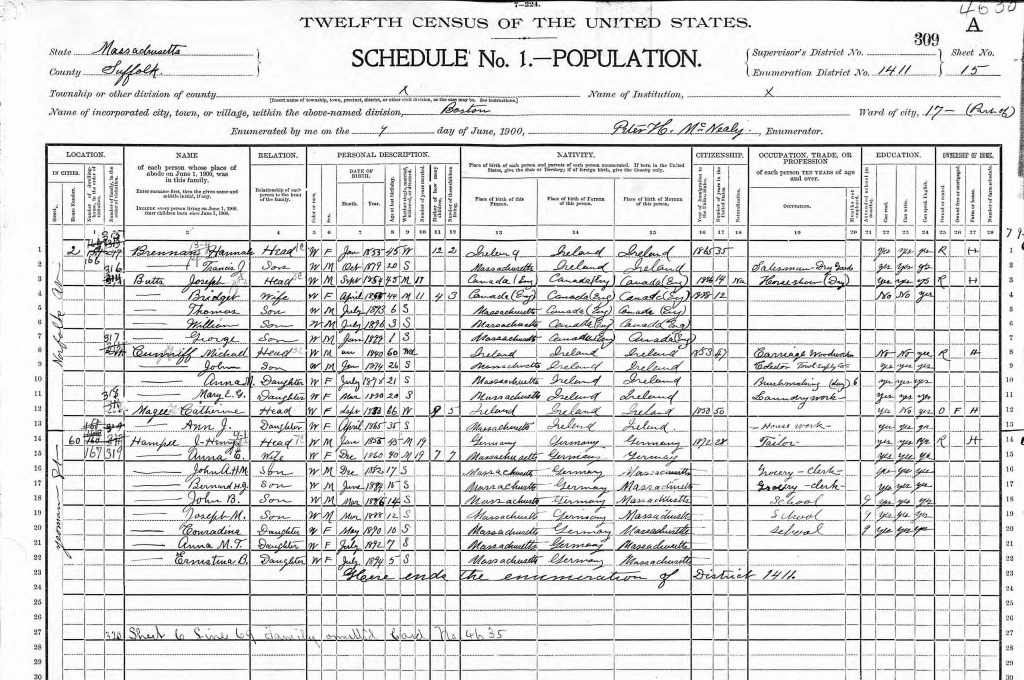 Recently, I've started visiting the cemeteries of my ancestors. Fortunately, most of my maternal ancestors stayed in the Boston area after immigrating, so it hasn't been too difficult.
A few months ago, I visited St. Joseph's Cemetery in West Roxbury in search of the headstone of my great-great-grandparents, John Henry and Anna K. (Ulrich) Hampe. After searching for some time, I finally came to the Hampe plot. Listed on the headstone are John and Anna, as well as their children Joseph M., Bernard J., Anna M., and B. Ernestine Hampe. Though I was happy to take a few pictures, I couldn't help but feel a flicker of disappointment. With the exception of Joseph, the other Hampes buried at St. Joseph's Cemetery only list their birth and death year, rather than the full dates of those events.
Anna K. (Ulrich) Hampe has been a bit of a puzzle for me. I knew a lot about Anna: her marriage and death dates, who her parents were, and that her father had come to Boston from Bavaria in Germany. However, I did not know when Anna was born. According to census records and her death certificate, she was born in Massachusetts in 1856. The headstone at St. Joseph's Cemetery in West Roxbury also states that she was born in 1856, but I could not locate a birth record for her in Boston.
With the Catholic Records Project underway here at NEHGS, it seemed my luck had turned. One of the first sets of records that NEHGS scanned and digitized were the parish records for Holy Trinity Church. As I mentioned in a previous post, Holy Trinity was largely a German church, and the parish my Hampe ancestors attended. I searched through the baptism records for 1856, but was unable to locate the baptism record for Anna Ulrich.
In the 1900 U.S. Census, Anna's birthday is listed as December 1860.[1] This census is the only record in which her birth year is not listed as 1856, so I didn't think too much of it. However, I wondered if the birth month could at least be correct.
I again browsed through the December 1856 baptism records for Holy Trinity Church, but didn't see Anna's name. In searching one year before and after, I finally found the baptism (in Latin) for Annum Catharinam Ulrich, daughter of John Ulrich and Conradina Fichter, baptized on 28 December 1855. According to her baptism, she had been born the day before, on 27 December 1855. Her headstone was wrong!
In searching the baptism records for Anna, I was able to locate specific birthdates for Anna and her eight siblings. In addition to baptism, marriage, and death records, the digitized records for Holy Trinity Church also include an 1856 parish census which, in addition to listing the members of the church, recorded residences of parishioners living outside of Boston, as well as birthplaces in Germany.
Note
[1] J. Henry Hampel Household, 1900 United States Federal Census, Year: 1900; Census Place: Boston Ward 17, Suffolk, Massachusetts; Roll: 684; Page: 15A; Enumeration District: 1411; FHL microfilm: 1240684.