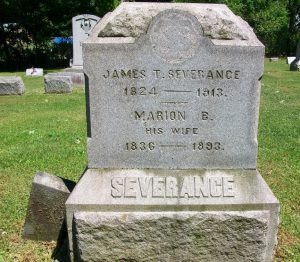 Finding two gravestones for the same person – particularly a widowed person who marries again, or perhaps moves further west – is something not uncommon in genealogical research. A gravestone may be inscribed with both parties' names with the death date of the living party left empty for when their time comes. However, even when that year is filled in, don't necessarily think both people are under the same earth.
Years ago I took a trip to Allegany County in western New York where my great-grandmother was born. I found the gravestone of her father's parents James Taggart Severance (1824–1913) and his wife Marion Botsford (1836–1893) at Riverside Cemetery in Belfast, New York. However years later I found that James also had a headstone at Burrton Cemetery in Burrton, Kansas.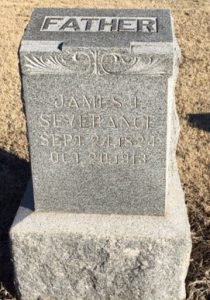 This latter stone was near that of his son, my great-great-grandfather Willard Lorenzo Severance (1862–1947), and appropriately labeled "father." I knew that James joined his son in Kansas, as all of James's adult children and their families had moved there in the 1880s, and the father joined them after his wife died in 1893. However I was not certain which stone actually had James's body underneath. His death certificate states he was buried in Burrton, so the New York cemetery simply filled in his year of death on his wife's gravestone.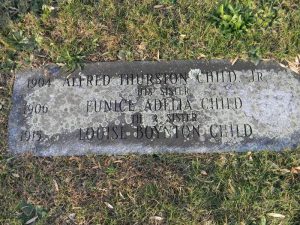 Another gravestone concerns three unmarried first cousins of my grandfather, all at Woodstock Cemetery in Woodstock, Connecticut. Alfred Thurston Child, Jr. (1904–1996), Eunice Adelia Child (1906–1994), and Louise Boynton Child (1915–1999), never lived in Woodstock, which was where their father was born and raised. Their parents had moved to Colorado where the elder two children were born, and then later Stamford, Connecticut, where Louise was born; the children spent most of their years in New Jersey, where Eunice died, while Alfred and Louise died in Florida and New York respectively. Their parents are buried near this stone, and I believe the siblings set this stone up for themselves, but they were never buried there – I'm not even sure where they are buried!
Also, some people may place their name beside their first spouse but get married again, remaining "alive" on their first grave and then buried beside their second spouse. I've seen examples of parents having all of their children named on their stone, with their birth and death dates, despite several children actually being buried elsewhere. Others may have a "memorial" stone in one cemetery and be buried in another. Still others, who might be cremated, may have their ashes deposited in two cemeteries. My colleague David Allen Lambert plans to have his ashes buried locally in Massachusetts as well as in Nova Scotia, beside a memorial gravestone he erected for his great-grandparents.
I believe the siblings set this stone up for themselves, but they were never buried there – I'm not even sure where they are buried!
Another example of a twentieth-century gravestone I read about occurred in two cemeteries in nearby towns in Michigan. The deceased was relatively young, unmarried, and had divorced parents. While his obituary indicated burial in one cemetery, it's likely his other parent also erected a gravestone at a cemetery with their own familial or personal connection.
There is always a reason someone has two gravestones, and that often has genealogical implications with later marriages, later residences, or competing family connections.