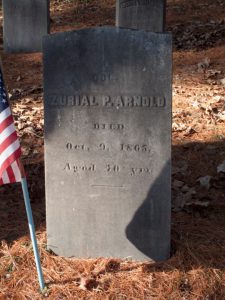 An example of how a final spouse might be overlooked occurred when I was researching a "double Lippitt" spouse, Zurial Potter Arnold (1795–1865) of Eastford, Connecticut.[1] Zurial was married to two daughters of Moses and Anstress (Holden) Lippitt of Killingly, Connecticut. He first married Ann Lippitt in 1816; she died in 1823. He then married Ann's sister Hannah in 1824. I found a reference to Zurial's 1865 death on findagrave, which showed he was buried near a total of four wives, as also shown below in the Charles R. Hale Collection of Connecticut Cemetery Inscriptions.
In the same year Hannah died, in 1833, he married Susan Franklin, who died in 1859; finally, in 1860, Zurial married Mary K. Whitmore, who died in 1862. Zurial died three years later and I found his death in the Eastford Vital Records. However I noticed on the death record that he was listed as married rather than widowed. His 1865 will left his wife Lucy the use and improvement of all of his real and personal estate. I quickly found in the Eastford Vital Records the 1863 marriage between Zurial Arnold and Lucy Williams, which listed this only as Zurial's second marriage, when it was actually his fifth![2]

While none of this was particularly hard to find, I thought this fifth wife Lucy could very well be a final spouse researchers might miss. Zurial is buried by his first four wives; his fourth wife died in 1862 and he only died three years later. Lucy returned to her native Brooklyn, Connecticut, and lived with her brother Martin Herrick Williams (with whom she had lived before her marriage), and only appeared in these above two Eastford records – 1) her marriage in 1863 and 2) her husband's will in 1865 – which are of course between the federal censuses. It does not appear Lucy used her husband's land, as stated in the will, and Connecticut did not have a state census.
Connecticut marriages between 1850 and statewide registration in 1897 still do not have a truly complete statewide index, and of course, for many others states, the availability of records for this period is not always generous. Even in the states that do have death records, marital status of the deceased is not always indicated.
So don't necessarily think your ancestor is done after several marriages with only a few years left in his or her life. He (or she) might go for one more!
Notes
[1] Zurial Potter Arnold entry, https://www.findagrave.com/cgi-bin/fg.cgi?page=gr&GRid=79643939.
[2] Thompson Vital Records, 1: 99 (first marriage, at Killingly); Killingly Vital Records, 1: 104 (second marriage); Ashford Vital Records, 5: 51 (third marriage); Chaplin Vital Records, 3: 5 (fourth marriage); Eastford Vital Records, 2-C: 8 (Susan's death), 10 (Mary's death), 13 (Zurial's death), 2-B: 13 (fifth marriage); Will of Zurial P. Arnold, dated 2 Oct., proved 19 Oct. 1865, Eastford, 1865, Eastford District, No. 15; gravestone transcriptions above and findagrave photographs above.