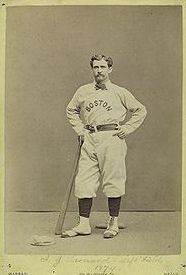 On 5 May 1871, Andy Leonard stepped up to home plate at Olympics Grounds in Washington, D.C. Few realized it at the time, but the second baseman of the Washington Olympics was about to make history.
Andrew Jackson "Andy" Leonard was born on 1 June 1846 in County Cavan, Ireland, to Andrew and Ann (Leddy) Leonard.[1] At the age of 2, Andy traveled to America with his parents to escape the Potato Famine.[2] The family settled in Newark, New Jersey, where, from a young age, Leonard began exhibiting a talent for baseball. Beginning in 1864, Andy began a five-year stint playing amateur baseball for teams in the New York metropolitan area before moving to Cincinnati.[3] In 1869, Leonard made history for the first time by joining the 1869 Cincinnati Red Stockings, the first fully professional baseball team.[4] Leonard was paid $800 for his first season, which lasted from 15 March to 15 November.[5] He remained with the Red Stockings through the 1870 season.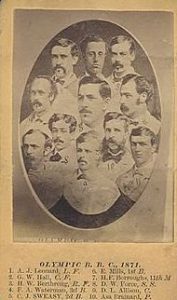 In 1871, Andy Leonard signed a contract with the Washington Olympics, a team in the newly-formed National Association. At the time of this signing, there was a great debate in America over whether baseball teams should pay their players or remain amateur in their composition.[6] In an effort to quell these concerns, Andy Leonard's contract, which was written on the letterhead of the U.S. Treasury Department and signed by the Treasury Secretary, stipulated that he would be paid $720 for one year of work as a department messenger, nearly twice as much as a messenger's usual salary.[7] It is believed that Leonard never actually worked for the Treasury and that this contract was essentially a way for him to be paid under the table in exchange for playing for the Olympics.[8]
On 5 May, as Andrew Jackson Leonard took the field, he became the first Irish-born player in major league baseball history. This distinction is the result of favorable scheduling, as three other Irishmen played in the National Association that season, but Leonard's team played before theirs. In his debut for the Olympics, Leonard batted sixth, scoring three runs and making several defensive plays at second base; however, Washington fell to the Boston Red Stockings, 20–18.[9] The Olympics eventually finished the season an even 15–15, good for fourth place in the nascent league.[10] Leonard had a respectable season for the Olympics, batting .294 and driving in 30 runs.[11]
In 1872, Leonard signed with the Boston Red Stockings, the team with which he would spend the majority of his career in the city in which he would later call home. The Red Stockings of the National Association, despite their name, were the predecessor to the Boston Braves (later the Milwaukee Braves and currently the Atlanta Braves), not the Boston Red Sox, who joined the American League in 1901. In 1872, Leonard had a breakout season, batting .349, hitting two homeruns, and driving in 42 runs.[12] Of his seven seasons in Boston (1872–1878), the Red Stockings failed to win the league championship only once (1876), with Leonard playing a key part on each of these winning teams.
While much of the information on his contracts does not survive, it is known that Leonard was paid $1,400 per season in both 1873 and 1874, equivalent to just under $27,000 in 2016 dollars.[13] From July to September 1874, the Red Stockings and the Philadelphia Athletics toured the British Isles, allowing Andy Leonard to return to his native Ireland.[14]
On 22 April 1876, Leonard played in the first National League game, although this time, he might not have been the first Irishman to play in the league, as it is believed that a man by the name of Fergy Malone also played in this game and, therefore, shares this distinction.[15] Andy Leonard continued to play in Boston until 1879, when he lost his starting position with the team. He then returned to Cincinnati for the 1880 season; however, despite being only 33 years old, his vision began failing him, resulting in the worst season of his career and, soon after, his departure from organized baseball.[16]
After his baseball career ended, Andy Leonard went home to Newark, where he served as a clerk in the city hall. Leonard had returned to Boston by 1895, taking up a position with the firm Wright & Ditson, where he worked for the next eight years.[17] Andrew Jackson Leonard passed away in Boston on 21 August 1903 at the age of 57. His death record gives his occupation as 'clerk' and does not mention his former career as a professional baseball player.[18] His obituary, published in the Boston Globe the day after his death, extolls his abilities on the baseball field and notes "Andrew J. Leonard was a baseball classic, kind-hearted, and one who played the game to the limit without a mean thought for umpire of opponent. He goes down and out without an enemy on earth."[19]
Andy Leonard was buried in an unmarked grave in Calvary Cemetery in Boston – a fact that his grandson, Charles McCarty, is trying to change. McCarty put Leonard's contracts and his diary from the 1874 British tour up for auction in 2016 in an effort to purchase a grave marker for his grandfather.[20] The legacy of Andy Leonard also lives on in his homeland, as the Irish Baseball League's Most Valuable Player award is named in his honor.[21]
Notes
[1] City of Boston, Commonwealth of Massachusetts, Return of a Death, 1903, Registered No. 6936, pg. 415, Andrew J. Leonard.
[2] Irish Central Staff Writers, "Grave Marker Sought for Irish-born Andrew Leonard One of the First Pro Baseball Players" Irish Central, 9 February 2016.
[3] Charles F. Faber, "Andy Leonard," Society for American Baseball Research.
[4] Ibid.
[5] Ibid.
[6] Irish Central Staff Writers, "Grave Marker Sought for Irish-born Andrew Leonard."
[7] Ibid.
[8] Ibid.
[9] "Base Ball: The Great Game, Boston 20 –– Washington 18" Daily National Republican, 6 May 1871, p. 4.
[10] Baseball Reference, 1871 Washington Olympics Schedule, http://www.baseball-reference.com/teams/OLY/1871-schedule-scores.shtml.
[11] Baseball Reference, Andy Leonard, http://www.baseball-reference.com/players/l/leonaan01.shtml.
[12] Ibid.
[13] Ibid.
[14] David L. Fleitz, The Irish in Baseball: An Early History (Jefferson, N.C.: McFarland & Co., 2009), p. 8.
[15] Baseball Reference, 1876 Philadelphia Athletics Season, http://www.baseball-reference.com/teams/ATH/1876-schedule-scores.shtml.
[16] Faber, "Andy Leonard."
[17] "'Andy' Leonard Makes His Last Strike-Out," Boston Globe, 22 August 1903, p. 12.
[18] City of Boston, Commonwealth of Massachusetts, Return of a Death, 1903, Registered No. 6936, pg. 415, Andrew J. Leonard.
[19] "'Andy' Leonard Makes His Last Strike-Out," p. 12.
[20] Irish Central Staff Writers, "Grave Marker Sought for Irish-born Andrew Leonard."
[21] Ibid.