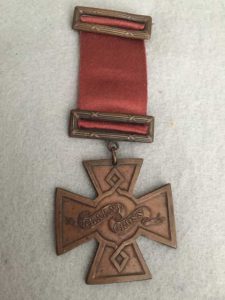 "The legacy of heroes is the memory of a great name and the inheritance of a great example." ~ Benjamin Disraeli
Somewhere out on that big blue horizon, under a Rocky Mountains moon, there is a soldier's grave – or at least so my family thinks. His name was John E. Lee, and he was attached to Company G in Michigan's Fighting Fifth" during America's Civil War. He enlisted in 1861, and served for the war's duration. He fought at Chancellorsville and was awarded the Kearny Cross for bravery.[i] Wounded at Gettysburg, he was a prisoner of war in the overflow camps of Andersonville – from which he escaped.[ii]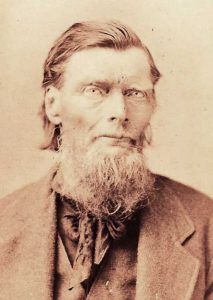 After the war, he went home to Michigan, married his sweetheart, sold everything, and along with his parents and his children, went west – to Colorado. He settled near the Wyoming territory living as a trapper and as a rancher.[iii] He was a large and powerful man who from all accounts lived a respectable life, but passed away from a suspicious poisoning at the age of 42.[iv]
The Lee family lore has always been that he was "buried out on the ranch." No one can say where this legend came from; it just did, you know, as one of those "passed on down" stories that we tend to inherit from our elders – stories that they inherited themselves – and based on, well, not much at all.
So, lately, it has seemed time to look for the John E. Lee grave before the old legends disappear from my family's collective consciousness. Is his grave marked or unmarked? Did they bury John under an old wooden cross that has long since faded into the Colorado landscape? And for that matter, what ranch? Or is it now necessary to accept that we don't know where John is – and simply acknowledge his remarkable life for what it was?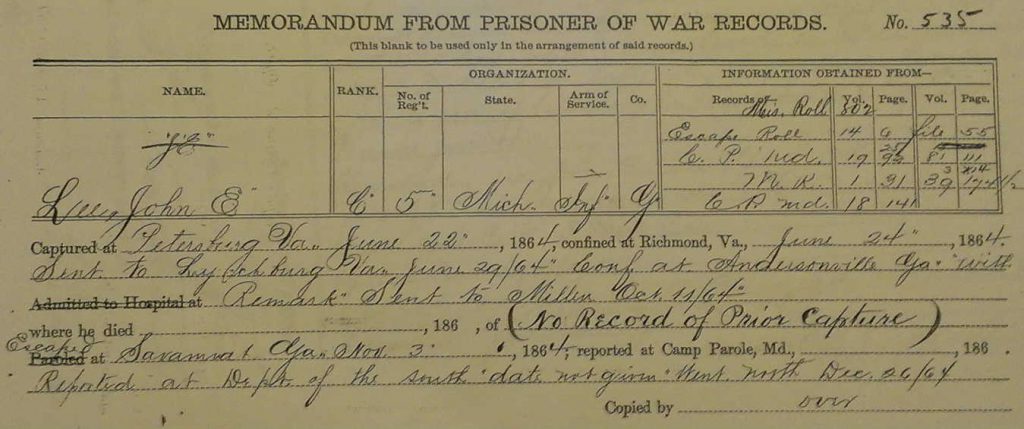 Researching land records has never been my forte. However, information from the Bureau of Land Management's web site allowed me to locate the "land patent" from the 1880s and the location of John Lee's Colorado ranch:
                         CO 6th PM Township 9.0N Range 79.0W Section 8 and Section 5
Now I don't know about you, but I don't speak that language. However, a kind stranger 'translated' it – and now it looks like this:
                    40°45'57.6″N 106°17'28.9″W
For me this isn't a whole lot better – but it is getting closer. It's like translating cave paintings showing where the Buffalo roamed into, say, everyday modern Spanish or French. However, this second description of latitude and longitude helped me to better understand the location of John's ranch.
And Eureka! I was able to take a look at John's ranch through the all seeing eyes of Google. This was the first time any family member has looked at the ranch of John E. Lee in any format in over 100 years. I was so close to knowing more about John! Yet even Google could only tell me that the location of John's ranch is:
"Unnamed Road, Walden, Colorado"
Well, I knew I must be getting closer, but what wouldn't I give for a good old fashioned mailing address!
I must mention that there have been a lot of good souls helping me to find John's final resting place. My hat is off to the folks in Jackson County, Colorado who have tried, and to the readers on Vita Brevis who have reached out to help. I even spoke to a descendant of the family that took over the ranch after John Lee's death who had lived there for many years. Unfortunately, she could not recall any graves there from her time growing up. The only thing she could recall was a peculiar land formation near the ranch property, one that is still today called "Lee Draw." I have to wonder if my great-great-grandfather is buried there at Lee Draw.
Yes, I realize that John's grave does not need to be remembered with a granite marker on an unnamed road in a remote section of northern Colorado – a marker that even if successfully placed very few will probably ever see or know of. However, there is one thing that John does need – and that is to be found and not forgotten. He deserves this – because he did not rest for me, or for this nation, or for any of us who value the freedoms we hold so dearly today.
Notes
[i] Elihu Root, "The War of the Rebellion: The Official Records of the Union and Confederate Armies" (Series 1, Volume 51: 1, 1275–81). The medal was awarded to enlisted men by way of General Order #48 on 16 May 1863; information courtesy of Bob Velke.
[ii] Prisoner of War Records for John E. Lee, 5th Michigan, Company G, National Archives and Records Administration.
[iii] "Early Days in North Park, Colorado – as told by T. John Payne to James  R. Harvey," Colorado magazine, November 1937, Volume 14, Number 6, 230–31, for a brief biography of John E. Lee.
[iv] "Was he poisoned?,"Fort Collins Courier, 23 July 1885, an article concerning the suspicious circumstances of John Lee's death.