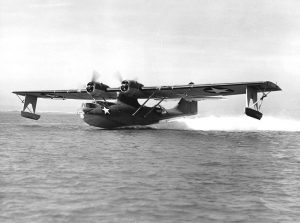 The seventy-second anniversary of the Yalta Conference, 4–11 February 1945, also marks the anniversary of my uncle's death in Operation Argonaut, the Allied support mission that provided safe escort to the conference for President Roosevelt and Prime Minister Churchill in their historic meeting with Joseph Stalin of Russia. The goal of the conference was to decide how post-war Europe would be governed, even though there was still heavy fighting in France (the Battle of the Bulge had just ended on 25 January). Hindsight reveals that many of the agreements and concessions made during the conference led to the Soviet Union's domination of eastern Europe for forty years.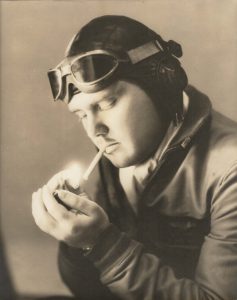 On 30 January 1945, my mother's brother, Navy pilot Lieut. Lauren "Pappy" Hawes,[1] was flying a Catalina PBY-5A seaplane[2] from Athens across the Black Sea to Sevastopol, where they would be in position to provide air-sea rescue for the convoy of planes bringing Roosevelt and Churchill to the conference. (Stalin refused to let Allied war ships into the Black Sea, forcing the Allies to take the more dangerous air route.) As it turns out it was fortunate that Roosevelt and Churchill's plane made the trip to and from Yalta safely, as my uncle's plane was not there to rescue them!
Leaving Athens, the ceiling was 2,000 feet and gloomy, but not bad enough to prohibit flying. About two and a half hours later, though, they encountered a bad snow storm. They were then over Turkish Thrace in an area called Sinekli, and Lauren was using the railroad tracks as a guide, flying at between one and five hundred feet.  The plane, already overloaded with cargo, began to ice up and lose altitude. It banked steeply to starboard catching a telephone wire on the wing, spun to the port and crashed upside down in three sections.
The bodies of Lauren and one airman were thrown clear, and the co-pilot was crushed in the cockpit; all three had died instantly. Miraculously, the other six men survived. Within a few hours they were picked up by Turkish civilians, detained but released by Turkish military (Turkey being a neutral country) to catch a train to Istanbul where they were met by the U.S. Military Attaché – who sent them on to Cairo! The bodies were recovered and buried in the American Cemetery in Istanbul until the war ended, when they were brought back to the U.S. I wrote about our family's cemetery lot where Lauren is buried in my post Three Argonauts.
There had originally been three PBYs assigned to provide air-rescue in the operation, all of which failed to reach their destination – one turned back because of the weather and the other had a successful emergency landing because of an iced-up carburetor. How would history have been changed if those planes had been needed?
Notes
[1] Lauren, age 32, was a seasoned pilot who regularly flew Admiral H. Kent Hewett, U.S. Navy commander of amphibious operations in North Africa and southern Europe; during the rehearsal of the invasion of Southern France, he had had Secretary of Defense James Forrestal on board.
[2] The PBY seaplane was an anti-submarine aircraft used for air-sea rescue, reconnaissance, and bombing. It had an exceptionally long flying range and could stay in the air up to eighteen hours, landing on water (with wheels up) as well as on solid ground (with wheels down).