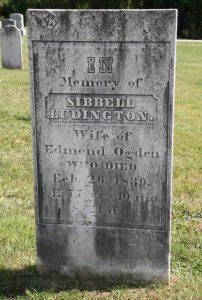 Paul Revere's famous ride is often the jumping off point for thinking about the Revolutionary War. But there is a lesser known patriot – a woman, too – who helped win the war and changed the course of history.
Her name was Sybil Ludington, and she was born 5 April 1761 in Connecticut as the eldest child of Henry and Abigail Ludington. On the rainy night of 25 April 1777, as British troops were advancing to attack Danbury, Connecticut, Sybil, only 16 years old at the time, took off on her famous 40 mile horseback ride to alert approximately 400 militiamen under the control of her father, Colonel Henry Ludington. She was chosen for the task because the original messenger, who had ridden to notify her father of the advancing British troops, was too tired from his first trip and could not proceed. Since Sybil knew the land well and because of her father's trust, she was chosen to bring the men together, as they were dispersed for planting season.
Sybil had to navigate the terrible weather, the British, the Loyalists, and the "Skinners"(outlaws with no allegiance to either side).
On a journey of double the number of miles of Revere's ride, Sybil had to navigate the terrible weather, the British, the Loyalists, and the "Skinners" (outlaws with no allegiance to either side). She alerted the men along her route through Connecticut and the coast of the Long Island Sound and brought them back to her home in the Fredericksburg Precinct of Dutchess County, New York (known today as the Town of Kent in Putnam County) to march that morning. Though they did not win that particular Battle in Danbury on 26 April, her heroic efforts certainly supported the  patriots' cause.
It is said that George Washington came personally to Sybil Ludington's home after the battle at Danbury and thanked her for her important contribution to the Revolutionary War. Eventually, Sybil settled down and married Edmond Ogden, a lawyer, and they had one son, Henry. Sybil died on 28 February 1839 and is buried in Maple Avenue Cemetery near her father in Patterson, Putnam County.
Sybil's legacy has not been forgotten.
Though this ride is less known and seemingly not as important, Sybil's legacy has not been forgotten. In 1975, the United States Postal Service honored her by creating a stamp of her famous ride. Artist Anna Hyatt Huntington erected a statue of Sybil on the shores of Lake Gleneida in Carmel, New York. And still to this day, there is a 50 kilometer race in her honor that goes along the route of her famous "midnight ride" in Putnam County.
In genealogical research, finding women can often be the hardest of brick walls. Recognition of their importance to history was almost nonexistent until recently; often, maiden names and women's first names were not recorded. Wives and daughters were often left out of wills or not counted in census records. It is no surprise that Sybil's place among Revolutionary War patriots is often forgotten or completely ignored.
It is interesting to note that there is no one who has claimed her as a qualifying forebear within the Daughters of the American Revolution. (She does have living descendants.) Claiming women patriots is often difficult and very few have been claimed by DAR members. This is especially sad considering it is a women-only lineage society. Sybil Ludington Ogden's courageous ride may not be as well-known as her male counterpart's, but like many other women in history, she played an important role in establishing the America we know today.