[Author's note: This series, on Mrs. Gray's reading habits, began here.]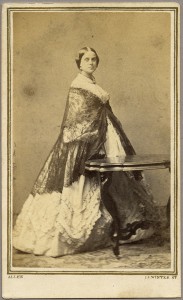 Regina Shober Gray[1] turned forty-five at the end of 1863; her children were growing up. At the same time, her younger sister Sue – unmarried and a ruthless flirt – worried Mrs. Gray, while changes wrought by the Civil War gave her some hope for the future:
61 Bowdoin Street, Boston, Sunday, 6 September 1863: Yesterday was Frank [Gray]'s[2] 17th birthday – how time flies. He is back at Harvard looking to a year of hard study. His chum, Abthorpe,[3] has not appeared yet, nor has he written to F., who hears from some that A. will not go on at Harvard another year; meanwhile Frank cannot settle in his new quarters till he does hear from Abthorpe – the poison-cold,[4] which has troubled F.C.G. for many years, 5 or 6, at this season, is far lighter in its attack now than ever before, and we hope it may be wearing out of his system.
Sunday, 13 September 1863: … Frank hears to-day that Abthorp is not coming back to Harvard – so he has lost his chum. We dined at Sallie Gray[5] on Tuesday and had a pleasant day. And on Monday p.m. took tea with Hepsa B[radlee][6] at Medford.
We have read aloud Fanny Kemble's "Journal of residence on a Georgia plantation"[7] – an unadorned picture of a sad phase of life, very interesting and bearing the stamp of plain truth, "nothing extenuated, nor set down in malice." We are now reading Estvan's "War Pictures"[8] – a very readable book. We have beside several Reviews, Atlantics, Harpers, &c to read up, in idle hours, if any such ever come to us again in this busy world.
Sunday, 27 September 1863: A miserable day; in bed till noon with a nervous headache, and left it, not that the pain was better, but I could no longer endure to lie there tossing and restless with anxious indignant thought.[9]
Unwelcome news from P[hiladelphia] yesterday quenches some pleasant hopes, in mortification and vain regret – which for the sake of some loved, I cannot but enter into with distracting keenness. I cannot justify poor [Sue Shober]'s conduct; in the excitement of watering place life she has allowed herself to grant interests which she would now withdraw, and yet has scarcely left herself the right to do so. Such conduct is simply a case of coarse jilting, unworthy [of] the lady, and unprincipled toward the gentleman.
It is beyond my comprehension – I am humiliated for her – no woman with true self-respect, and a true lady's consideration for others, ever places herself in such a position towards any man – and this is the 2d mistake of this kind – it is awful! This pitiable vacillation – all tenderness and essanchement one week – and abandonment the next – what can the man think but that he has been deliberately and remorselessly jilted – his best feelings and dearest hopes made the sport of a season's amusement, and then cast off as nothing worth. God helps us all – it does no good to write or talk about the matter – but it fills ones thoughts with anxious, wearying pain, mortification and wonderment.
Philadelphia, Thursday, 22 October 1863: The elections in Penna. and Ohio resulted splendidly for the great cause – in the utter defeat of the Copper head Vallandigham[10] in Ohio and Woodward,[11] here. The people will maintain their government, in spite of insidious traitors in our midst. My poor brother John [Shober], helpless as he is,[12] was carried by his two men servants to the polls, to vote the republican ticket. He has not voted for years, but felt that now every loyal man, should give his support to the government.
Nothing has shown me more forcibly than this, the grand inevitable march of public opinion on the great national questions of the day – to hear him, only a few months since, opposing Lincoln and Emancipation, advocating the restoration of all constitutional rights to the rebellious states, because we had no right to interfere with slavery in the states where it was now guaranteed &c &c – now openly confess, there could be no peace for the country till slavery was torn up root and branch – that until then, there could be only war, for national honor and life; my very heart leaped for joy to hear him say so. And one sees the same process in so many cases, Horace Gray[13] for instance, and others. It is a grand thing – literally the hand of God, overruling all our delays and disasters for eventual good.
61 Bowdoin Street, Boston, Sunday, 15 November 1863: …All the world is laughing over the "New Gospel of Peace,"[14] a burlesque satire, very smart but rather irreverent – seeming, from its admirable imitation, of the old Chronicles style, wh[ich] we are accustomed to associate with and ascribe to the Holy Scriptures only. But some of it is very rich! I am reading "The Bride of Lammermoor"[15] to the older children – and to Morris "A field full of wonders."[16] Have Ruffini's new novel "Vincenzo"[17] on hand, but have not found time to begin it even.
Continued here.
Notes
[1] Hedwiga Regina Shober of Philadelphia (1818–1885) was married to Dr. Francis Henry Gray of Boston 1844–80. Entries from the Hedwiga Regina Shober Gray diary, R. Stanton Avery Special Collections.
[2] The diarist's eldest son, Francis Calley Gray (1846–1904).
[3] John Vaughan Apthorp (1844-1939), a member of the Class of 1865; he was the oldest Harvard alumnus at the time of his death.
[4] An annual affliction of Frank Gray's eyes.
[5] The diarist's sister-in-law, Sarah Frances Loring (1811–1892), who married William Gray in 1834.
[6] The widow of Mrs. Gray's stepmother's half-brother.
[7] Journal of a Residence on a Georgian Plantation in 1838–1839 (1863) by Frances Anne Kemble (1809–1893). A member of a storied dynasty of British actors, she was married to Pierce Mease Butler 1834–49; after their divorce she returned to the stage as Mrs. Kemble.
[8] War Pictures from the South (1863) by Béla Estevàn (b. 1827).
[9] Presumably concerning her sister Susanna Budd Shober (1823–1898?), who, after several broken engagements, married Dr. John Davies of Fayal in 1867.
[10] Clement Laird Vallandingham (1820–1871), a former congressman from Ohio. The leading Copperhead Democrat of the day, he was deported to the Confederate States in June 1863; during the autumn of that year he ran an unsuccessful campaign for Governor of Ohio from Windsor, Ontario.
[11] George Washington Woodward (1809–1875) ran as the Democratic candidate for Governor of Pennsylvania.
[12] John Bedford Shober (1814–1864), an invalid for several years before his death.
[13] Dr. Gray's brother Horace Gray of New York (1821–1901).
[14] The New Gospel of Peace: According to St. Benjamin (1863) by Richard Grant White (1822–1885), father of the architect Stanford White.
[15] The Bride of Lammermoor (1819) by Sir Walter Scott, 1st Bt. (1771–1832).
[16] A Field-Full of Wonders (1863) by Charles Smith Cheltnam (1823–1912).
[17] Vincenzo, or Sunken Rocks (1863) by Giovanni Ruffini (1807–1881).