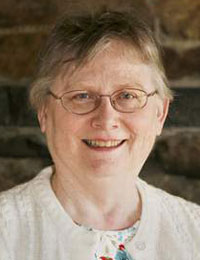 This year's holiday Open House at the NEHGS library on Saturday, December 10, included several Fireside Chats. In the morning Marie Daly and Judy Lucey discussed Irish genealogy.
In the afternoon Chris Child covered the different types of DNA testing – Y-chromosome, mitochondrial, and autosomal. This last is the "hot" fad right now; it's the type you see on TV, such as "I thought all my ancestors were [fill in the blank], but…" I am no expert on the complexity of DNA inheritance, so it was interesting to learn that European (including the British Isles) DNA is greatly affected by thousands of years of migrating groups that have mixed up the pool to the point of making specific interpretations difficult. On the other hand, test results are accumulating to the point where surnames will be identifiable!
The last chat involved Bob Anderson, Helen Ullmann, and myself talking about our three "Study" projects. Helen explained how individuals can submit their sketches for the Western Massachusetts Families in 1790 Study Project, which she then edits for publication. She noted many submitters do not access land and probate records, and highly recommends that those sources (increasingly available online) be used if possible.
I, of course, talked about the Early New England Families Study Project. Over eighty sketches have been uploaded to the online database on American Ancestors. Fifty of these were published last year in a soft-cover edition of Early New England Families 1641-1700, Volume 1, which is now also available in an updated hard-cover edition. The remaining thirty sketches will be combined with twenty others currently under development into Volume 2 sometime in 2017. Each volume in the series will include fifty families, so with about 30,000 marriages to cover, it's going to be a long series.
Published genealogy is a hodge-podge of pieces of information collected by different individuals who usually had access to fewer resources than those we can now easily consult…
We were asked what has surprised us most about our projects. For me, the constant reminder that published accounts are so often outdated, incomplete, and incorrect. This is a strange concept for beginning genealogists to understand – if people have been writing about these families for more than 100 years, why isn't all the correct information already there? I used the example of the blind men describing an elephant – if one is holding the tail and another holding the trunk, the descriptions will be different. Published genealogy is a hodge-podge of pieces of information collected by different individuals who usually had access to fewer resources than those we can now easily consult, and often antiquated knowledge about how to interpret and compile those records. The job of the Early New England Families Study Project is to be a clearing house for it all.
Bob Anderson then spoke about the Great Migration Study Project, on which he has been working for twenty-five years. He distributed to the audience the very last issue of Great Migration Newsletter (issue 100), but he is not leaving the project entirely. First he is working on his new book about the origins of the "Puritan migration." Then he will revisit and update the sketches from Great Migration Begins in the same manner as he did with Winthrop Fleet and Pilgrim Migration. These new books will be about families from East Anglia and the Middle Counties.
Yes, this does still leave the section of Great Migration immigrants from 1636 through 1640 undone with no immediate plans for its completion. In some cases, Early New England Families sketches on second generation immigrants will fill in some of the information about their parents – such as the sketch on Daniel Wing – and I will be sure to let you know if any new plans for Great Migration are announced!