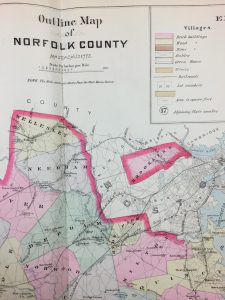 In documenting the dates on Mabelle Clifton (Lippitt) (Bourne) Bevins in my last post, her step-mother's data reminded me of other issues that come our way in family history with new towns being created, or annexed, and the shifting borders of counties and states.
Mabelle's step-mother, Lillian Hannaford Blazo, was born at Hyde Park, Massachusetts on 5 December 1869, daughter of William Augustus and Mary Elizabeth (Farnum) Blazo.[1] She married at Boston 7 March 1901, Robert Lincoln Lippitt.[2] This marriage listed her birthplace as Dorchester. Lillian died at Providence, Rhode Island 7 February 1937 and her death record listed her birthplace as Milton.[3] Why was there confusion on these two records?
Hyde Park was incorporated as a new town in 1868, just one year before Lillian's birth, from lands in Dorchester, Milton, and Dedham. From that alone, it's difficult to say if Lillian was born in the part of Hyde Park that had been Dorchester or Milton, without looking at land records or town directories to see where Lillian's parents lived, assuming a home birth. In 1912, Hyde Park was annexed by the City of Boston, and what remained of Dorchester had already been annexed by Boston (in 1870): Hyde Park and Dorchester remain neighborhoods in Boston today, while Milton and Dedham remain distinct towns.
If we consider counties, this gets even more complicated. Dorchester, Milton, and Dedham were all part of Norfolk County, and Hyde Park would be as well. However when both Dorchester and Hyde Park were annexed by Boston, they in turn became part of Suffolk County. Norfolk County had been created in 1793 largely from Suffolk County, so that can add to confusion when researching all of these towns.
While vital records in the Bay State have been at the town level as well as the state level since 1841 (Boston as of 1850), land and probate records in Massachusetts have been recorded at the county level, so knowing how a town could have been under different counties depending on the decade is helpful. To keep things simple for Lillian, I listed her birth as Hyde Park (now part of Boston), Massachusetts, without reference to the county, with further explanation about Milton and Dorchester in the footnote.
This reminded me of other scenarios that are even more confusing when occurring near a state border. As I have mentioned before, my paternal grandfather's ancestors largely derived from Woodstock, Connecticut. This town was settled by English people from Roxbury, Massachusetts in 1686, and was originally called New Roxbury, Massachusetts, part of the existing Suffolk County. (It was renamed Woodstock in 1690.)
In 1731, the town became part of the newly created Worcester County, Massachusetts. In 1749, Woodstock was annexed by Connecticut and since then has remained in Windham County. However, even after being part of Worcester County, I have found relevant documents on Woodstock people in Suffolk County records, and even after being part of Connecticut, I have found relevant documents in Worcester County records.
Sometimes there might be border confusion in records even if a boundary change did not even occur. My great-great-great-great-great-grandmother, Esther (Daggett) Franklin, was born in Westmoreland, New Hampshire in 1785. However in the 1880 census, three of her children (having long lived far away in western New York) list their mother's birthplace in Vermont.
As I researched this area of western New Hampshire, I learned Westmoreland was one of the towns that on 5 April 1781 voted to unite with Vermont as part of the Eastern Union. (Two months later the town chose to remain in New Hampshire.)[4] This may have played a part in why three of Esther's children listed Vermont as their mother's birthplace.
In our publication Western Massachusetts Families in 1790, William B. Saxbe, Jr. wrote a sketch on John Bowen, who, according to the 1790 census, was enumerated in Royalston, Worcester County. The scope of this western Massachusetts project was limited to Berkshire and Hampshire Counties. However, as Saxbe notes: "the author of this sketch believes that John Bowen actually lived at Warwick, Hampshire County, and that his listing at Royalston, Worcester County, was an error by the census taker. There is considerable evidence that John Bowen lived at Warwick before 1787 (and possibly as early as 1780) and none that he lived at Royalston. His property was in the northeast corner of Warwick, abutting the Royalston line. Today, as in 1790, access to that property is difficult from Royalston, but even more difficult from the rest of Warwick."
Knowing how these borders shifted, could have been perceived to shift, or otherwise mistaken can be very useful when determining where records may be located for ancestors whose locale remained constant even as records (sometimes far-afield) might make you think otherwise.
Notes
[1] Massachusetts Vital Records, 1869, Births, 215: 312, as "______  Blazo (F)."
[2] Massachusetts Vital Records, 1901, Marriages, 515: 54.
[3] Rhode Island Deaths, 1937, 8: 86, FHL #1954,438 (images #1161-1165 if browsed on familysearch.org).
[4] Walter Hill Crockett, Vermont – The Green Mountain State (New York, 1921), 2: 354-57; see C.C. Child and J. Kelsey Jones, "Family of John and Esther (Daggett) Franklin: A John Billington Line," in Mayflower Descendant 60 [2011]: 158-78, for a full description of this family.