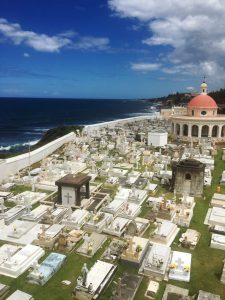 One of my favorite activities on vacation is visiting a local cemetery. Not just to view the ornate memorials and beautiful architecture, but to learn about the people that a particular region/state appreciates and associates with its national pride.
On my last trip to Puerto Rico, I visited the Santa María Magdalena de Pazzis Cemetery in San Juan, founded in 1863 outside of the walls of the city's most famous landmark, the Castillo San Felipe del Morro (known by locals as "el Morro"). The cemetery has a gorgeous view over the Atlantic Ocean, and it is the final resting place of many famous and influential Puerto Ricans:[1]
Ricardo Alegría, father of modern Puerto Rican archaeology;
Gilberto Concepción de Gracia, politician, founder of the Puerto Rican Independence Party;
José de Diego, poet, lawyer and liberal politician;
Lolita Lebron, nationalist leader;
Pedro Salinas, Spanish poet;
Miguel Ángel Suárez, actor; and
Rafael Tufiño, painter and graphic artist
And then there is Pedro Albizu Campos, the leading figure in the Puerto Rican independence movement. He was buried in the Santa María Magdalena de Pazzis Cemetery in 1965, during a funeral attended by more than 75,000 people. Albizu was a fascinating person – he enlisted with the U.S. Army during the First World War; he went to Harvard, graduating valedictorian in 1921; he could speak six languages (English, Spanish, French, German, Portuguese, and Italian) and read two more (Latin and Greek), was a father of four, and led the Puerto Rican Nationalist Party from 1930 until 1965 as president. His followers nicknamed him "El Maestro" (the teacher) and many streets, schools, and parks throughout Puerto Rico are named after Pedro Albizu Campos.[2]
As president of the Puerto Rican Nationalist Party, Albizu lived at the intersection of Calle Sol and Calle de La Cruz in Old San Juan. Today, this historic building is home to several restaurants and bars – Sol y Cruz, St. Germaine, Mezzanine, and Al Fresco. And while it was difficult to choose, my family decided to take a break from the heat and humidity to grab a Pina Colada at St. Germaine. It was a wonderful opportunity to learn more about the life, rather than just the death, of one of the men buried in Santa María Magdalena de Pazzis.
As a historian, it was fascinating to see the walls of the restaurant and bar plastered with old photos, newspaper articles, and paintings from the previous owner – including a wall full of bullet holes (yes, bullet holes). As one of the plaques explained, "On the second floor of this historic building lived and was arrested twice after heavy firefight don Pedro Albizu Campos (1891/3?–1965), president of the Nationalist Party of Puerto Rico-Freedom Movement. Of African, Basque, and Taino heritage, his life's work was the fight for the independence of Puerto Rico from the United States."[3]
According to the bartender, the local police and the National Guard surrounded the house in 1950, and after a fire fight that caused the bullet holes, Albizu was taken into custody for his involvement in the Freedom Movement. He was sentenced to a term of eighty years, but was pardoned after serving fourteen years, on 15 November 1964, as he was in deteriorating health. He died on 21 April 1965.
The story was a poignant reminder that while Pedro Albizu Campos was buried with a picturesque view of the Atlantic, he lived a life fighting for Puerto Rico.
Have you visited a cemetery while on vacation? Do you have a favorite cemetery? Favorite person?
Notes
[1] http://www.findagrave.com/php/famous.php?page=cem&FScemeteryid=1662828;  https://en.wikipedia.org/wiki/Santa_Mar%C3%ADa_Magdalena_de_Pazzis_Cemetery
[2] Plaque in the mezzanine at St. Germaine, San Juan, Puerto Rico;  https://en.wikipedia.org/wiki/Santa_Mar%C3%ADa_Magdalena_de_Pazzis_Cemetery
[3] Plaque in the mezzanine at St. Germaine.