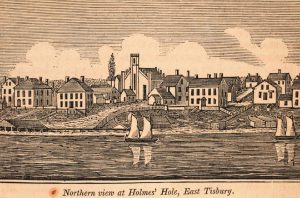 Recently, I traveled to Martha's Vineyard to conduct some research at the Dukes County Registry of Deeds. There, as I was learning about property located in Tisbury, I came across some familiar folks – my great-great-great-grandparents! In another genealogical coincidence, I learned that the gentleman I was researching bought my great-great-great-grandparents' home in Tisbury.
I have written about this branch of my father's family twice before, in My ancestor was born…where?! and Updating My ancestor was born … where?!, in which I pondered the origins of my great-great-great-great-grandmother Charlotte (Sears) Legge on the island of Saint Helena.
As for my great-great-great-grandparents' home, I wondered, where did it stand?
In 1881, Manley and Isabella (Legge) Smith sold their home on "The Neck" in Tisbury. From this deed, I learned that Isabella (Legge) Smith had received the property from my great-great-great-great-grandmother, Charlotte (Sears) Legge, in 1871, ten years.[1] "The Neck" is the section of Tisbury located between Vineyard Haven and West Chop.
Tracing the chain of title back, I learned that Charlotte (Sears) Legge purchased the home from Charles Dillingham in 1862. The property formerly belonged to Zenas Dillingham, his father, and was located "on the south by the lot formerly by Oliver Grinell, extending to Holmes Hole Harbor; thence easterly by said Harbor until comes to the land of Timothy Pease; thence Northerly by said Pease's land about forty rods to the corner of the fence; thence westerly by said Pease's land about four rods to the land of said Grinnell; containing half an acre more or less."[2] Here were some helpful clues, but nothing identified where the home was located.
To learn more about the property's location, I turned to the abutters of this property. And, in a deed recorded between Michael Daggett and Oliver Grinnell in 1827, I received a big clue. Here, Oliver Grinnell purchased "a certain house lot of land with a dwelling house thereon in Tisbury aforesaid lying in Frog Alley, adjoining Holmes Hole Harbor…" Two of the abutters were listed as Timothy Pease and Zenas Dillingham.[3]
So, my ancestors lived in Frog Alley. But where was that?! Examining early maps did not reveal its location, but newspapers did.
In the Vineyard Gazette, originally published in May of 1951, Frog Alley resident Leonard M. Robinson wrote:
"I live on Frog Alley. I often wish that the town had kept the name. It is now known as Owen Little Way, whatever that means, but when I was a boy everyone knew it as Frog Alley, and that had a meaning.
"It was so called because in it there was a good-sized pond, or marsh, where the frogs lived and where they made the nights unforgettable by their merry love songs…
"As I have said, this Frog Alley section was the most populous and main part of the town, long before the village we now know was thought of. The business, and it was largely done with the many schooners that came into the harbor in those days, was all done here, mostly because it saved the sailors a long trip 'up to the head of the harbor.' The coming of the steamboats changed all this and so now the head of the harbor is the whole thing, and poor Frog Alley is all but forgotten."
On my next trip to Martha's Vineyard, I will have to take a stroll down Owen Little Way to see where my ancestors lived. But, above all, this experience has served as a reminder that you never know what you mind find!
As Leonard M. Robinson concluded:
"Gone as we soon will be, the places that knew them, know them no more. Gone, all gone – no not quite – Frog Alley is still here, and on warm evening the peepers still sing  on."[4]
Notes
[1] Dukes County Registry of Deeds, Edgartown, 84: 240–41.
[2] Ibid., 41: 201
[3] Ibid., 23:112-3.
[4] "Gazette Chronicle: Frog Alley," Vineyard Gazette, Edgartown, 10 September 2007.