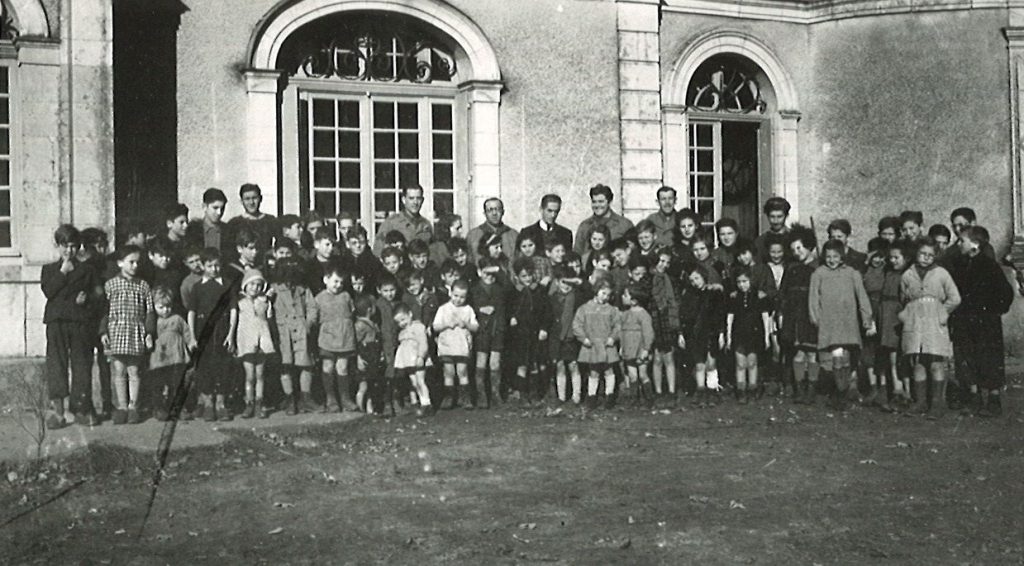 Recently, the New England Historic Genealogical Society participated in "Free Fun Friday," a yearly summer event sponsored by the Highland Street Foundation for no-cost admission to cultural venues in Massachusetts.  A couple who attended the event at NEHGS on August 19 sat down at the "Archivist for a Day" table that I was manning with co-workers and asked if they could quickly write some notes before their consultation with Research Services. The husband inquired about my department, the Jewish Heritage Center (JHC) at NEHGS, and mentioned that his family was Jewish and that his uncle had actually been a rabbi.
His wife made a passing remark about how his uncle had "helped hide all those children from the Nazis." Stephanie Call, the Collections Management Archivist for JHC, and I both thought that the story sounded very similar to one we had in our collections, in the Cantor Morton Shanok Papers (P-995.)[i] Morton Shanok, along with the Jewish Distribution Fund and, later, the Oeuvre de Secours aux Enfants (OSE), helped organize the safe refuge of Jewish children orphaned during World War II who were housed at the Chateau de Mehoncourt in Le Mans, France, ultimately arranging for them to be brought to Israel.
Our interest piqued, Stephanie asked the uncle's name. The answer was Abraham Haselkorn (pronounced Hazelkorn), a name that rang a bell: I remembered seeing it written on some of the photographs taken of the children and soldiers at the chateau. I offered to pull the collection for them so they could look through the photographs. Stephanie said that while I was getting the collection the husband spoke about how close he was to his uncle.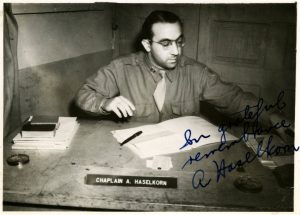 One of the first photos pulled from the folder was of Abraham Haselkorn sitting at his desk in front of a name plate that read "Chaplain A. Haselkorn," which he had signed for Morton Shanok. The couple immediately said 'That's Uncle Abe!' The husband was very emotional at seeing this photograph of his uncle. They looked through some of the photos, putting aside some to be scanned and emailed to them. They had to leave for their consultations and had other appointments later in the day elsewhere, so they gave us their contact information so we could be in touch later about the collection.
Interestingly enough, earlier this summer the niece of Morton Shanok came in to research her uncle. We uploaded about 40 images that she requested. She said she planned to research the subject more – we had only limited information about the chateau and Shanok's time there – and that she would let us know what she discovered.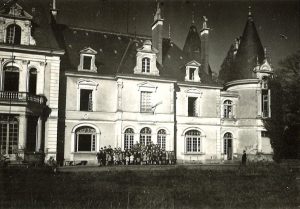 With her in mind we asked the "Free Fun Friday" couple if we could pass along contact information to the researcher to see if either of them could fill in some of the gaps in each family's history. They gladly agreed. The couple has since viewed many of the photographs that had already been scanned for social media purposes and for the researcher, including all those that included Rabbi Haselkorn. The researcher was also very excited to have made this connection and to have this chance to learn more about both of these men, their respective uncles.
What started out as just a place to sit before a consultation turned out to be an unexpected and exciting discovery and connection for two families during this year's "Free Fun Friday" event at NEHGS.
Note
[i] The guide to the Cantor Morton Shanok Papers can be found here. To learn more about Jewish Heritage Center and its collections, visit the website.