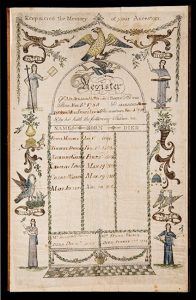 Over the centuries, families have kept their own records of their history – by writing it in family Bibles; by sewing it into samplers and other needlework; by having it engraved onto objects; and sometimes by writing it into preprinted family registers. NEHGS has launched a new database of family registers that have one thing in common: all were originally engraved by English-born Richard Brunton, who lived in New England in the years during and after the Revolution.
Collected through the meticulous research of art historian Deborah M. Child, these registers will ultimately constitute all Brunton's known engraved registers. A family would have purchased a register and then annotated it with names and dates. At the top of a Brunton register you might find the admonition to "Remember Your Ancestors" or to "Keep Sacred the Memory of Your Ancestors."
[A] connection … more direct than government or parish records
And that's what the families who purchased the registers did, giving us legible and tangible records of their loved ones' existence. Seeing the information written in an ancestor's hand – often by a person who witnessed the particular life event – gives us a connection to that person and family that somehow feels more direct than government or parish records. And the registers themselves are works of art, illustrated with cornucopias, birds, human figures, beehives, flowers, and other motifs, sometimes in brilliant colors.
The Brunton registers – from museums, archives, libraries, and private collections – were owned by families with surnames like Bacon, Coffin, Daniels, Foster, Griffin, Hill, Holden, Moody, Wilcox, and Willard. The database allows users to search by first name, last name, spouse or parent name, record type, year, and keyword.
This database complements a database of family tree samplers collected by Dan and Marty Campanelli, and emphasizes the rich stories that family objects can tell us, decades and centuries after their first creation. Indeed, they do keep sacred the memory of ancestors.
For more information about Richard Brunton, see Deborah Child's book Soldier, Engraver, Forger: Richard Brunton's Life on the Fringe in America's New Republic, published by NEHGS in 2015. The book details Brunton's life as a British soldier and then deserter; as an engraver; and also as a counterfeiter who ran afoul of the law. See also an earlier blog post, "Remember Your Ancestors."