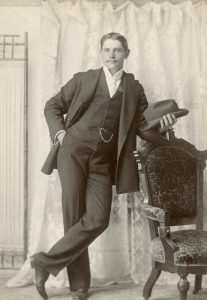 Some photographs of our ancestors are beyond price. This one of my mother's father, Ed Hawes, was taken in 1899, when he was still planning on a Naval career. Unfortunately, as a midshipman, he was thrown down a hatch in a hazing incident that shattered his hip.
Ed, the son of a street railway motorman and mechanic, had inherited his father's skills with tools, so with the Navy out of the picture, he started working in a bicycle store – the same store, the story goes, as Peter Fuller (son of Massachusetts Governor Alvan Fuller and later a millionaire Cadillac dealer). As a young man at the turn of the twentieth century who knew how to drive an automobile, Ed was hired as chauffeur by Harrison Harwood, owner of the H. Harwood and Sons Baseball Factory in Ed's home town of Natick, Massachusetts.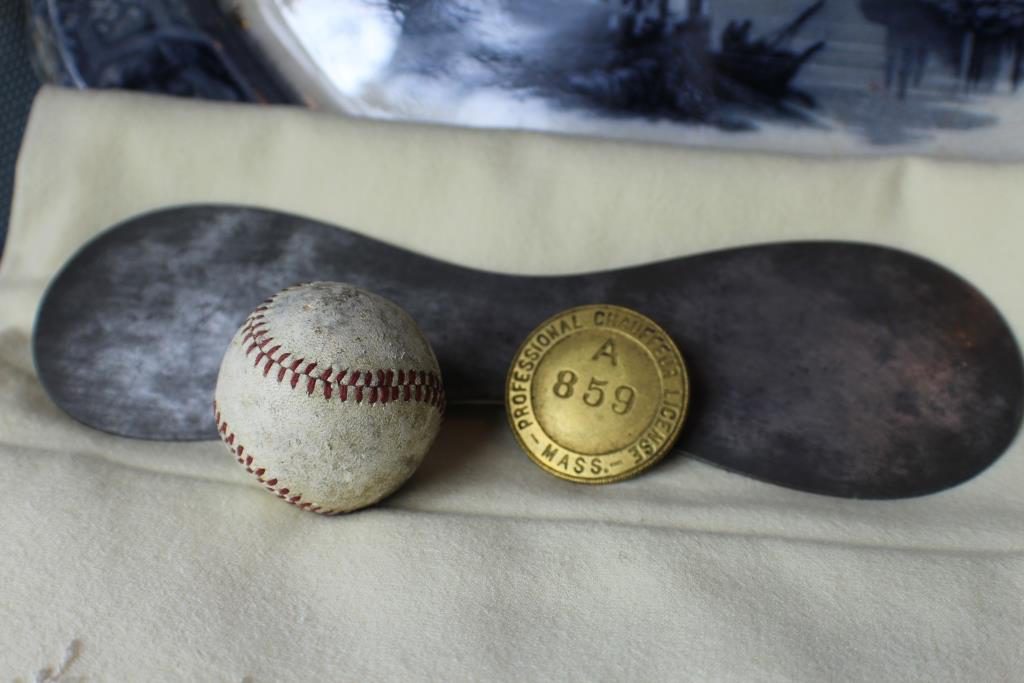 Harwood's factory was the first in America to mass produce the two-piece, figure-eight stitched baseball cover.[1] They were in business from 1858 to 1978. Ed's skills at tool making got him into the factory, and fifty years later he retired as factory manager. In the 1950s Ed was courted by the Japanese to manage a factory in Japan, but he decided against starting a new venture in his 70s.
In the early years, baseballs were sewn by women at home in a cottage industry. As a child, my mother would sometimes "help" the ladies at the factory packaging the balls, so one might think that having been raised in such an environment would have given her an appreciation for the game of baseball. When my future dad was dating the baseball factory manager's daughter, he thought it would be a good idea to take her to a Red Sox game. Mom enthusiastically cheered for every ball that was hit into the stands, fair or foul, by either team, because that meant they would have to buy more balls!
Ed had a cheerful, friendly, yet authoritative personality that was liked and respected by all. During the Second World War, in his 60s, he joined the Coast Guard and served as an air raid warden patrolling the neighborhood for visible lights at night.[2] He served the town as a constable, was a Master member of the Masonic Lodge, and knew and was known by everyone in town.
Imagine what might have been if the Navy career had worked out.
Notes
[1] The second photograph shows a metal figure-eight pattern for cutting ball leather with a salesman's sample of the stitched ball, and Ed's Professional Chauffeur's badge.
[2] He lost his only son during the war; see Three Argonauts.