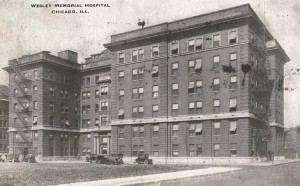 Earlier this week I was scrolling through my newsfeed and I saw a blog post where the author scolded herself and urged her readers to "practice what you preach." I often think this, especially when I teach the first class of my three-part series on "Getting Started in Genealogy." The crux of the first lecture is to work from the known to the unknown – not to skip ahead – and to record data using a chart or genealogical software (including sources examined). I encourage students to begin their genealogical journey with material from their own homes, to interview themselves, and to talk to relatives. Because who better to talk to, when learning about your family, than your own family members?
And, yet, I occasionally forget to follow my own advice. You see, I've been recording my own family history for about ten years now, so I sometimes I think that I've learned all there is to know about the most recent generations. I've already talked to my grandparents, aunts, uncles, and cousins. What else could I possibly learn? Well…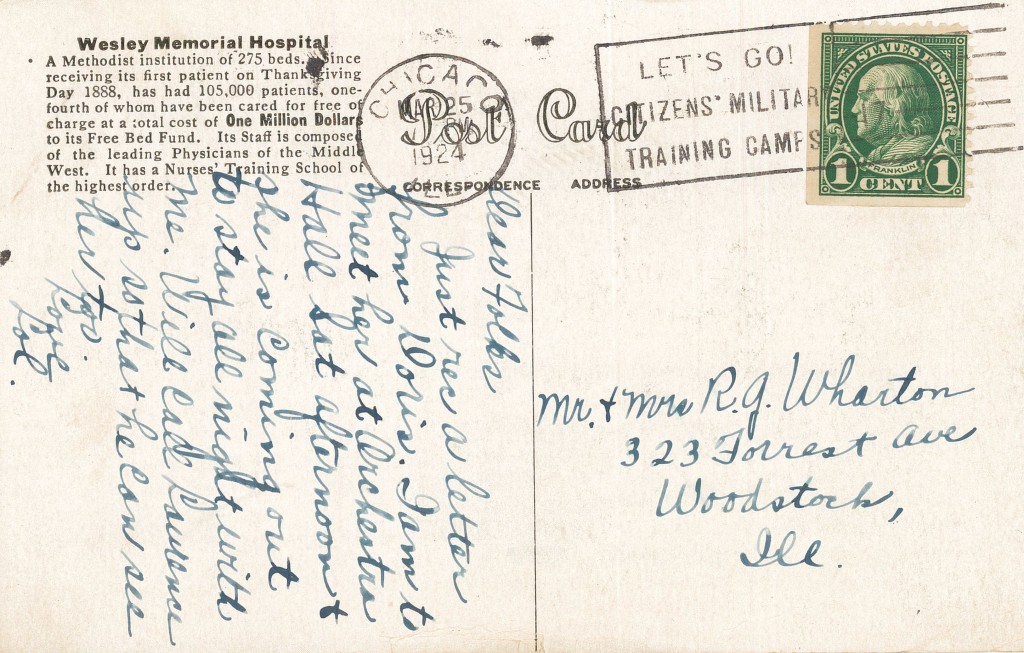 Recently, my aunt gave me a stack of postcards that belonged to my grandmother. Most of them were adorable, sweet notes between my grandmother and grandfather during their time away from each other before and during World War II. However, one of the postcards really caught my attention. It was written by Lol Wharton to my great-great-grandparents, Richard Wharton and Anna Durrie of Woodstock, Illinois. Now, the reason it caught my attention was that I had no idea who Lol Wharton was, although I suspected Lol was one of their daughters, either Flora or Laura Wharton, and that she was probably living near (or working at) Wesley Memorial Hospital in Chicago. In the postcard she mentions meeting up with Doris and sends greetings to Lawrence, and these were two new names to me.
So my mission was to learn the relationship between Lol Wharton, Lawrence, and Doris with regard to my great-great-grandparents. The first part was easy: Lawrence was the name of Richard and Anna (Durrie) Wharton's son, so I was comfortable stating that the Lawrence mentioned in the postcard was my great-great-uncle. Next, I needed to determine if Lol was Laura (Wharton) Burk or Flora Wharton, both daughters of Richard and Anna Wharton. This turned out to be a very difficult problem, and let me assure you, I looked at every resource I could think of – newspapers, city directories, censuses, etc. However, I could find zero connection between Flora and Laura Wharton and someone named "Lol Wharton."
My gut was telling me that the postcard was written by Laura (Wharton) Burk, as it was the only postcard included in the collection other than letters between my grandparents. And when I tried to answer why my grandmother would keep this postcard along with those between her and her future husband, I theorized that my grandmother, Laura Louise (Brown) Fulton, kept the card because:
She was probably named after her aunt, Laura (Wharton) Burk;
Laura (Wharton) Burk died in 1935, when my grandmother was 21 years old, but not yet enrolled in nursing school; and
It appeared that Laura (Wharton) Burk became a nurse after she studied at Wesley Memorial Hospital in Chicago, and my grandmother was also a nurse.
However, not one of these assumptions could be backed by documentation. All in all, I was very frustrated.
Then I spoke to my aunt, the very aunt who gave me the postcards to begin with, and she knew exactly who Lol was – she was Laura (Wharton) Burk. And as theorized, my aunt was able to confirm all of my suspicions: my grandmother was in fact named after Aunt Laura, she became a nurse because of the influence of her namesake, and Aunt Laura became a nurse after studying at Wesley Memorial Hospital. If only I had followed my own advice!! Maybe I wouldn't have been so frustrated!!
The next step is to learn how Doris is connected to Laura (Wharton) Burk, Lawrence Wharton, and Richard and Anna (Durrie) Wharton. I guess I should ask around…