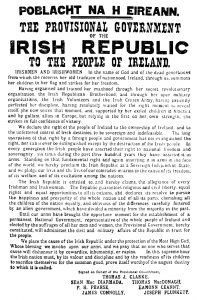 At Easter 2016, Ireland commemorated a seminal event in its struggle for independence, the Easter Rising of April 24–30, 1916. Led by men and women from the Irish Republican Brotherhood, the Irish Volunteers and Cumann na mBan, about 1,200 rebels seized several key buildings in Dublin. With artillery and 16,000 troops, the British quickly overwhelmed the Irish insurrection, and the leaders captured and executed.
One leader, Thomas Kent of Castlelyons, County Cork, and his brothers had organized a branch of the Irish Volunteers in Castleyons in 1914. Thomas Kent was not in Dublin during the rebellion, but stayed away from home hoping to mobilize the Volunteers. When he returned home, the Royal Irish Constabulary (police) surrounded his house on May 2, 1916. A gun battle ensued and the Head Constable was killed. Thomas and his brother, William, were captured and tried at the Cork Detention Barracks in Cork. His brothers David and Richard were wounded, and Richard died of his wounds. On May 9, 1916, Thomas Kent was executed at the Victoria Barracks in Cork, and buried in the prison yard. In September 2015, his remains were located and exhumed, and he was given a full State funeral with military honors in Castlelyons.
Thomas Rice Kent was one of seven sons and two daughters of David Kent and Mary Rice of Castlelyons. Three of the Kent brothers – James, John, and Thomas – came to Boston during the 1880s. The three men lived together for a time at 83 Essex Street, Boston, and worked for Thomas Noonan, a Catholic book publisher, whose business was located nearby at 21 Boylston Street. Thomas Rice Kent returned to Ireland in 1889, but his brothers remained here.
James Rice Kent was born in Castlelyons in 1859. Soon after his arrival in 1883, he became the librarian of the Philo-Celtic Society, an organization devoted to the study of the Irish language. It was at the Society's meetings that he met Mary Hines, a singer and fellow-member, and the couple traveled back to Queenstown, County Cork to marry in 1891. Mary (Hines) Kent had been baptized on 14 March 1858 in Poulnagan, Kinvarradoorus parish, County Galway, and was the daughter of William Hines and Margaret Curtin.
Mary gave birth to twins, David and Rose, during their Irish sojourn. The couple returned to Boston in 1892; the twins died a few months after the family's return. The Kents had another child, Mary, in Boston in 1893, and they lived on Clayton Street in Dorchester. James R. Kent died of bronchial hemorrhage two months later, leaving Mary (Hines) Kent a widow with a newborn.
John Rice Kent was ten years younger than James; he arrived in Boston in 1887. He never married, and died of phthisis at the house of his employer, Thomas Noonan, in 1893. In fact both brothers, James and John, died within three weeks of each other. Mary (Hines) Kent continued to live in the same neighborhood of Dorchester, and worked as a laundress, for the rest of her life. She died in Dorchester in 1949.
Mary Kent, James and Mary Kent's daughter, lived out her life in Dorchester; she worked as a factory operative and laundress. She and her mother lived at 42 Fenton Street. In 1909, she traveled to Ireland for a two-month visit, so she may well have visited the Kent and Hines families. She died in Boston in 1971, having never married. With the death of Mary, the sad chronicle of the Kent family in Boston ended: the centennial of Thomas Kent's execution reminds us of the many links between the Irish in America and back in Ireland.