[Editor's note: Alicia's series begins here.]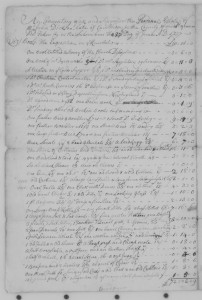 The inventory
Two important dates to remember to note are the date an inventory was taken and the date it was filed with the court. There are many instances where these dates can give clues to the date of death or reveal irregularities such as delayed proceedings. On the top of the first page of John Dickson's inventory is the date 27 June 1737, which looks like it is the date the inventory was taken, but on the back of the second page is the date 30 March 1737, which is more likely when the inventory was initially made. Because of the delay caused by the contested will it was not filed until June. The inventory may also have been updated before being made official, as there are noticeable corrections made in a darker ink, including the date. The three men who signed and swore to the accuracy of the inventory – John Cutter, Joseph Adams, and Samuel Whittemore – would have been appointed by the judge as "indifferent men" who did not have a stake in the estate: each town had a cadre of men with the needed skills to do appraisals, and it would just be a matter of picking the indifferent ones, who would probably still be neighbors and distant relatives.
In this case, the next thing to note is that this is an inventory of personal estate only. Some inventories include both the real and the personal property, others list them separately. Why the inventory of real estate is not on file is unknown to us, but not that unusual as probate files are often incomplete. Considering the claim by the contestants that John's estate was worth £4,000, the personal estate of only £138.10s.5d. would leave room for a lot of valuable real estate somewhere. However, because John did not describe his real estate in his will, and without an inventory of real estate, we would have to reconstruct his land holdings by documenting what he inherited and bought, less what he sold or gave away, etc. In a brief glance at some of these records, I do not see evidence of property that comes anywhere near the £4,000 valuation, which was surely inflated to begin with.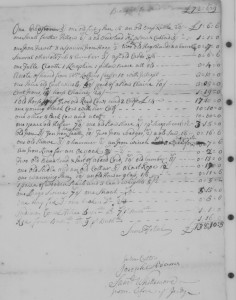 The contents of an inventory can be difficult to interpret, and sometimes will be entirely illegible, but they are well worth the effort to read. Here, we have a legible example and immediately see that John was a literate man with a library of a dozen or so good books and "sundrey other old broken books." He owned a respectable amount of household furniture, furnishings, iron ware, pewter, etc., although much of it is described as "old" (John died in his eighty-second year). A fun inclusion is his military equipment (he had served during King Philip's War) – one gun and one old gun, one old sword and an old cutlass, and an old carbine. There was a looking glass, an old Hower glass, an Irish linen wheel, a barrel of cyder, a sugar box, and a Spanish Iron Hoop – I'll have to look that one up, myself.[1] Out in the barn he had an old horse, two old Reed [red] cows, a young black cow and calf, sheep, a large swine and a shoat, an old saddle, old plow share, a bunch of old lumber, and so forth.
Interpreting the value of items in the inventory is difficult not only because it is in pounds, shillings, and pence, but because currency was as subject to inflation and deflation then as it is today. Therefore, it is most useful to compare items within the inventory – a large feather bed was worth £7, the old gun was 40 shillings, the linen wheel 22 shillings, and the old horse, two red cows and calves all together were worth £17.
With a little effort, you can reconstruct a lot of your ancestors' world through their inventories.
Next, intestate probate – including an inventory of real estate.
Note
[1] This would seem to be a cooperage hoop for barrels.